Chicken amandine is one of our favorite chicken recipes. The coating gets really crunchy, while the inside stays nice and juicy. You can use plain bread crumbs and add in your own seasonings, as well. Add rice or roasted potatoes and a green vegetable, and you've got a quick and simple weeknight meal.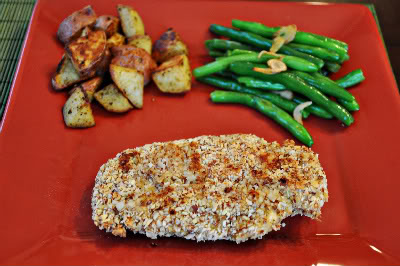 Ingredients
1½ cups sliced almonds

¾ cup Italian style bread crumbs

½ teaspoon salt

¼ teaspoon pepper

2 eggs beaten with 1 tablespoon water

4 boneless skinless chicken breast halves
Directions
1

Preheat oven to 400º. In a food processor or blender, process the almonds until finely chopped. Place in a shallow bowl. In another bowl, combine the bread crumbs, salt and pepper.

2

Place the beaten eggs in a shallow bowl. Coat chicken with crumb mixture, then dip in egg mixture and roll in almonds.

Place on a greased baking sheet and bake for 20-25 minutes or until juices run clear.