This simple recipe for dry rubbed pork tenderloin is perfect for a weeknight. The pork is rubbed with a flavorful herb blend of garlic, oregano, cumin, coriander, and thyme.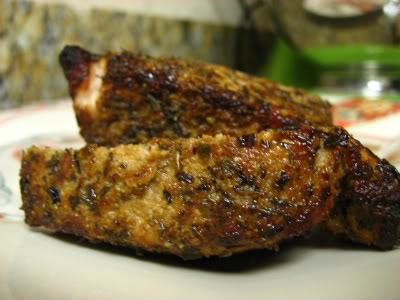 This is one of our favorite recipes (a once a weeker). The crust that forms on the pork tenderloin keeps it moist and delicious. Honestly, I never even liked pork tenderloin until we tried this recipe. The dry rub is so incredibly flavorful, and the flavor really goes throughout the tenderloin. Even better, you probably have all the spices you need already in your pantry!
We like to serve this with yellow rice and steamed broccoli.
Ingredients
1 teaspoon garlic powder

1 teaspoon dried oregano

1 teaspoon ground cumin

1 teaspoon ground coriander

1 teaspoon dried thyme

1 (1¼ pounds) pork tenderloin

1 tablespoon olive oil

1 teaspoon minced garlic
Directions
1

Heat the oven to 450º.

In a small bowl, mix together the garlic powder, oregano, cumin, coriander and thyme. Sprinkle the rub over the tenderloin with a dry hand, then rub the pork with the seasoning over both sides of the meat, pressing gently so the seasoning adheres well to the tenderloin.

2

Heat the oil in a large skillet over medium-high heat. Add the garlic and cook until fragrant, about 1 minute. Place the tenderloin into the skillet and cook for about 5 minutes without turning. Flip with tongs and continue cooking another 5 minutes.

Transfer the skillet to the oven and bake for about 20 minutes. Slice and serve.