These deep fried pickles are made the best way, with sandwich slice pickles instead of spears or chips. Serve them with ranch dressing for a delicious appetizer.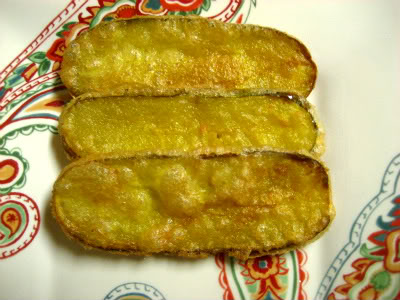 Growing up in Alabama, I learned that anything and everything can be fried. I have lots of fried favorites – fried okra, fried crab claws, hushpuppies, corn fritters. My all time favorite, by far, is fried pickles. I haven't found anywhere in Orlando that has fried pickles on their menu. After being in Alabama recently, Eric and I had dinner at Wing's. Their fried pickles are my absolute favorite. Instead of using pickle chips, they use the sandwich slices, and I think that's the best way to make them.
This recipe was our attempt to bring some of that fried goodness to Florida. The batter was very light, almost like a tempura batter. We found that they were best eaten almost immediately. By the time I had taken pictures, a few of them had already gotten a little soggy. These are great served with some ranch dressing for dipping.
Ingredients
1 cup all-purpose flour

¼ cup cornstarch

1 teaspoon baking powder

¼ teaspoon salt

1 cup ice water

1 egg yolk

2 tablespoons dill pickle juice

4 cups dill pickle slices, drained

Vegetable oil for frying
Directions
1

In a large bowl, combine flour, cornstarch, baking powder and salt. Make a well in the center. All at once, add the water, egg yolk and pickle juice. Whisk to make a smooth batter. Cover and refrigerate for 30 minutes.

2

In a deep fryer or large saucepan, heat at least two inches of oil to 375°. In batches, dip pickle slices into batter, lightly and evenly coating them. Without crowding, place coated slices in the hot oil. Fry until golden and crisp, 1½ to 2 minutes.

Drain on paper towels and serve immediately.