Cool weather is finally here in Florida! We were teased with it a few weeks ago, but it quickly went back up to the mid eighties. Of course we had to celebrate by having some cold-weather food. These mini chicken pot pies were just what we needed for a chilly night! The filling in this pot pie has such a great depth of flavor. The puff pastry topping is light and flaky. If you're looking for something to warm you up, I would definitely suggest making this.
Mine ended up looking a bit more rustic than Eric's. He followed the directions about folding the corners down onto the rims of the dishes. Obviously, I did not. 🙂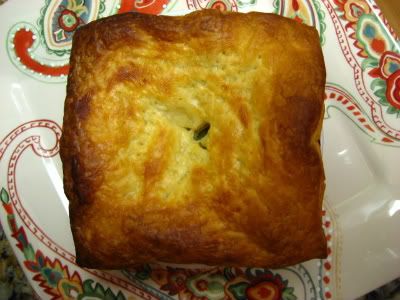 Mini Chicken Pot Pies with Bacon and Marjoram
Ingredients:
3 applewood-smoked bacon slices
3/4 cup chopped yellow onion
6 ounces peeled whole baby carrots (about 1 1/4 cups)
5 ounces trimmed haricots verts or other slender green beans, halved crosswise
1 1/2 teaspoons dried marjoram leaves
3/4 cup plus 2 tablespoons low-salt chicken broth
1/3 cup crème fraîche, plus 1 1/2 teaspoons for topping
1 1/2 cups coarsely shredded chicken from 1 small purchased roasted chicken (skin removed)
1/2 sheet frozen puff pastry, thawed
Directions:
-Preheat oven to 450F.
-Cook bacon in heavy large skillet over medium heat until crisp.
-Drain on paper towels, then chop.
-Add onion to drippings in skillet; sauté until tender and golden, about 8 minutes.
-Add next 3 ingredients; stir 1 minute.
-Add broth; bring to boil over high heat.
-Reduce heat to medium-high and boil until vegetables are almost tender and some liquid is reduced, about 4 to 5 minutes.
-Stir in 1/3 cup crème fraîche, chicken, and bacon.
-Bring to simmer.
-Season with pepper.
-Divide among two 2-cup soufflé dishes.
-Unfold puff pastry onto work surface; roll out into rectangle large enough to cover both soufflé dishes .
-Cut into 2 equal squares.
-Top filling in soufflé dishes with pastry; fold edges down onto rims of dish.
-Brush top of crusts (not edges) with remaining 1 1/2 teaspoons crème fraîche.
-Cut small X in center of crusts; pierce all over with fork.
-Bake until crusts are golden brown and filling is heated through, about 18 minutes.
Adapted (to make two) from Bon Appetit