Pumpkin Mousse Cheesecake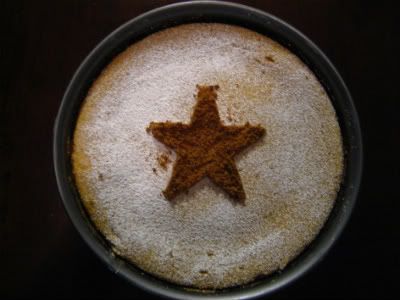 I have a special place in my heart for pumpkin cheesecake. For me, its arrival on menus always signals the start of fall. I've never made a cheesecake before. Frankly, I was too afraid I would mess it up. And you know what? I did. The great thing about it is that I don't even care. That's what trying new recipes is all about.
It being my first cheesecake, I had no idea when it would be done. The center is supposed to be wiggly, but I didn't know how wiggly. The center wasn't liquidy, but it just wasn't quite as firm as it should have been. It did not go to waste, however, because the majority of it is still good. It tastes quite amazing, too. For my first try, I'm not too disappointed.
Don't let my mess up deter you from trying this recipe. Some of the wonderful ladies on the cooking message board I post on gave me some pointers for next time. Katie (from Good Things Catered) suggested that I use an instant-read thermometer until I make enough cheesecakes to know what the appropriate jiggle looks like. The center of the cheesecake should be about 145°-150°. Thanks, Katie! 🙂 I was also told that cooling the cheesecake in the oven will prevent it from cracking. There are lots of tips out there; just Google them if you want to know more.
Pumpkin Mousse Cheesecake
Ingredients:
For the crust:
2 cups crushed gingersnap cookies
1/4 cup unsalted butter, melted
For the filling:
1/2 cup canned solid-pack pumpkin (Do not use pumpkin-pie filling.)
1 teaspoon pure vanilla extract
1 teaspoon ground cinnamon
1/2 teaspoon ground ginger
1/4 teaspoon ground allspice
1/4 teaspoon ground cloves
2 pounds (4 regular sized packs) cream cheese
1 cup packed light brown sugar
4 large eggs
For the topping:
powdered sugar
cinnamon
Directions:
-Preheat the oven to 325°.
-In a medium bowl, mix together cookie crumbs and butter until crumbs are moistened.
-Press into the bottom of a 9-inch round cheesecake (springform) pan.
-Freeze, uncovered, until filling is ready.
-In a medium bowl, stir together pumpkin, vanilla, cinnamon, ginger, nutmeg, cloves and allspice until just combined. Set aside.
-Using a stand mixer with paddle attachment, beat the cream cheese on medium-high speed for 3 minutes.
-Add the brown sugar and continue to beat for 2 minutes.
-Add the eggs, one at a time, beating after each addition.
-Add the pumpkin mixture to the cream cheese mixture; mix on low speed until incorporated.
–Pour the batter over the crust, smoothing it out to touch the sides of the pan.
-Bake 45 to 50 minutes, or until the cheesecake starts to pull away from the sides of the pan but is still a bit loose in the center.
-Cool on a wire rack for 2 hours.
-Refrigerate for at least 2 hours before decorating or serving.
-To decorate, use a fine meshed sieve to dust the top with powdered sugar and cinnamon. I made the star on mine by using leftover cookie crumbs.

Source: Good Housekeeping