This was my first time making biscotti, and I was really nervous about it. Although I've been trying my hand at baking a lot lately, I still don't consider myself a baker. Case in point: I had to add a bit more flour at the end because my dough was not really sticking together. I'm not sure if I didn't add enough in the beginning or what exactly happened. I'm glad to say that these turned out wonderfully, despite my little mishap. I sent these, along with the Cowboy Cookies from the previous post, as my first shipment for Baking Gals. I'm really looking forward to trying more biscotti recipes in the future.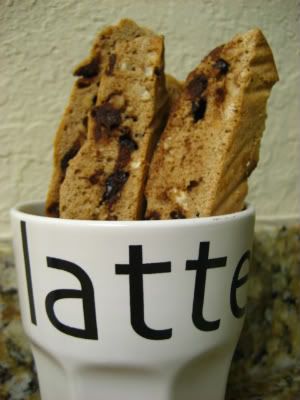 Cappuccino Biscotti
Ingredients:
3/4 cup hazelnuts, toasted, skinned and coarsely chopped
3 large eggs
1 teaspoon pure vanilla extract
2 cups all-purpose flour
3/4 cup sugar
1 teaspoon baking powder
1/4 teaspoon salt
1/2 teaspoon cinnamon
1/4 teaspoon ground cloves
1 teaspoon instant espresso powder or instant coffee powder (optional)
1/2 cup semisweet chocolate chips
Directions:
-Preheat oven to 350° and place rack in center of oven.
-Toast hazelnuts for 10 – 15 minutes or until the skins start to blister.
-Remove from oven and place hazelnuts in a clean towel and let steam for about 5 minutes.
-Then briskly rub the towel back and forth to remove the skins of the hazelnuts.
-Let cool and then coarsely chop. Set aside.
-Reduce oven temperature to 300° and line a baking sheet with parchment paper.
-In a small bowl, whisk together the eggs and vanilla extract. Set aside.
-In the bowl of your electric mixer (or with a hand mixer) beat the flour, sugar, baking powder, salt, spices, and espresso powder until combined.
-Gradually add the egg mixture and beat until a dough forms, adding the chopped nuts and chocolate chips about halfway through.
-With floured hands divide the dough in half.
-On a lightly floured surface roll each half of dough into a log about 10 inches long and 2 inches wide.
-Transfer logs to the prepared baking sheet, spacing about 3 inches apart, and bake for about 35-40 minutes, or until firm to the touch (logs will spread during baking).
-Remove from oven and let cool on a wire rack for about 10 minutes.
-On a cutting board, with a serrated knife, cut each log crosswise, on the diagonal, into 3/4 inch slices.
-Arrange the slices on the baking sheet and bake 10 minutes, turn slices over, and bake another 10 minutes or until firm to the touch.
-Remove from oven and let cool. Store in an airtight container.
Makes about 24 biscotti.
Source: Joy of Baking