Cornmeal Fried Onion Rings
When I saw this recipe for onion rings, I knew I had to try it. With the seasonings in the flour and the inclusion of cornmeal, I just had a feeling these would be delicious. Not only were they delicious, they were perfect! The batter was exactly the way I like it, light and crisp, and the seasoned flour gave them such a great flavor. I don't foresee trying another onion ring recipe for a very long time, if ever. That's how good this one is.
We dipped this in the Creole Remoulade Sauce from the last post, and it went perfectly with the onion rings. Of course, Eric would have been fine with ketchup, but I'm not a ketchup person. The remoulade was perfect for these.
Eric, being the wonderful husband he is, did all the frying. 🙂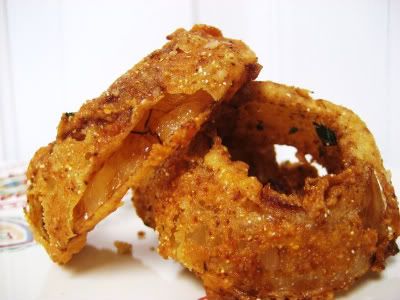 Cornmeal Fried Onion Rings
Ingredients:
1 large yellow or Spanish onion
1 1/2 cups buttermilk
Kosher salt and freshly ground black pepper
Tabasco (or other hot sauce) to taste, but at least a teaspoon
1 1/2 cups all-purpose flour
1/4 cup (medium) yellow cornmeal
1/2 to 1 teaspoon cayenne pepper
1 tablespoon fresh thyme leaves, finely chopped
4 to 6 cups vegetable or peanut oil
Directions:
-Slice off the top and root ends of the onion or onions and carefully peel off the brown skin, then slice into 1/2 to 3/4 inch thick slices and separate them into rings.
-In a large bowl, combine the buttermilk, 1 1/2 teaspoons salt, 1 teaspoon pepper and the Tabasco.
-Add the onions and, using your hands, toss well to make sure everything is coated.
-Place the in the refrigerator and let marinate for 20 minutes, up to several hours.
-In a separate, wide and shallow bowl, combine the flour, corn meal, 1 teaspoon salt, 1/2 teaspoon pepper, the cayenne and the thyme. Set aside.
-When you are ready to fry the onion rings, preheat the oven to 200° and line a large baking sheet with paper towels.
-Pour the oil into a dutch oven or large pot and attach a candy thermometer to the side.
-Heat until the oil is 350°, adjusting the heat level to maintain a constant temperature.
-One at a time, lift a ring out of the buttermilk and place in the seasoned flour and cornmeal mixture.
-Gently dredge them and then place on a rimmed baking sheet.
-Continue until all the onion rings have been coated.
-Working in batches, drop some of the onion rings into the hot oil, being careful not to overcrowd the pot.
-Fry until golden brown, flipping every so often with a pair of tongs.
-Once the onion rings are cooked, remove from the oil and place on the baking sheet lined with paper towels and place in the oven to stay way while you continue cooking the rest.
-They should remain crisp in the oven for 30 minutes.
Source: Well Fed