Panko Crusted Crab Cakes with Creole Remoulade
This was my very first time cooking seafood. I'm not really a big fish person, but I do like crab. That being said, I figured crab cakes would be a safe place to start. These were utterly delicious. The panko lends a light, crisp coating to the crab cakes. The texture of these is just wonderful, too. I think the celery gave them the extra crunch on the inside that made them so delicious.
Try these; you won't be disappointed! We served ours with remoulade, and it made a perfect accompaniment to the crab cakes (and the onion rings we had with them).
Panko Crusted Crab Cakes
Ingredients:
12 ounces shelled cooked crab
1/4 cup finely diced celery
1/4 cup minced fresh chives
1/4 cup mayonnaise
1 large egg
2 teaspoons Dijon mustard
1/4 teaspoon hot sauce
1 1/4 cups panko
Fresh chives, rinsed and cut into 1-inch lengths
Directions:
-Sort through crab and discard any bits of shell.
-In a large bowl, combine celery, minced chives, mayonnaise, egg, mustard, and hot sauce; mix well with a fork.
-Add crab and 1/4 cup panko; stir gently just to mix.
-Put remaining 1 cup panko in a shallow bowl.
-Shape crab mixture into 24 cakes, each about 2 inches wide and 1/2 inch thick. (Ours were larger than this because we weren't going for bite-size.)
-Turn each cake in panko to coat on all sides, pressing gently to make crumbs adhere.
-Place cakes slightly apart in an oiled 12- by 17-inch baking pan.
-Bake in a 475° regular or convection oven until golden brown, 15 to 18 minutes.
-With a spatula, transfer crab cakes to a platter.
-Garnish platter with fresh chives.
-Serve hot.
Source: My Recipes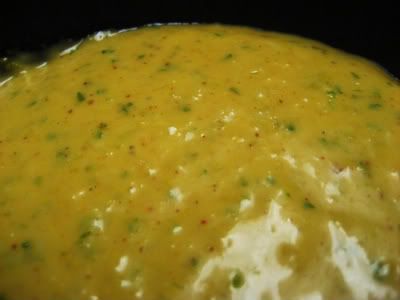 Creole Remoulade Sauce
Ingredients:
3/4 cup vegetable oil
1/2 cup chopped green onions (green and white parts)
1/2 cup chopped yellow onions
1/4 cup fresh lemon juice
1/4 cup chopped celery
3 tablespoons Creole or other whole-grain mustard
3 tablespoons ketchup
3 tablespoons chopped fresh flat-leaf parsley
2 tablespoons chopped garlic
2 tablespoons prepared horseradish
1 teaspoon salt
1/4 teaspoon cayenne
1/4 teaspoon freshly ground black pepper
Directions:
-Combine all the ingredients in a blender or a food processor fitted with a steel blade and process until fairly smooth, about 30 seconds.
-Transfer to an airtight container and refrigerate for at least 1 hour before using. (The sauce will keep for up to one week in the refrigerator.)
Yield: 2 cups
Source: Emeril Lagasse