In celebration of World Nutella Day, I have two wonderful chocolate and hazelnut recipes. I'd like to take this time to thank my friend Islara for introducing me to Nutella. She also introduced me to Eric, so I have a lot of reasons to be thankful for her.
The first recipe is this absolutely divine chocolate hazelnut gelato. This gelato tastes like a cold Ferrero Rocher. It's smooth and flavorful. I decided to add some instant espresso to the custard before churning, and I promise you the espresso just makes the chocolate and hazelnut flavors pop even more. I also took the advice of some of the reviewers and reduced the amount of sugar I used. I think the level of sweetness was perfect. After all, the Nutella adds quite a bit of sweetness on its own.
If you like Nutella, you will love this gelato.
Chocolate Hazelnut Gelato
Ingredients:
2 cups whole milk
1 cup heavy cream
1/3 cup, plus 1/4 cup sugar
4 egg yolks
1/2 teaspoon vanilla extract
1/2 cup Nutella
1/2 cup toasted hazelnuts, crushed, for garnish
Directions:
-In a saucepan combine the milk, cream, and 1/3 cup sugar over medium heat.
-Cook until the sugar dissolves, about 5 minutes.
-Meanwhile, in a medium bowl whip the egg yolks with the remaining sugar using an electric mixer until the eggs have become thick and pale yellow, about 4 minutes.
-Pour 1/2 cup of the warm milk and cream mixture into the egg mixture and stir.
-Add this mixture back into the saucepan.
-Cook over very low heat, stirring constantly, until the mixture becomes thick enough to coat the back of a wooden spoon, about 7 to 10 minutes.
-Place a strainer over a medium bowl and pour the warm custard mixture through the strainer.
-Stir in the vanilla and hazelnut spread until it dissolves.
-Chill mixture completely before pouring into an ice cream maker and follow manufacturer's instructions to freeze.
-To serve, scoop gelato into serving bowls and top with hazelnuts.
The second recipe is for Chocolate Hazelnut Gelato Coolers. These are just as good as the gelato, and the have Kahlua in them, which makes them even better! We added a splash of milk to ours to get it to the perfect consistency. We made these the night after making the gelato. I was worried about the gelato being too icy after freezing overnight, but it was fine. You might just want to add a little less ice.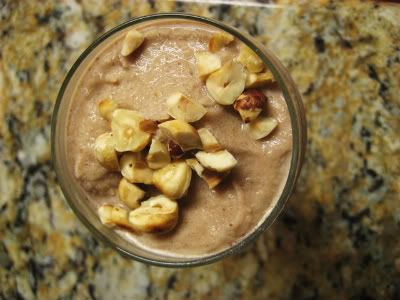 Chocolate Hazelnut Gelato Coolers
Ingredients:
2 cups Chocolate-Hazelnut Gelato, recipe follows
1/2 cup coffee-flavored liqueur or coffee
4 cups crushed ice
1/4 cup chopped chocolate-covered coffee beans, plus more for garnish, optional
Directions:
-Combine all the ingredients in a blender and process until smooth.
-Pour into glasses, sprinkle with chocolate covered coffee beans, and serve with a straw.
Source: Giada De Laurentiis