Coffee Cupcakes with Coffee Liqueur Buttercream
These cupcakes are so good that I can't think of much else to describe them besides this: utter bliss. They are pure cupcake utopia. They taste like the most perfect version of a latte. They are sweet, but not overly sweet, with the wonderful flavors and aroma of fresh coffee.

As a side note, this is my 100th blog post. I can't belive I made it to 100! I've learned so much since starting this blog, and I appreciate all of your comments, advice and encouragement!
Coffee Cupcakes
Ingredients:
3/4 cup (1 1/2 sticks) unsalted butter, room temperature
1 1/2 cups sugar
3 large eggs, room temperature
2 cups plus 1 Tablespoon all-purpose flour
1 teaspoon baking powder
1/8 teaspoon salt
1 Tablespoon dark roast coffee grounds
1/2 cup strong brewed, dark roast coffee
1/4 cup plus 1 Tablespoon milk
1 Tablespoon Coffee Liquor or milk if non alcoholic
Directions:
-Preheat oven to 350°.
-Beat butter on high until soft, about 30 seconds.
-Add sugar. Beat on medium high until light and fluffy, about 3 minutes.
-Add eggs one at a time, beat until incorporated.
-Whisk together flour, baking powder, salt and coffee grounds in a bowl.
-Measure out coffee, milk and liquor together.
-Add about a fourth of the flour mixture to the butter/sugar mixture and beat to combine.
-Add about a third of the milk coffee mixture and beat to combine.
-Repeat above, altering flour and coffee, ending with the flour mixture.
-Scoop into cupcake papers about two thirds to three quarters full. These cupcakes well shrink a bit once they are cooled.
-Bake 20-25 minutes, or until cake tester comes out clean.
Note: Be careful when adding the coffee/milk mixture to the batter. If you add it too quickly, the batter will look curdled. Add it slowly and you'll be just fine!
Yield: 18 cupcakes

Source: Joy the Baker, originally from Cupcake Bakeshop
I'm normally not a fan of buttercream, but this one can't be beat. Coffee? Yes. Coffee Liqueur? Oh yes. This made a ton of buttercream, so if you're making it to go with these cupcakes you will definitely want to half it. I'm submitting this recipe to Joelen's Tasty Tools Blogging Event for hand and stand mixers. I can't think of a better way to showcase the power of a stand mixer than showing what it does to six sticks of butter.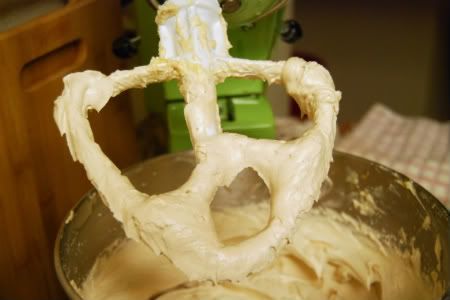 Coffee Liqueur Latte Buttercream
Ingredients:
1 2/3 cups heavy cream
1/3 crushed espresso or french roast coffee beans (I used coarsely ground coffee, slightly less than 1/3 cup.)
1/3 cup coffee liqueur
2 cups unsalted butter
1 cup salted butter
1/2 3 ounce package of white chocolate instant pudding mix
1/3-1 cup powdered sugar, depending on taste

Directions:
-In small sauce pan, bring cream and coffee to a high simmer.
–Once simmering, cover, remove from heat and allow to cool.
-In a stand mixer, beat butters and pudding mix on high until butter is light and fluffy.
-While the butters are beating, strain the cream/coffee mixture into a glass measuring cup using a fine mesh strainer.
-Add the coffee liqueur to the cream.
-Reduce speed on mixer to low and very slowly add the cream/liqueur mixture.
-Increase speed to medium once the liquid has incorporated and blend 3-4 more minutes.
-Reduce speed to low and gradually add powdered sugar, starting with 1/3 cup and adding more to taste.
-Once all the sugar you want is added, beat on medium high for an additional 3-5 minutes.
Source: Adpated from Fields of Cake and Other Good Stuff