I couldn't think of how to start this post, so telling you this is the best burger I've ever eaten will have to suffice. I was a bit wary about putting avocado on my hamburger; however, after trying this, I can't imagine eating it any other way. This burger was so moist and flavorful that the only toppings it needed were the avocado relish and a few pieces of red leaf lettuce.
Bobby Flay suggests using 80% lean ground chuck for this recipe. We never buy that type of meat, but I figured we should just follow the recipe. The result was an incredibly moist and juicy patty, and I don't think we would have gotten the same result from a lean type of meat (like the 97% lean we would normally buy). The seasoning for the meat is simple – brush with canola oil and sprinkle with salt and pepper. Grill until desired doneness. Top with cheese, if desired, lettuce and avocado relish. Oh, and make sure to give your buns a good toasting on the grill once the meat is finished.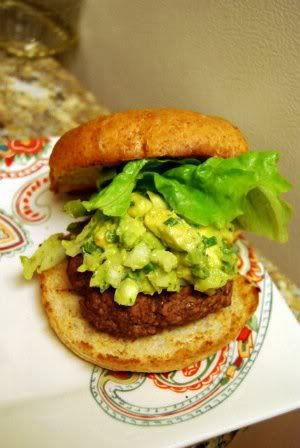 Ingredients
2 avocados

Half a small onion, diced

1 jalapeño, minced

Juice of one lime

3 tablespoons chopped cilantro

Salt and pepper, to taste
Directions
1

Mash together avocado and then mix in all other ingredients. Serve on top of your favorite burgers.