Recently, Eric and I came across parsnips at our local farmers' market. Neither of us had ever eaten them, and we both thought it would be fun to try something new. I first considered making some type of roasted root vegetable dish, but then I found this recipe and couldn't resist giving it a try.
Parsnips have a nutty, sweet flavor that pairs perfectly with Parmesan cheese. The potato in this recipe helps balance out the sweetness of the parsnips just enough. These have a light texture that I feel makes them the perfect complement to a heaver main dish, such as a roast. I made these as an alternative to our usual mashed potatoes, and I was thrilled with how well they turned out. Next time, I'd like to mix in some roasted garlic simply because I love the depth and flavor of it. The texture is a little different than mashed potatoes, but don't let that discourage you from trying this recipe. It's simple, delicious and perfect for winter!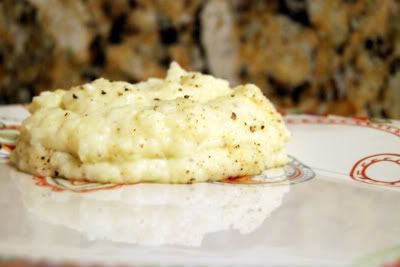 Mashed Parsnips
Ingredients:
4 medium sized parsnips, peeled and cut into chunks
1 potato, peeled and cut into chunks
1/4 cup olive oil
1/4 cup warmed milk
1/4-1/2 cup freshly grated Parmesan
salt and pepper to taste
Directions:
-Boil the parsnips and potato for about 15 minutes or until fork tender.
-Drain well.
-Add olive oil, milk, Parmesan, salt and pepper. Mash until creamy. Drizzle with olive oil before serving.
Source: Adapted from Souvlaki for the Soul