Comfort food comes in many forms. It can be a bowl of your favorite ice cream, a slice of freshly baked bread or a bowl of hearty pasta. For me, when it's cold outside, chicken pot pie is my ultimate comfort food.
This pot pie did not disappoint. The interior was full of slow-roasted flavor, and the the flaky exterior provided the perfect complement to the creamy filling. There's nothing like warming up with a pot pie fresh from the oven, especially when it's meant just for you.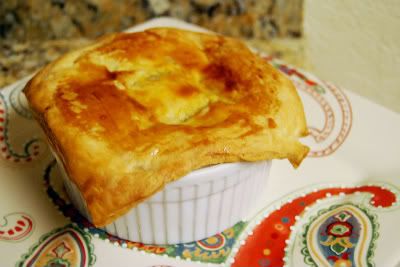 Individual Chicken Pot Pies
Ingredients:
2 tablespoons unsalted butter
1 small onion, diced
1 carrot, diced
1/4 cup all-purpose flour, plus more for work surface
1/4 teaspoon coarse salt, plus more to taste
ground pepper to taste
2 cups low-sodium chicken broth
1 1/2 cups cooked chicken (about 1/2 pound), cut into bite sized pieces
1/2 cup frozen peas
3/4 teaspoon fresh thyme leaves, chopped
1/2 sheet frozen puff pastry, thawed
1 egg yolk
Directions:
-In a medium saucepan, melt butter over medium heat. Add onion and carrot and cook until onion softens, about 5 minutes.
-Add flour and 1/4 teaspoon salt; cook, stirring frequently, until mixture is pale golden and has a nutty aroma, about 5 minutes.
-Whisking constantly, add broth and bring to a boil. Stir frequently until mixture has thickened, about 8 minutes.
-Reduce to a simmer and continue to cook another 10 minutes.
-Add chicken, peas and thyme and season with salt and pepper.
-Divide mixture into two 12 ounce baking dishes and refrigerate about 20 minutes, until mixture has come to room temperature.
-Preheat oven to 375°.
-Roll pastry on a lightly floured surface to 1/4 inch thickness. Cut in half. Using the tip of a sharp knife, cut four vents into the pastry.
-In a small bowl, lightly beat egg yolk with one teaspoon water.
-Top baking dishes with pastry and brush on egg wash.
-Refrigerate 15 minutes.
-Bake until pastry is a deep golden color and juices are bubbling, about 35 minutes.
Source: Everyday Food, October 2009