Recipe Rewind: Lemon Ricotta Muffins
I first posted this recipe about a year and a half ago.  I've made these muffins countless times since then, something that really says a lot when you consider I have multiple muffin recipes bookmarked.  They are really that good.  That's the main reason I wanted to repost them – I've gotten more followers since then, and I hate to think of good recipes getting lost in my old posts.  That, and the fact that my previous picture was horrendous.
These muffins are incredibly moist and fluffy, which I attribute to the ricotta.  The lemon is fresh and fragrant, perfect for mornings when you need a boost.  The almond flavor is something I was questioning the first time I made these, but it goes perfectly with the lemon.  The almonds and sugar on the top provide just the right amount of crunch.  Plus, these are so easy to make that you can do it when you're still half asleep and haven't yet had coffee.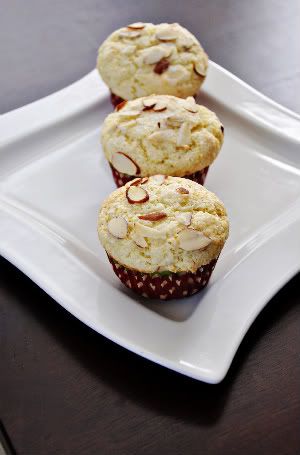 Lemon Ricotta Muffins
Ingredients:
2 cups all-purpose flour
1/2 teaspoon baking powder
1/2 teaspoon baking soda
1/2 teaspoon salt
1 cup plus 1 teaspoon sugar or more as needed for sprinkling
1/2 cup (1 stick) unsalted butter, room temperature
1 tablespoon finely grated lemon zest (from 2 lemons)
1 cup whole-milk ricotta cheese
1 large egg
1 tablespoon fresh lemon juice
1/2 teaspoon almond extract
1/3 cup thinly sliced almonds
Directions:
-Preheat oven to 350º.  Line 12 muffin cups with paper liners.
-In a medium bowl, whisk together flour, baking powder, baking soda and salt.  Set aside.
-In a large bowl, using an electric mixer, beat together 1 cup sugar, butter and lemon zest until light and fluffy.
-Beat in the ricotta.  Once that is blended, beat in the egg, lemon juice and almond extract.
-Slowly add in the dry ingredients and stir until just blended.  The batter will be thick and fluffy.
-Divide the batter among muffin cups and sprinkle each with almonds and sugar.  Gently press the almonds into the batter to prevent them from falling off during baking.
-Bake about 20 minutes, until the muffins are pale golden on top.
Adapted from Giada De Laurentiis