Foodbuzz 24×24: Winter Escape, A Tropical Feast
I don't know what causes it, but I'm ready for warmer weather pretty much as soon as Christmas is over. I miss my flip flops and summer dresses, and I especially miss all the wonderful produce in season during spring and summer. Since spring is still a couple months away, I thought it would be fun to have a tropical dinner party in an effort to escape the bitter cold of January. I wanted everything to give off a tropical feel, so I turned our small countertop bar into the drink area, complete with a tray that eventually held fresh pineapple, coconut and strawberries, plus sugar for rimming glasses. I even bought drink umbrellas. What kind of tropical party would it be without drink umbrellas, right? And since I couldn't wear my flip flops, I used the flip flop coasters Eric's sister got us for Christmas a couple years ago.
When deciding what to serve at the party, I knew I wanted each dish to make my guests feel like they were enjoying their meal in a place somewhere much warmer. I mainly focused on Jamaican and Caribbean dishes, with a couple of tropical dishes and drinks thrown in for good measure. There were so many recipes I wanted to try, but I was eventually able to narrow down the menu to include:
Coquitos
Fried Plantain Chips with Avocado Kiwi Salsa
Jamaican Beef Dumplings
Grilled Shrimp with Dark Rum Glaze
Jamaican Jerk Chicken Wings
Tropical Rice
Coconut Lime Cake
Coconut Saffron Ice Cream
Luau Coconut Drinks
Pineappleade
Strawberry Mango Daiquiris
Eric and I tried to make as much as we could ahead of time. The night before the party, Eric made the marinade for the chicken wings while I made the ice cream. The pineappleade also had to be made the night before so that it could sit overnight. We made the plantain chips early in the day Saturday, and they stayed perfectly crisp for the party. I prepared the salsa minus the avocado and added it once our guests arrived. I also baked the cake early in the day so that the glaze would have time to seep into it. I cooked the rice close to the arrival of our guests while Eric was grilling the wings and shrimp. Overall, I'm really happy with how everything turned out, and I'm so thankful that our friends were able to join us for our tropical meal. Though it's not the best picture (hey, I was hungry!), here's our table setup:
I absolutely love these coquitos, which were a random find one morning while grocery shopping. They're like baby coconuts and are a little smaller than grapes. They have a hard exterior and soft, coconut-y interior. I couldn't resist serving them in a piece of coconut shell.
The plantain chips, with a cayenne and lime zest seasoning, were so delicious that Eric and I had a hard time resisting them. It's lucky we had any left for the party because we definitely snacked on a few while we were cooking other things.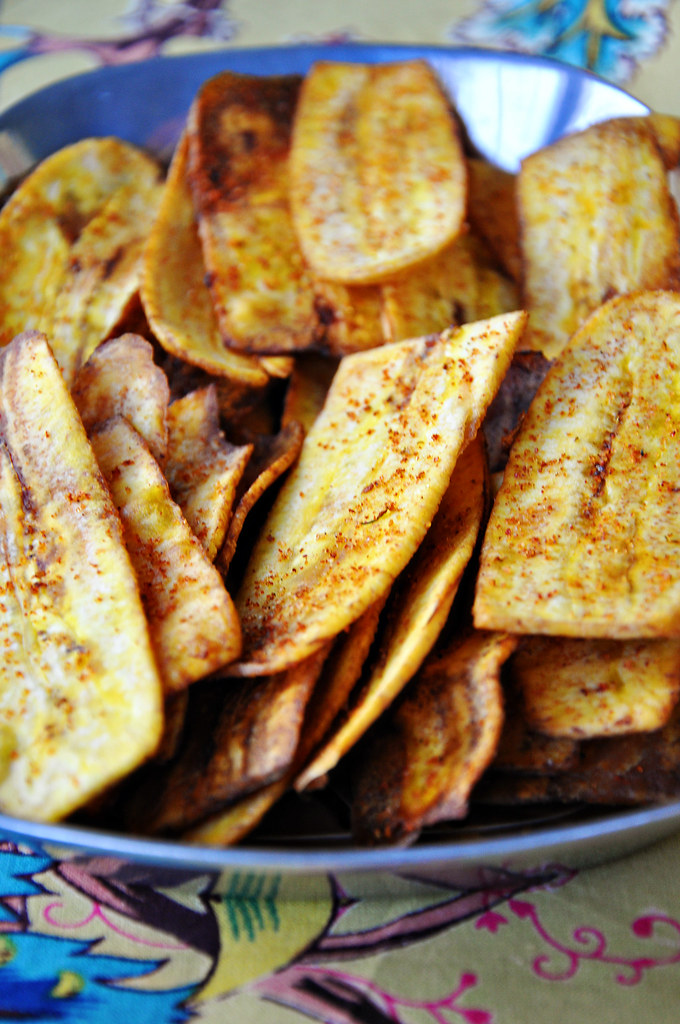 As soon as we started cooking these, I knew they'd be my favorite (food) item of the night. The dumplings are simply wonton wrappers filled with a delicious beef filling that includes curry powder, onion and Jamaican hot sauce. We served these with Thai sweet chili sauce, plus extra hot sauce for those that wanted them especially spicy.
The glaze for the shrimp made our kitchen smell fabulous. I was so excited about these, and they did not disappoint. They had a sweet and smoky flavor that everyone absolutely loved. We served extra glaze on the side.
This coconut cake had the most wonderful tropical flavor. With coconut, limes and coconut rum, you know it was good. Though it took Eric taking the coconut outside and hitting it with a hammer and me carefully peeling each strip, the fresh coconut on top was totally worth it. This cake was definitely a show stopper, and it disappeared in no time.
This ice cream is made with coconut milk, coconut sugar and saffron, giving it a truly exotic flavor. I've never made an ice cream from David Lebovitz that I didn't like, and this one was no different. Not everyone was a fan, which I believe had to do with the fact that this ice cream has a much different flavor than traditional ice creams and isn't quite as sweet. I really enjoyed it, though, and I can't wait to make something else with the coconut sugar I used in this recipe.
This spin on the classic piña colada might have been my favorite recipe of the night. It's got coconut water, coconut milk, light rum and coconut rum. There's a ton of coconut flavor packed into this drink, and I felt like I was sipping it on a beach when I drank it out of this coconut.
And just to show what a fun time we had, here's a picture of me and my friend Amanda enjoying some tasty drinks in the cutest pineapple cups that my friends Katy and Juli were nice enough to bring.
Thank you so much for allowing me to share our party with you! I'll be posting many of the recipes soon, and I hope you'll come back to take a look at them. Spring may be a couple months away, but a tropical getaway is closer than you think!