I'm a food nurturer. I always have been. Often times, when I can't find the right words to say, I bake. Food is the universal language. I find cooking and baking can provide comfort to those that need it, myself included. Lately, I've been in need of more kitchen time than usual. See, the past six weeks since Clara's arrival have been a whirlwind of emotion and not just for the normal reasons. Clara was born with a thumb abnormality called thumb hypoplasia, which basically means that she's missing the metacarpal bone in her right thumb. This may not seem like a big deal, but it essentially renders her thumb useless. Being told two days after delivery that she will likely need her thumb amputated wasn't easy to deal with. Beyond that, limb abnormalities can be indicative of underlying internal problems. Though Clara was seemingly healthy, we had to see a few various doctors to confirm that. When she was three weeks old, one of her doctors discovered a heart murmur. A week later, we were at the hospital seeing a pediatric cardiologist for an echocardiogram of Clara's heart. As it turns out, the murmur is totally harmless, but I can't tell you how scared I was lying next to her and wondering what we were about to find out. Suddenly, the fact that she'll probably grow up with only nine fingers seemed trivial. Hello, perspective.
The first three weeks of her life, I was worried about all kinds of things – if kids will make fun of her when she goes to school, if she'll be able to open a jar, if she'll be angry with us when she grows up because of what we decide to do with her hand. Eric kept telling me we would do whatever was necessary to ensure that she has the best life possible, and that we would raise her to be strong and confident. There were even a few "her last name is Champion, so she already wins at everything" jokes in there. Because we wanted to enjoy every second with her, without people constantly asking what we were going to do about her thumb and without minimizing how great she was doing otherwise, we only told a couple family members at first. Out of those, my sister and brother-in-law were the only ones who knew about the seriousness of the situation. I also had friends to lean on, and they provided a source of strength that only they could. While Christa, Zack and my wonderful friends helped keep me strong, time in the kitchen helped keep me sane.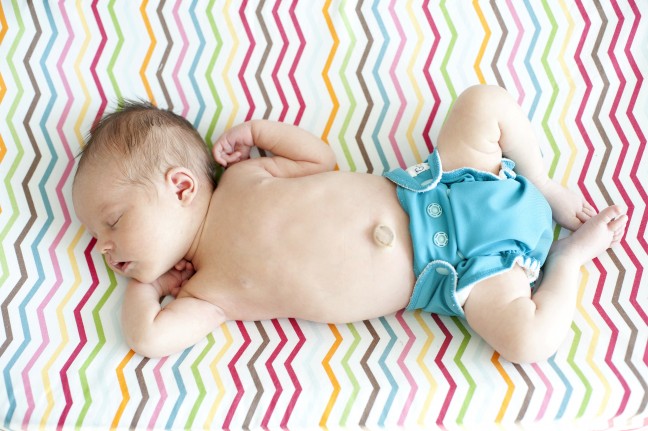 That's where this cake comes in. I've found myself doing quite a bit of late night baking the past several weeks. Nighttime, when things start settling down, is the time I most need a distraction. Since 10 pm isn't really the best time to start something involved, I looked for simple treats that could be made with pantry staples. Eric had to make a late night run to the store the night I made the key lime pie bars, and he did it without hesitation because he knew just how much I needed to bake something. Thankfully, I had everything I needed the night I decided to make this cake. It's simple in execution and can be eaten fairly soon after baking, a double win when baking late at night. It's moist and luscious, with a rich chocolate flavor. The coffee acts as a way to intensify the chocolate flavor but can still be tasted in the background. This cake is exactly what the name says – a snack cake. It's not fancy, but it is delicious and comforting. It doesn't need frosting or a dusting of powdered sugar. It's perfect as is and would be fantastic with a hot cup of coffee or a cold glass of milk.
I know I've got plenty more late nights of baking ahead of me as Eric and I decide what to do about Clara's hand. And I know that, in the future, there will be times that I stay up late to bake because I'm worried about her for silly reasons. As she sleeps peacefully in my lap, I realize there will even be times we bake together because she needs a distraction from something upsetting. I can promise, though, that it will never be because she's upset about her hand. Eric was right – we are going to raise her to be strong and confident, and she'll grow up knowing she can accomplish whatever she wants to. If she ever forgets that, we'll be there (with something yummy, of course) to remind her.
COOK TIME:

YIELD:

16 squares
Ingredients
10 tablespoons very soft unsalted butter, plus more for the pan

1⅔ cups granulated sugar

2 large eggs, at room temperature

1 teaspoon pure vanilla extract

½ teaspoon salt

1½ cups plus 2 tablespoons all-purpose flour, plus more for the pan

½ cup plus ⅓ cup unsweetened natural cocoa powder (not Dutch-processed)

1 teaspoon baking soda

1 teaspoon baking powder

1½ cups brewed coffee, cooled to warm
Directions
1

Heat oven to 350º. Generously butter a 9-inch square pan. Line the bottom with parchment, butter the parchment, then flour the bottom and sides of the pan, tapping out any excess flour. This cake is incredibly moist, so I recommend not skipping the parchment.

2

In the bowl of a stand mixer fitted with the paddle attachment, cream the butter and sugar on medium speed until smooth, about 1 minute. Reduce speed to low and add the eggs one at a time, mixing well after each addition. Mix in the vanilla and salt. If mixing by hand, use a wooden spoon to cream the butter and sugar, then switch to a whisk to mix in the eggs. Mix until the batter is smooth and the sugar starts to dissolve.

3

Sift the dry ingredients directly into the batter, then pour the coffee over. Gently whisk until the dry ingredients are incorporated and the batter is smooth and mostly free of lumps.

Pour batter into prepared pan and tap on the counter to smooth top. Bake until a toothpick inserted in the center comes out with only a few moist crumbs attached, 40-43 minutes.

4

Place pan on a cooling rack to cool for 20 minutes. Run a knife along the edges of the pan and invert the cake to remove from pan. Turn right side up and cool until just warm.

This cake can be stored, well wrapped in plastic, at room temperature for up to 5 days.