I should tell you from the start – these cupcakes do not actually have Snickers in them. So if you're looking for a cupcake with candy inside, this isn't it. However, if you're looking for a cupcake that is insanely delicious and very reminiscent of a Snickers bar, then you've found it.
I took one of my favorite cupcake recipes and morphed it into this recipe, and the result was out of this world good. Rich chocolate cupcakes are filled with caramel and peanuts and then topped with a fluffy peanut butter frosting that mimics the flavor and texture of nougat. Believe me when I say these are some of the best cupcakes I've ever made. I shared one with Eric as soon as I was done making them, and I immediately regretted asking him if he wanted half. And now I'm waiting for a reasonable hour to have another one. I'm not sure how I'd explain to Clara that it was okay for mommy to eat a cupcake for breakfast, so here's to lunchtime desserts!
Though the ingredient list does look long, these cupcakes come together fairly quickly. Make the caramel while the cupcakes are baking, then make the frosting as they cool. You can even enlist a helper to fill the cupcakes for you. Clara loved helping me do this, but that could be because she got to lick the extra caramel off her hands when she was done.
I'm dedicating this post to OXO's Good Cookie Campaign to support Cookies for Kids' Cancer. For each post, OXO is donating $100 to Cookies for Kids' Cancer. Additionally, specially marked OXO products are available for purchase, with 25 cents of each sale being donated in support of pediatric cancer research. Cancer claims the lives of more children in the US than any other disease. So you can see why I was eager to participate in this campaign to help bake a difference. Look for OXO products with this sticker if you're in need of some new kitchen tools.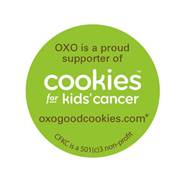 Full disclosure: I received the following OXO tools in order to make these cupcakes: Non-Stick Pro 12 Cup Muffin Pan, Cupcake Icing Knife, and 4 Piece Baker's Silicone Decorating Bottle Kit. All opinions expressed here are, as always, my own.
Cookies for Kids' Cancer is a recognized 501c(3) public charity duly incorporated under the laws of the state of New Jersey. Your donations are tax deductible to the fullest extent allowable by law. 100% of proceeds raised by Cookies for Kids' Cancer fund pediatric cancer research. OXO will be donating $100 to Cookies for Kids' Cancer for each blog post dedicated to this campaign in October (up to our $100,000 commitment*.) *In 2015, OXO will donate up to $100,000 to Cookies for Kids' Cancer through product proceeds, bake sale matches and other fundraising efforts.