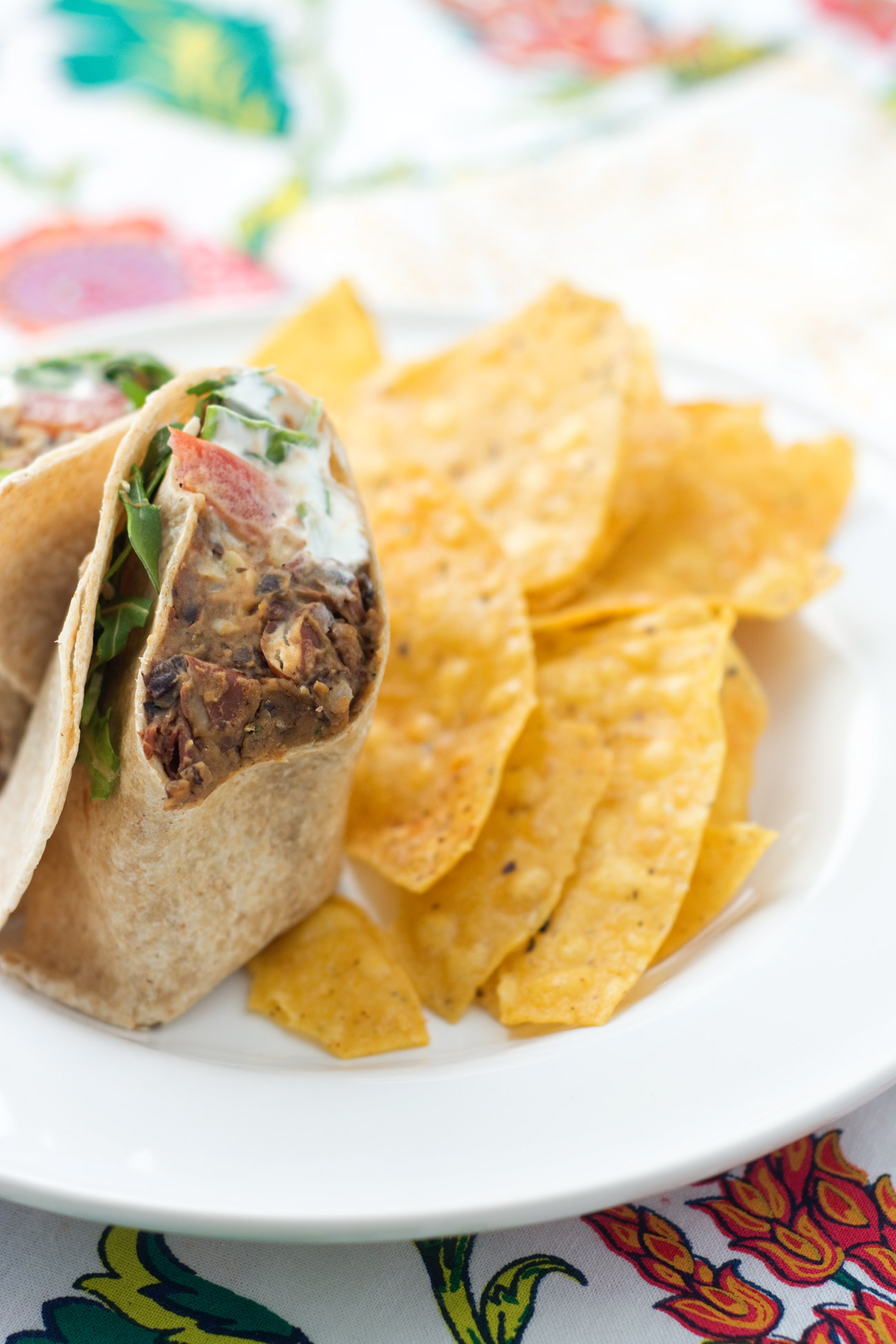 Tex-Mex/Mexican is easily our favorite cuisine. We could eat it several times a week and never tire of it. These chicken fajitas make a regular appearance on our weekly menu, even when it's too cold and snowy to light up the grill (this is when our panini grill comes in handy). Lately, we've been loving these burritos. Though I thankfully haven't had any morning sickness, there are still days when nothing sounds good to eat. Just like my pregnancy with Clara, meat is pretty much the only aversion I've had this time. Finding a good, quick meatless meal that isn't pasta has been a lifesaver for those days when nothing sounds good and my desire to cook is low.
The burrito filling is made with black and kidney beans, and it requires very little stovetop time. By the time you've prepped your toppings, the filling is done. The filling isn't spicy but gets plenty of smoky flavor from the chipotle, chili powder and cumin. This recipe definitely meets what Eric and I jokingly call The Champion Quotient. Basically, it's something that requires minimum work and produces maximum results. These burritos certainly don't look like anything special, but don't be deceived by their humble appearance. They are simple, delicious and make wonderful leftovers. Win win win. Serve them with a batch of tortilla chips and homemade salsa for an easy weeknight meal.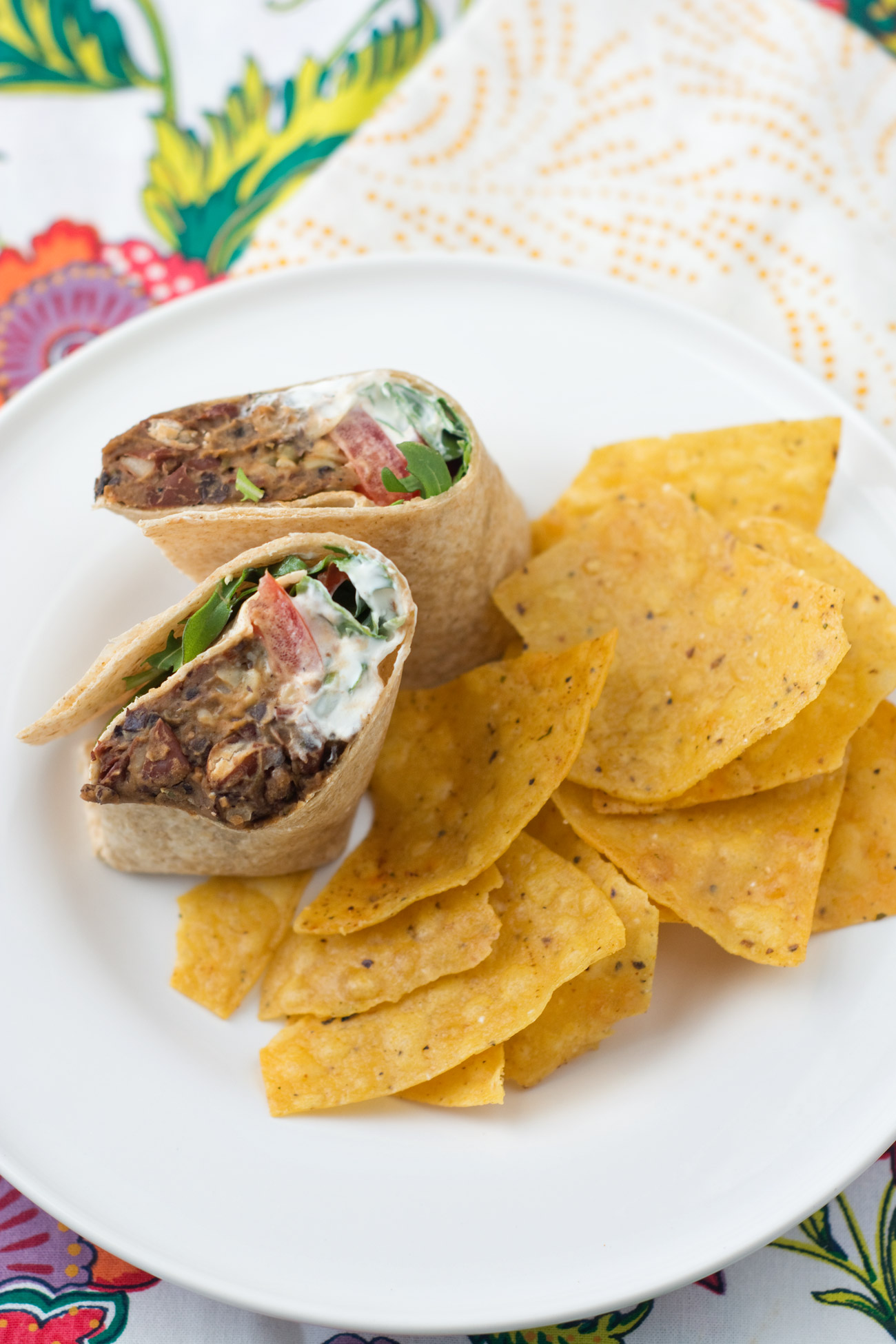 Ingredients
2 teaspoons canola oil

2 cloves garlic, minced

1 teaspoon chili powder

1 teaspoon minced chipotle chile in adobo sauce

1 teaspoon ground cumin

¼ teaspoon kosher salt

⅓ cup water or vegetable broth

1 15-ounce can black beans, drained and rinsed

1 15-ounce can kidney beans, drained and rinsed

6 tablespoons fresh salsa

6 10-inch whole wheat flour tortillas

1 cup freshly shredded cheese

1½ cups chopped tomatoes

1½ cups baby arugula

6 tablespoons thinly sliced green onion

6 tablespoons Greek yogurt or sour cream
NOTES:
Use whatever greens you like for the burritos. We prefer peppery arugula, but you can use the spinach called for in the original recipe if that's more your style. The filling will keep for several days and reheats wonderfully if you, like us, don't need all of it at once.
Directions
1

Heat the oil in a medium (nonstick if you have it) skillet set over medium heat. Add the garlic, chile powder, chipotle chile, cumin, and salt, and cook until fragrant, about 1 minute. Add the beans and broth, and bring to a boil. Reduce heat to medium-low, and allow to simmer 10 minutes. Remove from heat, stir in salsa, and mash lightly with a fork.

2

Warm the tortillas in the microwave for about 15 seconds. Spoon about ⅓ cup of the bean mixture down the center of each tortilla. Top each serving with about 2½ Tablespoons shredded cheese, ¼ cup tomatoes, ¼ cup arugula, 1 tablespoon green onion, and 1 tablespoon Greek yogurt. Roll tightly and serve immediately.

Refrigerate any leftover filling and reheat as desired.