Baked Blood Orange Doughnuts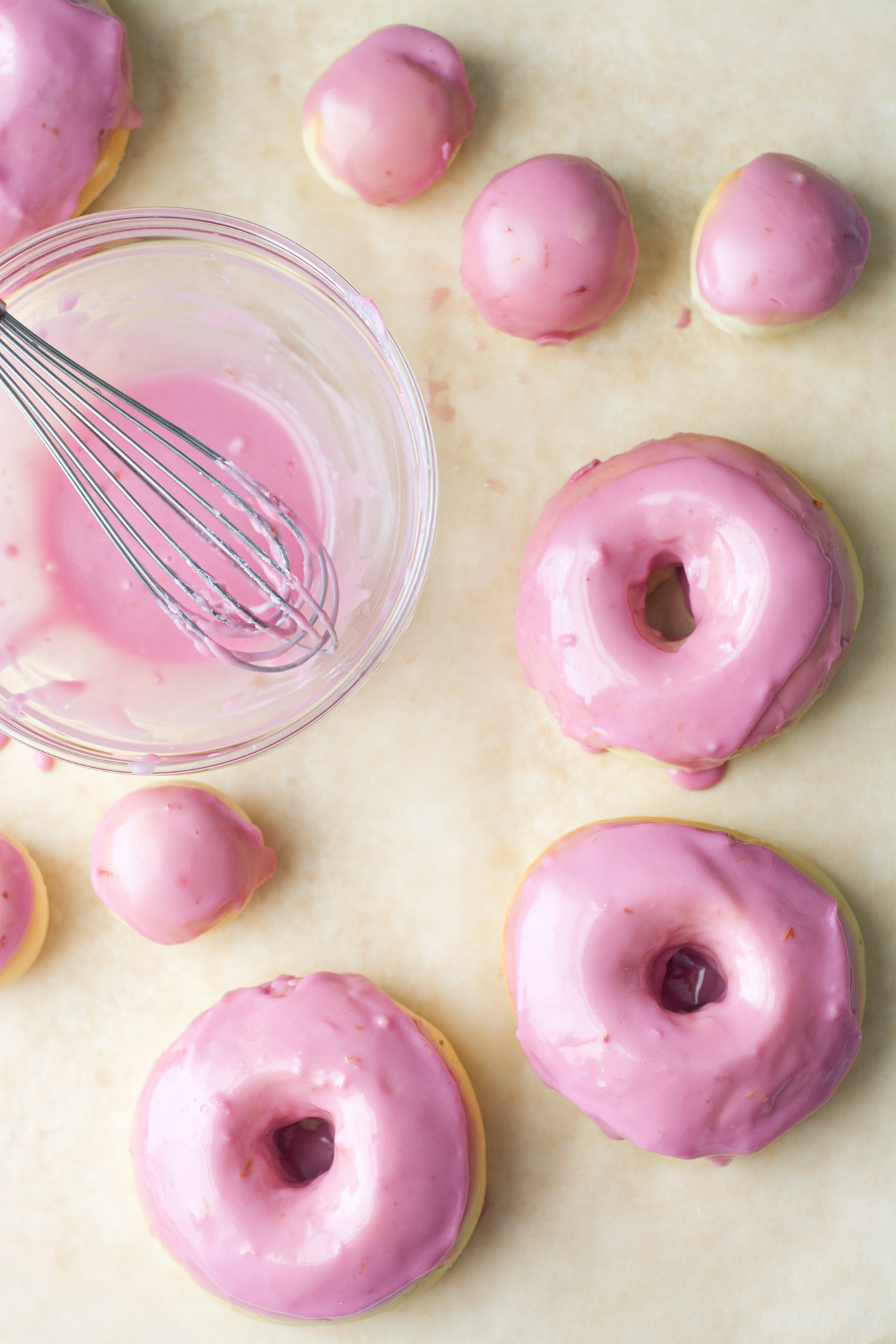 It is finally springtime here, like legit springtime and not that hard freeze mess we had last week. I'm so thrilled because that means more time spent outside, dinners cooked entirely on the grill, weekends spent working on our garden, and the fact that I'll be having a baby super soon. You know who else is having a baby? My awesome friend Joanne! Today, we are celebrating her and her soon-to-arrive baby girl. I've had the chance to hang out with Joanne in person, and she is just as hilarious and sweet as you would think from reading her blog. I'm so excited for her to enter motherhood, and it's also nice to know she'll be going through similar phases as me since our due dates aren't too far apart.
I toyed with a few ideas for this shower but couldn't get the idea of something with blood orange out of my head. I originally though I'd make a mocktail of some sort, but Clara's nearly constant talk of doughnuts lately convinced me to make some of them instead. These doughnuts are baked, so they are definitely different than standard fried doughnuts, but I promise you they are no less delicious. The texture is akin to soft pretzels or a really good sweet roll. I added blood orange zest to the dough, and they were so wonderfully fragrant while baking. Clara and I shared one of the doughnut holes as soon as it was cool enough to handle, and it was amazing even without the glaze. That should tell you just how good these are when topped with that gorgeous blood orange glaze. These beauties would be wonderful at a springtime brunch, and you've got time to make them before the blood orange season ends.
Be sure to check out all of the other springtime treats Joanne's friends made for the shower!
Orange Ginger Spritzer from The Lemon Bowl
Asparagus and Pea Puff Pastry Tarts from Belly Full
Lemon Raspberry Cheesecake Cups from Keep It Sweet Dessert
Meyer Lemon Soufflé from Blahnik Baker
Strawberry Tartlets from The Cooking Actress
New York-Style Rhubarb Crumb Cake from Warm Vanilla Sugar
Berry Fool Tarts from Bake or Break
Lemon Raspberry White Chocolate Chip Cookies from The Baker Chick
Mini Pineapple Upside-Down Cakes from Baker by Nature