Spring and the longer days that come with it make me very reluctant to spend too much time inside cooking dinner. I like that the extra light gives me a chance to snap a picture before dinner, but really I'd rather be enjoying the warm weather and sunshine outside with Eric and Clara. And that's precisely what I've been doing since warm weather made its reappearance recently. Quick dinners that give us time to go back outside after we eat have become our standard this time of year.
I usually think of one-pan or pasta recipes as the easiest to whip together this time of year, but a main dish with a side or two can come together just as quickly if chosen well. That was the case with this dinner. The chicken is pounded thin and pan fried, so it cooks very quickly. The potatoes we served on the side roasted while we prepped and cooked the chicken. The panko gets nice and crunchy while the chicken stays perfectly juicy. A squeeze of fresh lemon brightens up the chicken. It was the perfect dinner for this time of year, and I'm sure it will be making many more appearances as we get into summer (and life with a newborn).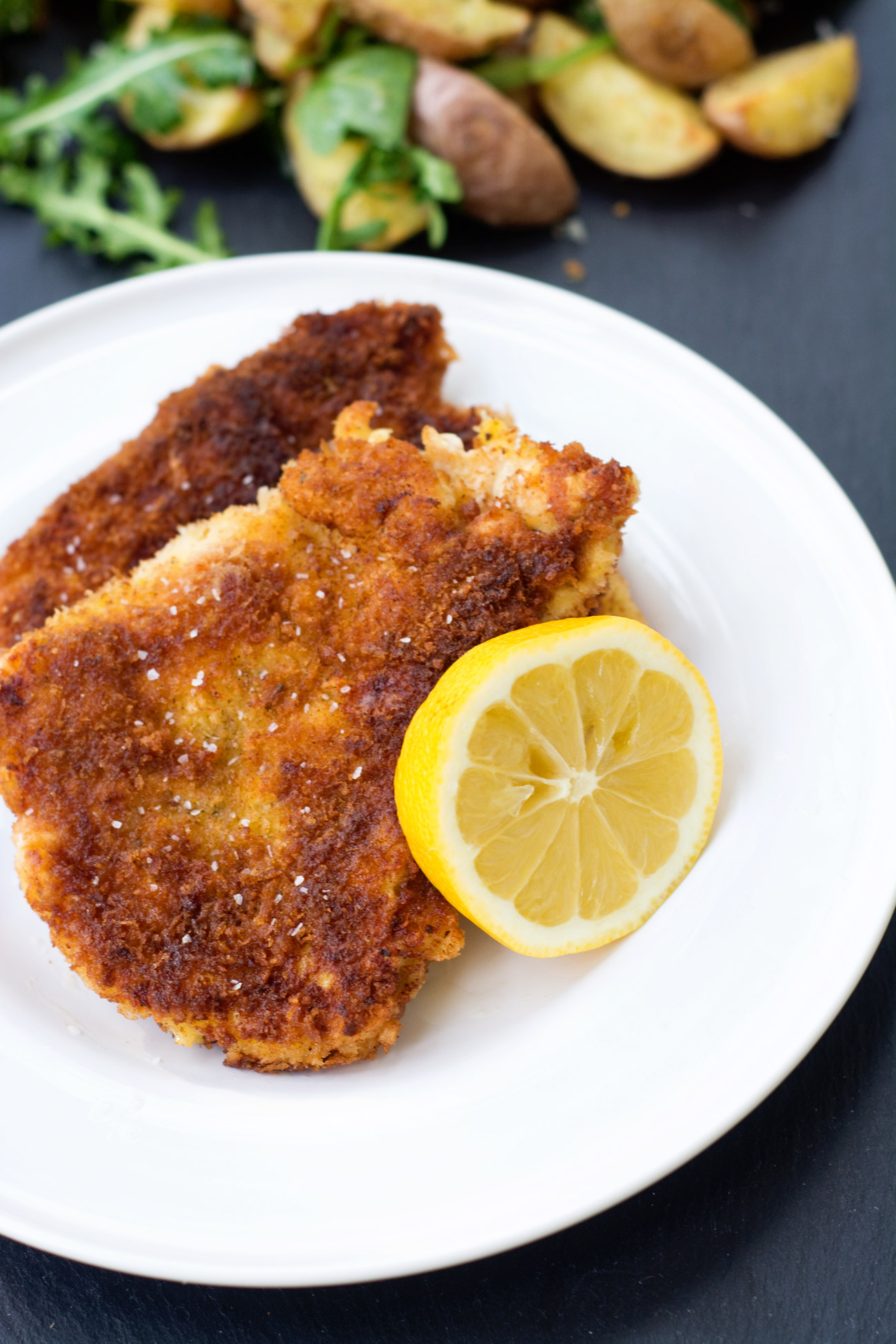 Ingredients
¾ cup all-purpose flour

2 large eggs

1½ cups panko

¼ cup grated Parmesan

1 tablespoon mustard powder

Kosher salt and freshly ground black pepper

1½ pounds boneless, skinless chicken breasts

8 tablespoon olive oil, divided

1 lemon, halved
NOTES:
You can buy chicken cutlets for this recipe, but we prefer to cut our own. It saves money and typically yields a more uniform cutlet.
Directions
1

Place flour in a shallow bowl. Use a fork to beat eggs in a second shallow bowl. Combine the panko, Parmesan, and mustard powder in a third shallow bowl and season mixture with salt and pepper. Set aside.

2

To cut the chicken into cutlets, place one breast on a cutting board. Holding it with one hand, use a sharp knife to carefully slice horizontally. Open up the breast and, if needed, cut the two halves to separate. Repeat with remaining chicken. Pound each cutlet ¼-inch thick.

Season the chicken with salt and pepper. Dredge in flour, shaking off any excess. Transfer to the egg and turn to coat, then lift and let any excess egg drip back into the bowl. Coat with the panko mixture, pressing to adhere.

3

Heat 6 tablespoons of oil in a large skillet over medium-high heat. Working in two batches, cook the chicken until golden brown and cooked through, about 4 minutes per side. Transfer chicken to a paper towel-lined plate and season with salt. Add the remaining 2 tablespoons of oil to the skillet if needed, and cook remaining chicken. Serve with lemon halves.