Hi, friends! I don't have a recipe to post, but I do have exciting news. Our newest little one arrived last week! I'm still recovering, but I hope to be back in the kitchen (and back to blogging) soon. Until then, here's the story of how our little lion man made his grand entrance into the world.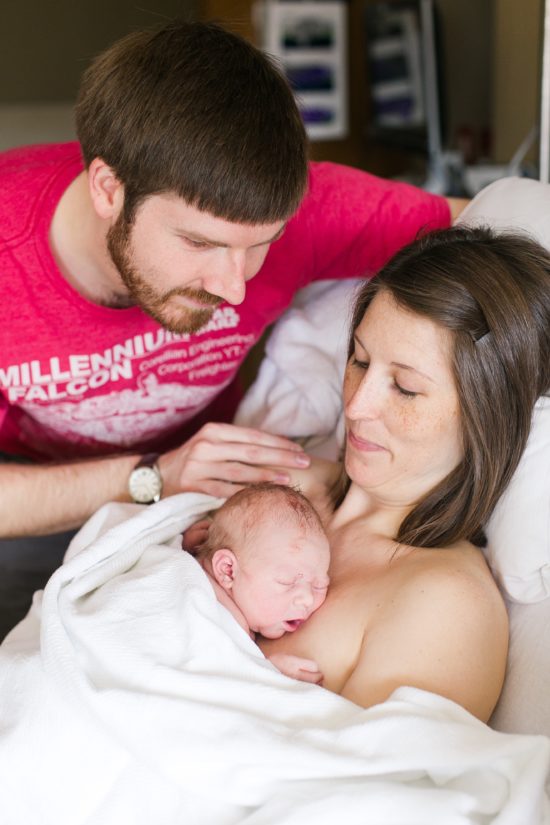 Photo by Kristi McKeag Photography
As I approached and then went past my due date, the inevitability of giving birth started to really hit me. I knew our time with Clara as an only child was coming to a close, and we tried to pack in as much fun as we could. Our doula, Melanie, told us to "do life," and I feel like we did an excellent job of doing just that. I took Clara on an impromptu visit to the zoo on Thursday. Eric took Friday afternoon off, and the three of us went out to lunch and spent a few hours walking around Maymont. I thought all that walking might jumpstart labor, but I woke up Saturday feeling no different than any other day. We were at a party Saturday evening, and I had the feeling something might happen that night.
I woke up around 4:15 Sunday morning with contractions. At a day over 41 weeks, I was fairly certain it was real labor. I used the bathroom and noticed that I was spotting. I tried to go back to sleep, thinking about how it could be hours before labor really got moving, but I could never get comfortable enough to fall back asleep. My contractions were coming every 7-9 minutes, and I wasn't in too much pain, so I waited to wake Eric. I had this brilliant idea that I was going to take cookies to labor and delivery with me, so I made three batches of cookie dough ahead of time and froze it. I was tempted to go downstairs and start baking them when I first woke up, but I knew I should be resting even if I couldn't go back to sleep.
Around 5:15, I decided to wake Eric and grab a shower. Contractions were steady at 7 minutes apart, and Eric texted Melanie to give her a head's up. I showered for nearly half an hour, during which time the contractions went from just uncomfortable to painful. The shower felt wonderful, though, and I wanted to stay in there as long as possible.
Clara was still asleep, and we were taking our time getting ready. The hospital bags had been packed for weeks, but there were last minute things we needed to toss in. My contractions were still about 7 minutes apart when Eric got in the shower. While I was drying my hair, I started having what Melanie later told me were "aftershocks" about 3 minutes after each contraction. They were shorter than my normal contractions but really caught me off guard and were quite painful. Eric was barely out of the shower before I was asking him for counter pressure on my back while I braced myself on the bathroom vanity.
A few minutes after 7:00, I was about to go downstairs to grab breakfast when I suddenly felt very nauseated and clammy. Despite my best plans, neither of us ate breakfast, though I did have the foresight to at least pack some cereal and KIND bars in the hospital bag. Eric began making plans for Clara, still thinking we had a good bit of time before we needed to leave for the hospital, which is about 25 minutes away. He called our neighbor Jill and told her we could drop Clara off shortly. Then he called Melanie, and she told us to call the midwife on call. Elizabeth, the midwife, said we needed to get to the hospital, so Melanie said she would meet us there. Eric called Jill back, and she came right over. Needless to say, those cookies I planned on baking never got baked.
Clara woke up and handled everything so well. We told her we were about to go to the hospital, and she changed out of her pajamas and gave me a hug and kiss. I texted my friend Kristi, who was planning to take photographs of the birth, to let her know we were leaving. Jill arrived, and we walked out the door at 7:33. Eric calmly drove us to the hospital, one handed, while I held his other hand and breathed through each contraction. I kept my eyes closed nearly the entire way there. He later told me he would've been more freaked out if he'd known just how soon after that drive the baby would arrive. I was terrified that my water would break in his car, but thankfully it didn't. He was timing my contractions at 2.5 minutes apart on the drive.
We walked into the hospital, and I signed my paperwork just before 8. As we were walking back to the delivery room, I had to stop three times for contractions in the hallway, and I remember feeling Melanie, who had just arrived, start rubbing my shoulders while Eric applied counter pressure to my hips. Once in the room, I got on the bed and my water broke right away. I was still wearing my underwear, which Eric and Melanie pulled off of me. The bed was in a reclined sitting position, and I held onto the back during each contraction. Melanie and Eric stood near me, and Melanie applied a cold cloth to my face, which felt amazing. I remember hearing Elizabeth say, "The baby is at plus four," and I knew it was time to push.
I began pushing while our nurse Robin used the wireless fetal monitor to check on the baby. I knew something was going on, but I didn't feel scared. Melanie later told me that the baby's heart rate was dropping with each contraction and not coming back up. I screamed into the pillow at least once, but I never zoned out. I was very aware of everything people were telling me to do. After feeling like a crazy person during Clara's birth, thanks to the IV pain medicine, the one thing I really wanted from this birth was to be present for it.
Elizabeth told me I needed to turn around to be on my back. Again, I knew something was going on, but everyone in the room was so calm. I asked what was wrong. Elizabeth, Robin and Melanie told me everything was fine but that I needed to push the baby out. They were firm but didn't sound at all panicked, which helped me focus and not panic myself. I would later find out that he had such a tight nuchal cord that it had to be clamped and cut before he was even out. He also had his elbow over his head, further complicating things. Everyone kept telling me to hold my breath and push as hard as I could in order to get him out. Melanie said to send all my energy into pushing out my baby, and I'm really proud of myself for staying focused and doing just that without totally freaking out. The sensation of delivering him was completely surreal.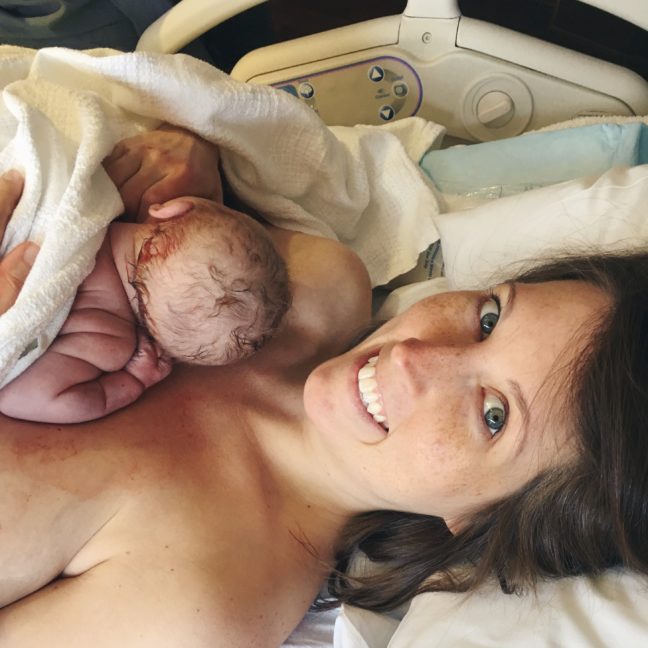 At 8:24, then unnamed Baby Champion made his grand entrance into the world. Melanie pulled my dress and bra over my head, and he was placed immediately on my chest. He wasn't crying, but I wasn't too worried because I knew they wouldn't have put him on me if he was in severe distress. Everyone was rubbing him, and he started crying a moment later. I immediately noticed how little vernix he had (hello, 41 week baby) and how round his head was. He was 8 pounds and 21.5 inches long. As of Thursday, he was only an ounce away from being back at his birth weight.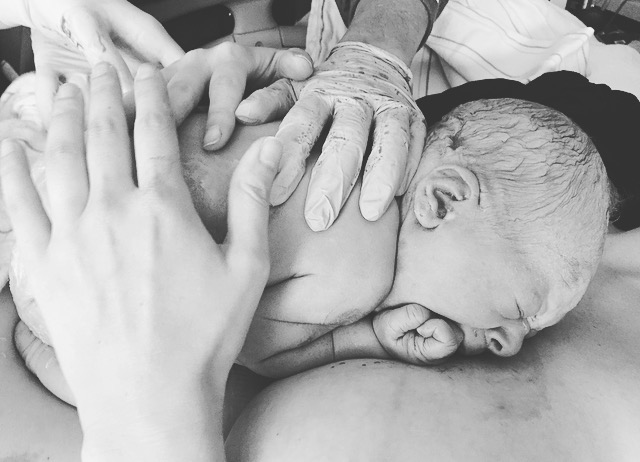 Photo by Melanie Headley, A Brighter Birth
Melanie brought me juice while I was getting cleaned off. I have no idea what it was, but at the time it was the best tasting thing ever. I finally started to process the fact that I'd just had a baby, less than an hour after leaving my house. I couldn't believe I literally walked into the hospital during transition and then had a baby just a few minutes later! I'm incredibly thankful for the amazing team we had.
Kristi didn't make it to the hospital in time to photograph the birth, but she came in once I was cleaned up. We have no pictures of Clara from those first few hours, and it's something I will always regret. Having Kristi there to capture Leo's first moments meant the world to me, and I will forever treasure the images she shot that day.
Eric planned to come back home to get Clara and bring her to the hospital, but Jill kindly offered to bring her to us. She even brought us doughnuts from Sugar Shack, which were much appreciated since we were both quite hungry once all the adrenaline wore off. Kristi stayed to get pictures of Clara meeting Leo, and then she and Jill each headed home.
Robin offered me a bath and said postpartum hydrotherapy can be very comforting. I was a little scared to attempt climbing into the giant tub, but Robin was super helpful and let me take my time. It was so nice that I stayed in for nearly an hour while Eric did skin to skin with Leo and Clara read books on my phone. It was such a relaxing time and completely opposite of the hours following Clara's birth. Robin sat on the edge of the tub and chatted with me about all sorts of things – local farmers markets, jam making, the blog, kids. It seems like that would be totally weird, but it wasn't. She was an amazing nurse, and we joked that it was serendipitous that we ended up with her as our nurse since she is a Star Wars fan. She loved that Clara wanted to name the baby R2-D2. I was sad to leave her when it was time to go to the recovery room. The only moment I teared up was when Robin was hugging Clara. She said, "Do you know what the best thing is about having a little brother? You get to take the kindness that's in your heart and share it with your brother. Then the kindness that you put into the world is doubled."
Eric and Clara went home Sunday night, and it was heartbreaking for me to watch Clara leave. She was so concerned about me staying in the hospital overnight and shed a lot of tears as we said goodbye. She and Eric came back the next morning with coffee and breakfast from one of our favorite coffee shops. Our friend Kelli got Clara from the hospital shortly after that, and Eric and I were able to get some alone time with the baby. We finally decided to name him Leo. It was on our list, and it seemed the most appropriate given his "in like a lion" entrance into the world. Leo and I left the hospital that afternoon, and we've been taking it easy at home.
I never could have guessed beforehand what a healing experience giving birth to Leo would be. After all we went through in the days following Clara's arrival, I had a lot of fear about being pregnant again. The empowerment I felt after Leo's birth was in stark contrast to the helplessness I felt after Clara was born. It was truly a transformative experience in more ways than I ever could have imagined, and I'm eternally thankful for the amazing team that made it happen.
Clara has been an excellent helper and is so sweet and gentle with Leo. He fits right into our family in a way I couldn't imagine during pregnancy. We are all completely smitten with him.