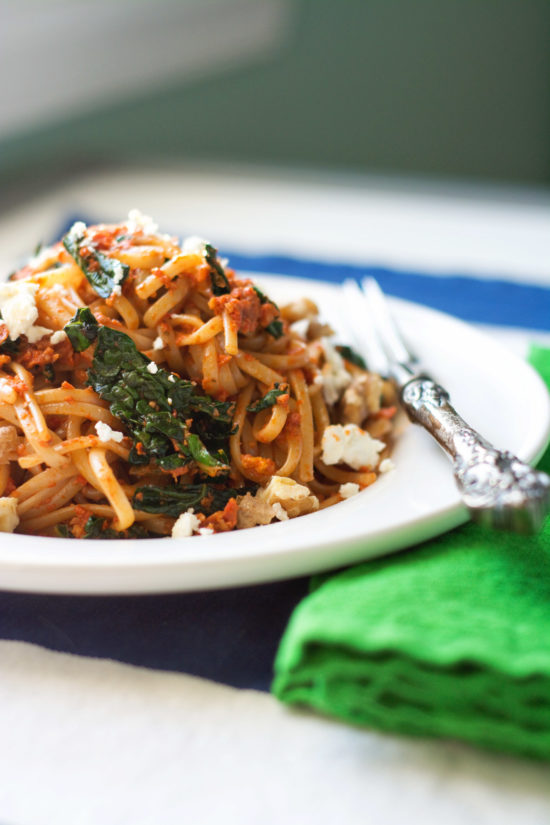 Long summer days make me yearn to spend time outside – going for evening walks, drinking wine on a neighbor's deck, staying out late. The abundant daylight makes me want to spend more time playing and less time cooking. Leo's arrival, coupled with our desire to soak up these long summer nights, has meant our meals have been less involved than usual. What I crave this time of year is fresh, light, simple meals. This pasta has been a regular in our house, and it's just the kind of dinner that works for us right now. A quick, punchy pesto is tossed with pasta, sautéed kale, toasted walnuts and creamy feta.
I've got plenty of delicious recipes (um, mostly ice creams) to share with you guys, but I've been too busy soaking up those fleeting newborn snuggles to take photos of everything I want to post. Leo is such a dreamboat, and life with two little ones has been much less of an adjustment than I thought it would be, so I'll be back soon.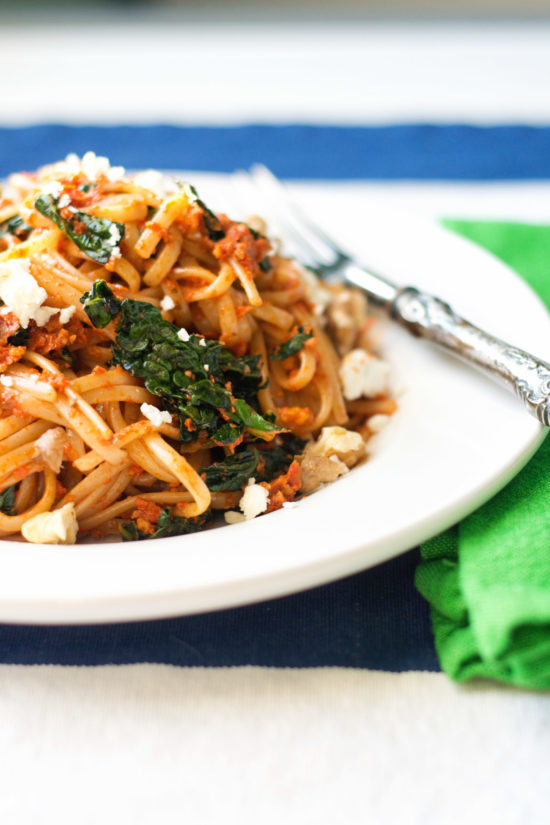 Ingredients
1 pound whole wheat linguine or other pasta

12-ounce jar roasted red peppers, drained

12 sundried tomatoes packed in oil

2 tablespoons olive oil, divided

1 cup chopped walnuts, divided

½ teaspoon kosher salt

1 bunch kale

Pinch red pepper flakes

4 ounces feta, crumbled
NOTES:
As I typically do with pasta dishes, I make the full recipe of sauce and freeze half of it, halving the rest of the recipe. This prevents dried out, reheated pasta and gives us an easy way to get dinner on the table on crazy nights.
Directions
1

Boil the pasta according to package directions.

Meanwhile, combine the red peppers, tomatoes, 1 tablespoon of olive oil, ½ cup of walnuts, and salt in the bowl of a food processor. Pulse until combined.

2

While the pasta cooks, remove the stems from the kale and chop the leaves. Heat the remaining tablespoon of oil in a large skillet over medium-high heat. Add the kale and red pepper flakes and sauté until the kale is bright green. Season with salt and pepper to taste.

Drain the pasta, reserving a small amount of cooking water. Toast the remaining ½ cup of walnuts in a small skillet over medium heat for 3-4 minutes or until fragrant.

3

Toss the pesto with the pasta, adding water if needed to loosen the sauce. Add the kale, then top each portion of pasta with walnuts and feta. Sprinkle with additional red pepper flakes, if desired.