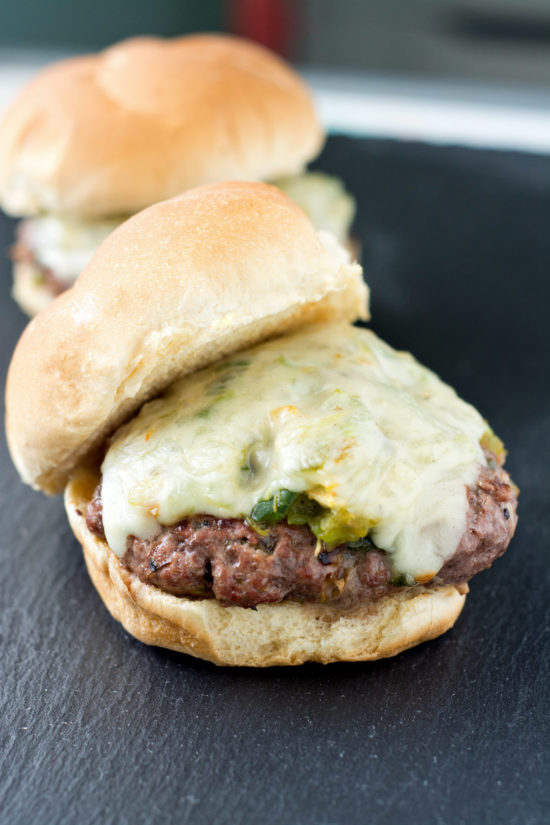 If you're like me and give a major side eye to the pumpkin recipes that start popping up this time of year, then this summer recipe is for you. After all, it's still August and prime time for grilling season. I'd like to enjoy the rest of summer (burgers! ice cream! okra! tomatoes!), and posting fall recipes now just so they can get a lot of traffic is so not my style. Plus, you guys know I only post what we're eating currently, and I am definitely not all about pumpkin when it's over 100 degrees outside. What I am about, though, is dinner on the grill – burgers, sausages, and even salads.
Burgers, when made well, are one of my favorite things to eat off the grill. These burgers are a simple upgrade to standard burgers. Green chiles, onion and garlic are grilled and then chopped in the food processor to make a quick topping. Part of the mixture is processed further into a paste and mixed into the ground beef before forming the burger patties. There's a little heat, along with a lot of smoky flavor from the grilled chiles. I typically don't like cheese on my hamburgers, but I made an exception this time and am glad I did. The cheese and chiles combination reminds me a lot of this queso, so I was pretty certain I'd like it. Serve these burgers with grilled vegetables (I'm obsessed with grilled corn and okra this time of year), or if you really want to go all out, make a batch of these fries.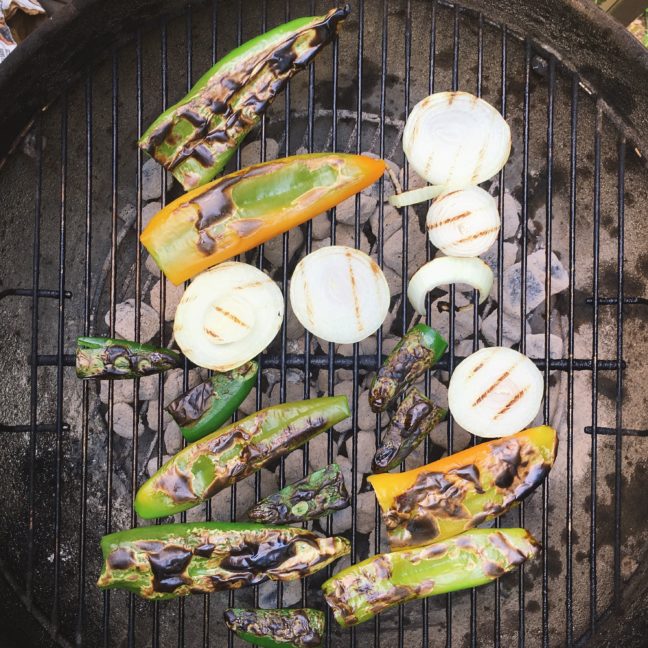 This recipe is from America's Test Kitchen's new book Master of the Grill. I love this book because it is broken down into sections based on difficulty – The Basics, Easy Upgrades, and The Serious Projects. Each section is further broken down into categories based on protein/vegetable/bread. That helps someone like me, who can be indecisive when all the recipes look and sound so good, make a decision more easily. Master of the Grill has a wide range of recipes, ranging from simple ones like this burger recipe to more complicated ones like smoked ribs. In addition to recipes, this book has plenty of practical advice for grilling – what type of charcoal works best, equipment reviews, and tips on everything from best grilling practices to how best to handle several different cuts and types of meat. Whether you're just learning to grill or are a seasoned pro, there are recipes in here for you. Eric is the master griller in our house, but I felt like I could easily tackle any of these recipes.
Want a copy of Master of the Grill? To enter, leave a comment telling me what you're grilling before summer ends.
Full disclosure: This giveaway is sponsored by America's Test Kitchen along with Cook Like a Champion. Giveaway will close on August 17. I received a copy of Master of the Grill to review, but all opinions are my own.