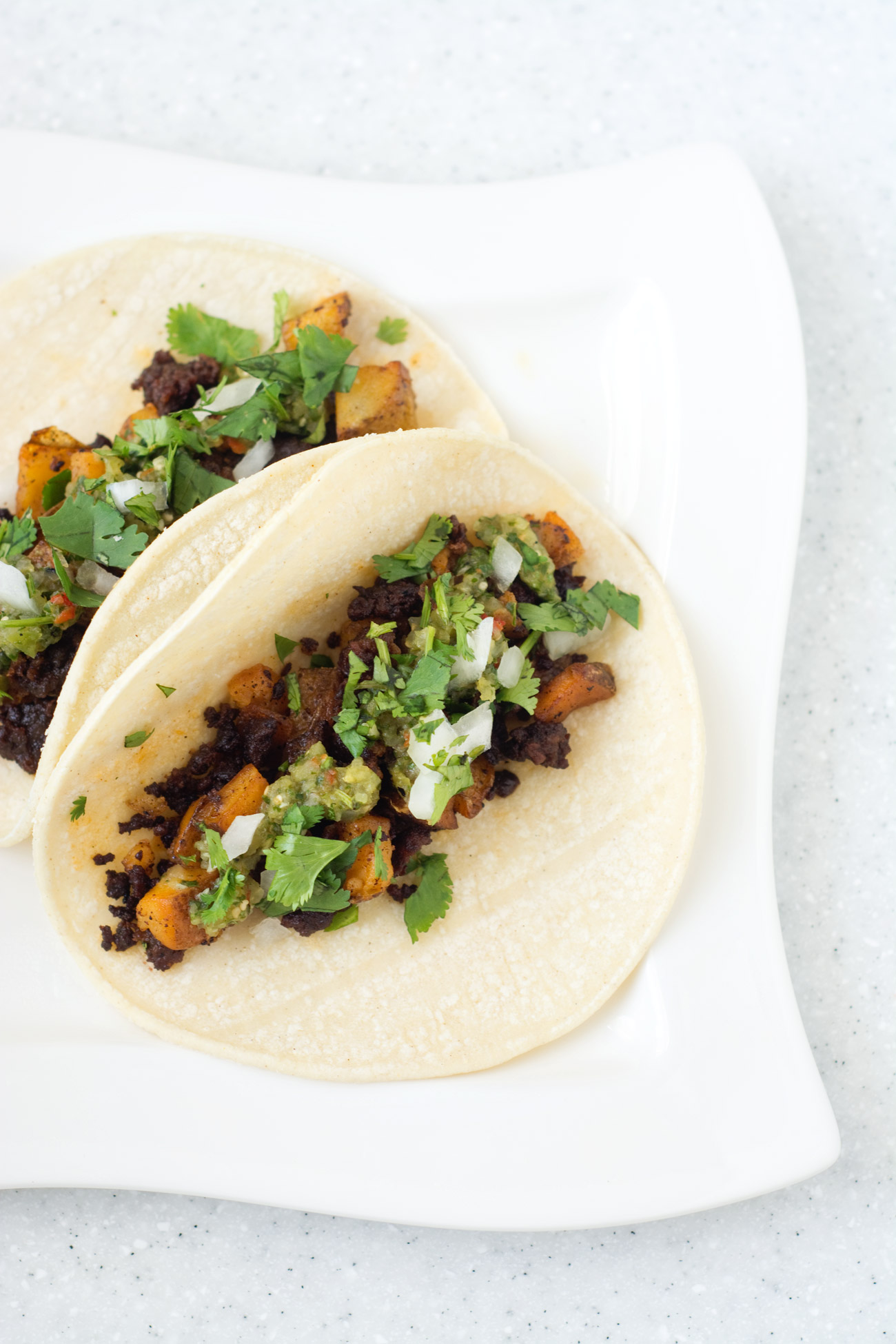 There's been a lot of talk about tacos recently. If you're like me and think about tacos a lot on a regular day, then this has probably made you crave them more than ever. I don't know about you, but I'm all for access to more tacos. We went to one of our former go-to restaurants recently. Their tacos were my favorite thing on the menu, and I was so excited about going there to enjoy a cool evening on their patio. I thought about those tacos all day long only to discover upon arriving that they no longer have them on the menu. Do you ever get your mind set on something to the point that nothing else will do? That's how I felt that evening.
This recipe is a result of that night, when I ended up with tomato soup instead of the chorizo tacos I wanted so badly. I knew I needed to have a go-to recipe for chorizo and potato tacos so that I could alleviate my disappointment and fulfill that taco craving. Now that I've got it, we will be having tacos much more frequently. Instead of making more tacos with the leftovers, I fried an egg and used it to top them for breakfast the next morning.
We tried a new technique when making these – par-cooking the potatoes in vinegar water. These were some of the crispiest and most delicious potatoes I've ever eaten. We switched the recipe up a bit by cooking the chorizo first and then using the remaining fat in the skillet to cook the potatoes. Doing that gave the potatoes so much flavor, and I was having a hard time resisting eating them while we warmed the tortillas.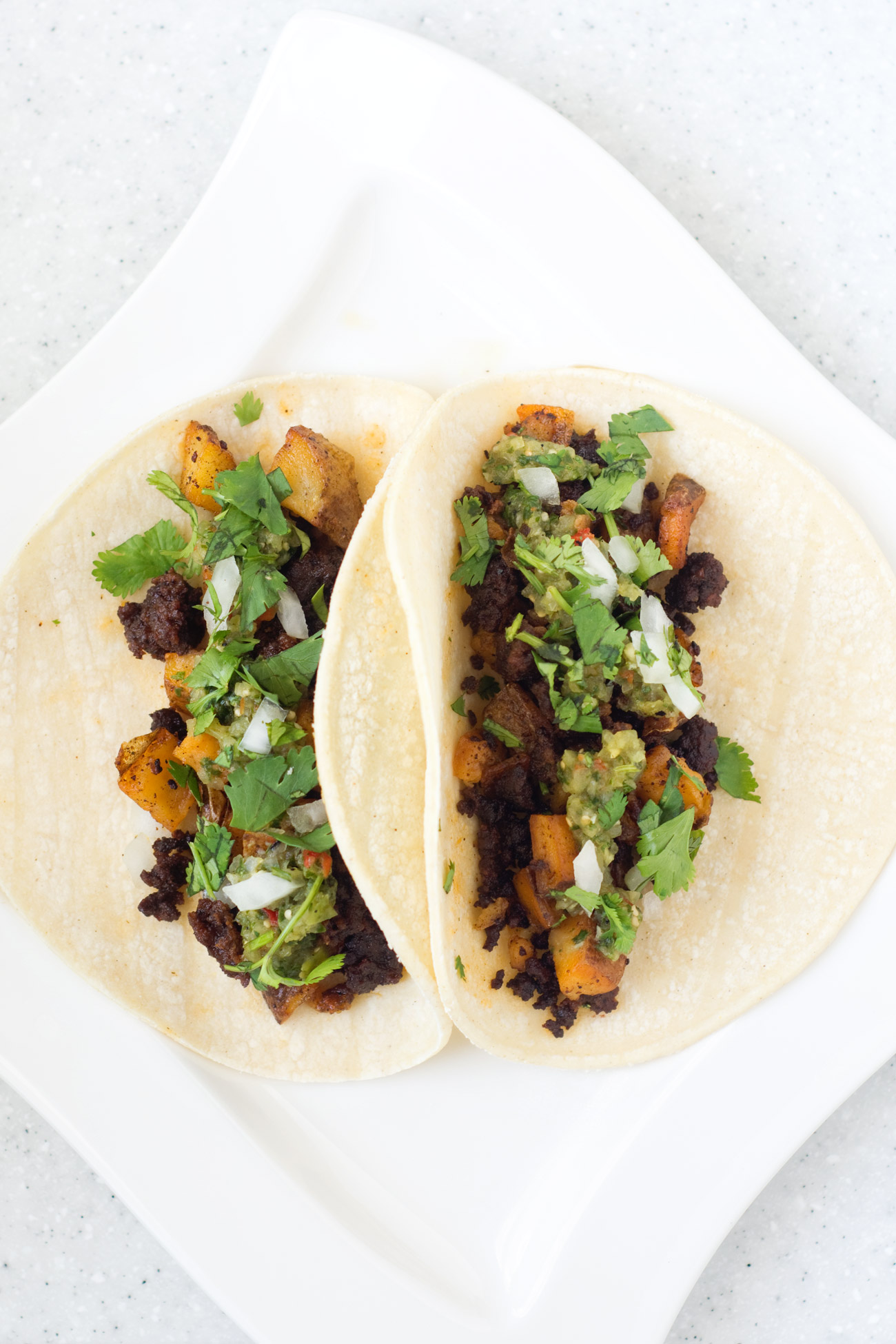 Ingredients
1 pound russet potatoes, cut into½-inch dice (about 3 large potatoes)

Kosher salt

1 tablespoon white vinegar

2 tablespoons vegetable oil

1 pound fresh Mexican chorizo or vegan Mexican chorizo

12-16 warm soft corn tortillas, for serving

1 small white onion, diced, for serving

½ cup chopped fresh cilantro leaves, for serving

Salsa verde, for serving

2 limes cut into 8 wedges each, for serving
NOTES:
Make sure you get fresh (Mexican) chorizo for this recipe and not the dried (Spanish) type.
Directions
1

Place potatoes in a large pot and cover with cold water by 1 inch. Add vinegar and 2 tablespoons of salt. Bring to a boil over high heat and cook for about 5 minutes, just until the potatoes are cooked through. Drain and let rest in the colander until mostly dry.

2

While the potatoes are boiling, start the chorizo. Remove the casings. Heat the oil in a cast iron or nonstick skillet over high heat until shimmering. Add the chorizo and cook, stirring frequently, until heated through. Continue cooking, stirring frequently, until the chorizo is well-browned and mostly dry, about 15 minutes. Remove with a slotted spoon, leaving the fat in the skillet.

3

If you need to, add enough oil to reach about 4 tablespoons of fat in the skillet. Add the potatoes in a single layer and cook, tossing and stirring occasionally, until the potatoes are very crisp and golden brown on all sides, about 15 minutes. Add the cooked chorizo back to the skillet and toss with the potatoes. Season with salt to taste.

Serve with diced onions, cilantro, salsa and lime wedges.