Salted Chocolate-Caramel Bars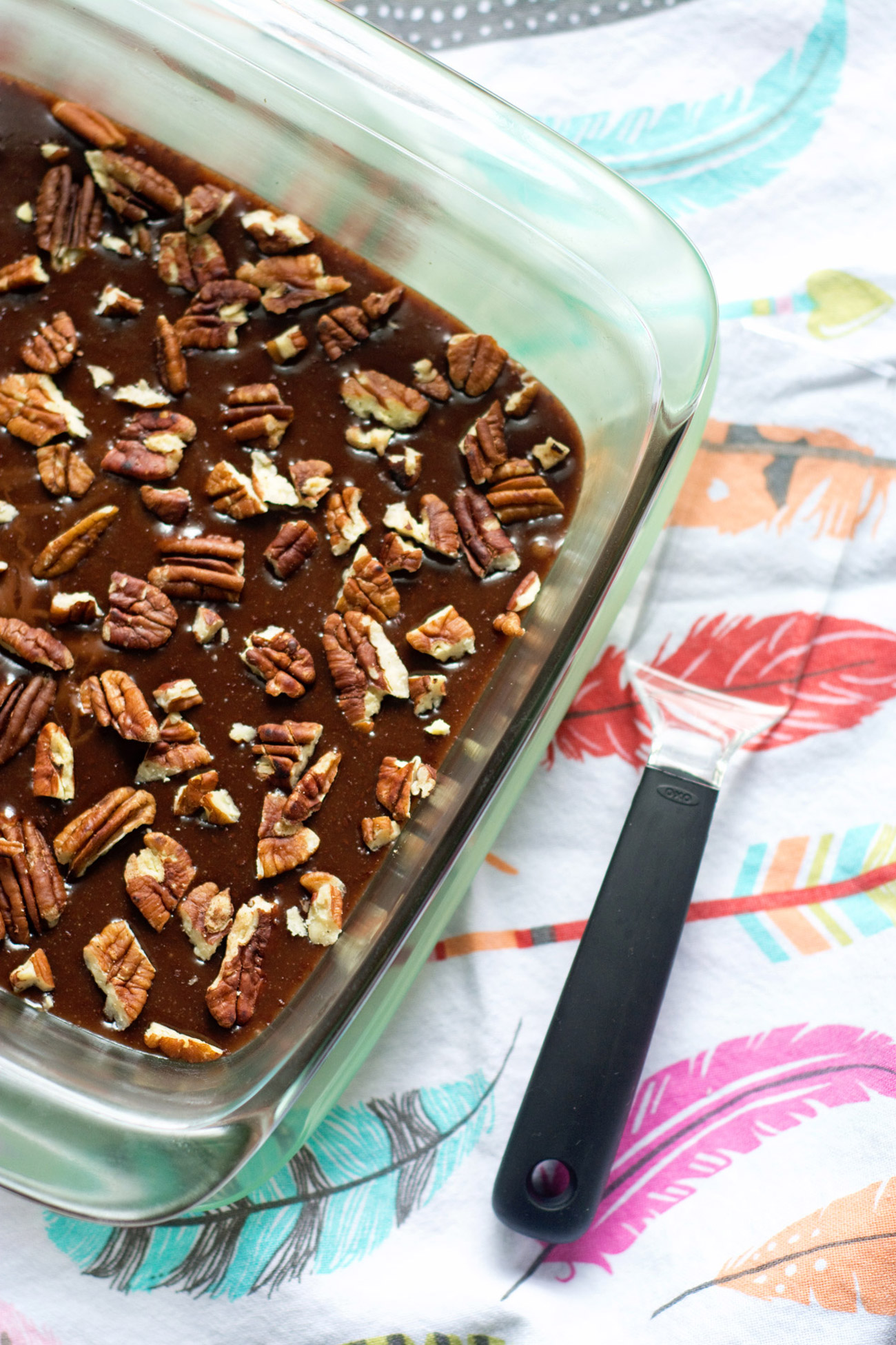 Today's treat is doubly sweet. Not only are these bars delicious, but they're raising money for a good cause. This post is helping to bake a difference with OXO to support Cookies for Kids' Cancer. For each post, OXO is generously donating $100 to this awesome organization. This is my third year participating in this campaign (see my 2014 and 2015 posts), and I'm happy to bake for this cause.
This year, OXO partnered with Dorie Greenspan, and this recipe comes from her soon-to-be-released book, Dorie's Cookies. These bars are nothing short of magical. A chocolate shortbread crust is topped with chocolate caramel, making for one insanely decadent treat. The shortbread crust came together easily with the help of OXO's Illuminating Digital Hand Mixer. I loved that I didn't need to get my stand mixer bowl dirty, and the light on the hand mixer came in handy while baking in my dark kitchen. It's ridiculous how little light there is in there at night. The mixer, with its intuitive digital controls, runs much more smoothly than my old one (that I bought in college), and it takes up much less space because the on-board beater clip, wrap-and-secure cord, and flat, stable base allow for compact, upright storage, something that is especially useful for me and my limited cabinet space.
I baked these lovelies in the Glass 2 Quart Baking Dish with Lid (OXO also sent me the 3 Quart version), and it was super convenient to be able to pop the lid right on the dish and put these bars into the refrigerator. These baking dishes are made from BPA-free borosilicate glass, and can withstand extreme temperature changes, which means you can go from oven to fridge or freezer worry free. That was especially useful for me as I was working on the caramel during one of Leo's short naps. OXO also sent me a Brownie Spatula, and it was perfect for serving up these gooey bars.
Clara was going crazy waiting on the caramel to set because, as she said, "It smells soooooo good that I can't wait." I totally gave her one while I took pictures of the rest. She didn't say a single word the entire time she was eating. I thought it was because the chewy caramel was taking her a while to eat, but once I tried one I understood. These are a truly decadent treat and are meant to be savored. Adding chocolate to caramel is pretty genius on its own. Put that over a chocolate shortbread, and top the whole thing with toasted pecans, and you've got a seriously awesome dessert. The punch of fleur de sel gives these a salty bite that plays wonderfully off the sweetness of the caramel. These are one of those desserts that you won't be able to stop going back to.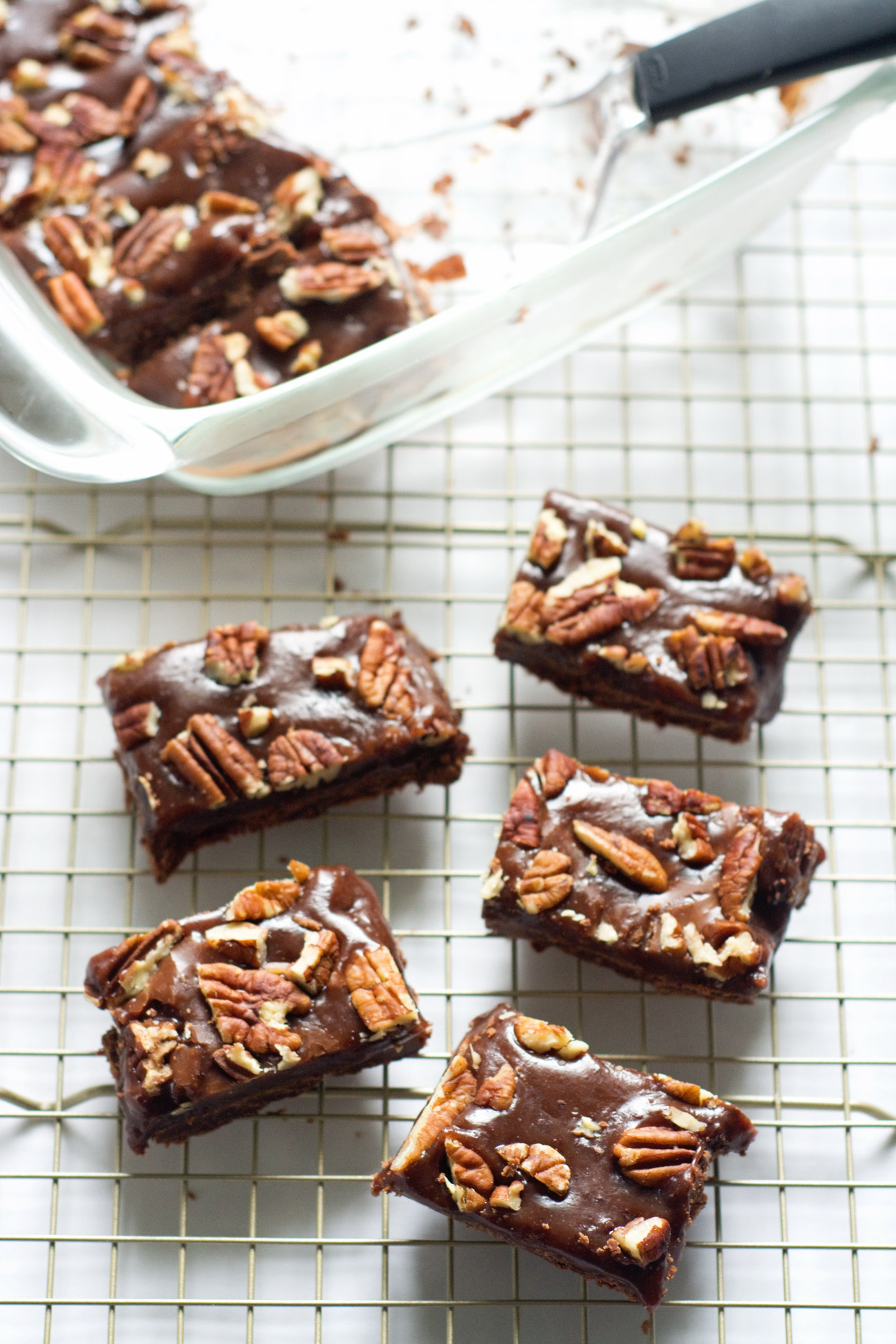 Full disclosure: I received OXO tools in order to make these cookies, but all opinions expressed here are, as always, my own. I would've written this post even if I hadn't received anything because OXO is donating $100 to Cookies for Kids' Cancer for each blog post.
Ingredients
For the shortbread base:

1 cup all-purpose flour

¼ cup unsweetened cocoa powder

1 stick (8 tablespoons) unsalted butter, cut into chunks, at room temperature

⅓ cup sugar

¼ teaspoon fine sea salt

For the caramel topping:

1 cup sugar

2 tablespoons water

1 tablespoon light corn syrup

½ cup heavy cream, at room temperature (or slightly warmed in a microwave)

2 tablespoons unsalted butter, cut into 3 pieces and very soft

¼ teaspoon fleur de sel or a good-size pinch of fine sea salt

2 ounces bittersweet chocolate, finely chopped

About ½ cup pecans, toasted and coarsely chopped
NOTES:
I popped these into the refrigerator a few minutes before cutting. The caramel set at room temperature, but I found the slightly chilled bars easier to cut.
Directions
1

Place a rack in the center of the oven and heat to 350º. Generously butter (or spray) an 8-inch square pan.

To make the shortbread base: Whisk together the flour and cocoa powder. Working with a stand mixer fitted with the paddle attachment, or in a large bowl with a hand mixer, beat the butter, sugar and salt together on medium speed until smooth, about 2 minutes. Turn off the mixer, add the dry ingredients all at once and beat on low until the dough comes together. This will take a little longer than you might expect, so don't get discouraged. Give the dough a few last turns with a flexible spatula and scrape it out into the pan. Using your fingertips, pat the dough evenly over the bottom of the pan; press down and make sure to get the dough into the corners.

2

Bake the shortbread for 21-23 minutes, rotating the pan after 10 minutes, or until it is slightly darker around the edges and just starting to pull away from the sides of the pan; it will not feel completely firm if poked gently. Transfer the pan to a rack and allow the shortbread to cool completely.

3

To make the caramel topping: Put a heatproof bowl close to the stovetop, along with a small bowl of cold water and a pastry brush (preferably silicone).

Put the sugar, water and corn syrup in a small saucepan and bring to a boil over medium-high heat. Allow the ingredients to bubble away, brushing down the sides of the pan with cold water if there are spatters and swirling the pan a couple of times once you start seeing some color, until the caramel turns a pale to medium amber. (Don't let it get as dark as mahogany.) Lower the heat, stand away from the pan and add the cream, followed by the butter and salt — ingredients that might cause the caramel to roil. Remove the pan from the heat, drop in the chocolate and, using a silicone spatula or wooden spoon, stir to blend.

4

Pour the hot caramel over the shortbread and sprinkle with the nuts. Allow to set at room temperature.

When the caramel is firm, run a table knife around the sides of the pan, carefully unmold the cookie onto a rack and turn it over onto a cutting board. Using a long thin knife, cut 21 bars (cut into 3 strips and then cut each strip into 7 bars). Alternatively, leave the cookie whole and cut individual bars as needed.

5

When the caramel is fully set, the cookies (cut or intact) can be refrigerated, covered or wrapped in plastic, for up to 5 days. Remove them from the refrigerator about 10 minutes before serving.