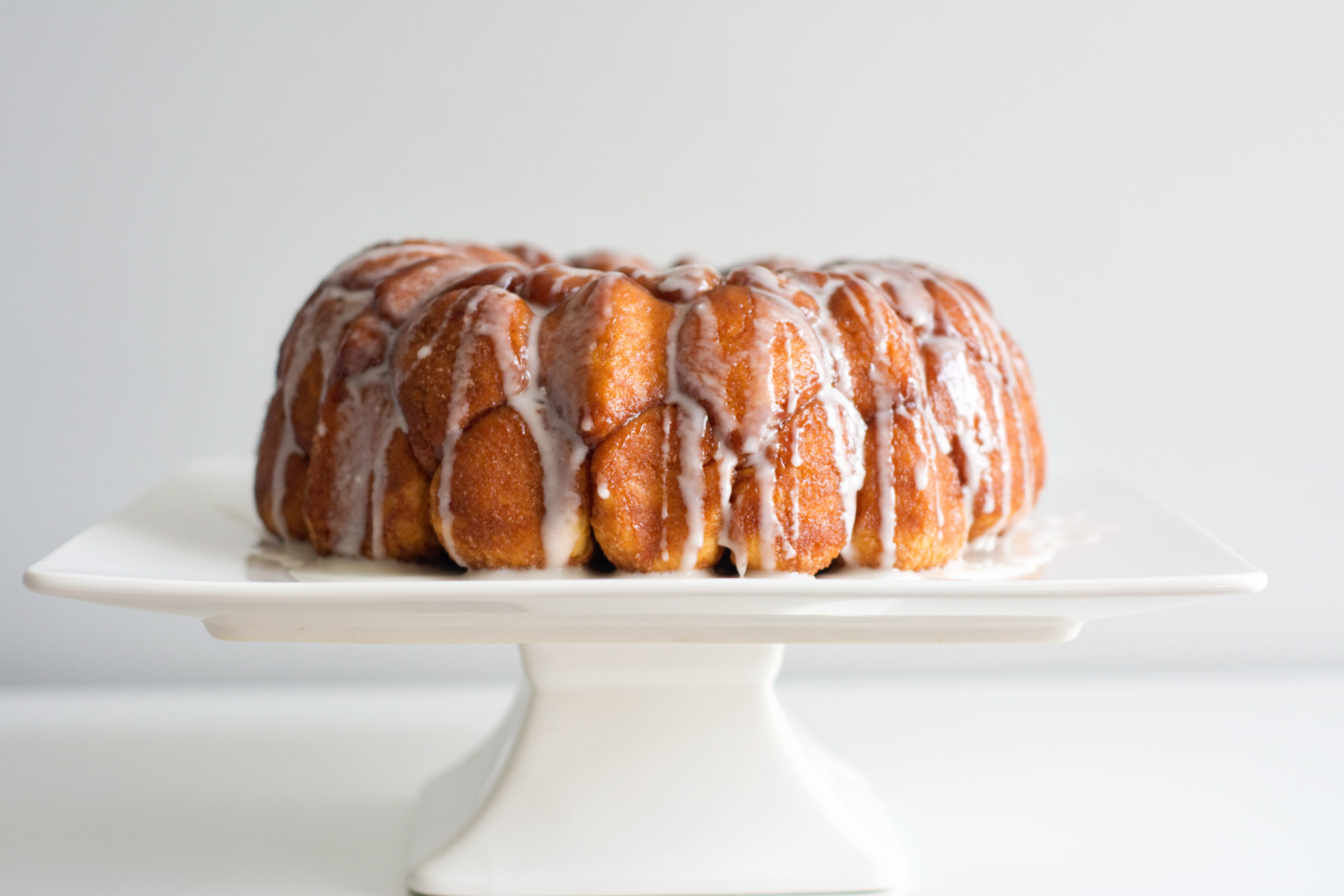 I love bread. During my pregnancy with Leo, there were times all I wanted to eat was a slice of bread with butter. I think that's probably the reason I also craved kale like crazy; I needed something to balance out all the bread. Reading through America's Test Kitchen's new book, Bread Illustrated, brought back those cravings in a serious way. I ended up making something sweet first because, hey, 'tis the season.
When I was first flipping through Bread Illustrated, the monkey bread recipe immediately jumped out at me. I've had a from-scratch recipe maybe one time, so I knew I had to give this a try. My first exposure to monkey bread was when I was young. We would cut up cinnamon rolls (the refrigerated, ready to bake variety) and bake them in a bundt pan, using the included frosting as the glaze. (My dad also used to quarter refrigerated biscuit dough and deep fry it to make "doughnuts," which I thought was basically the greatest thing ever.)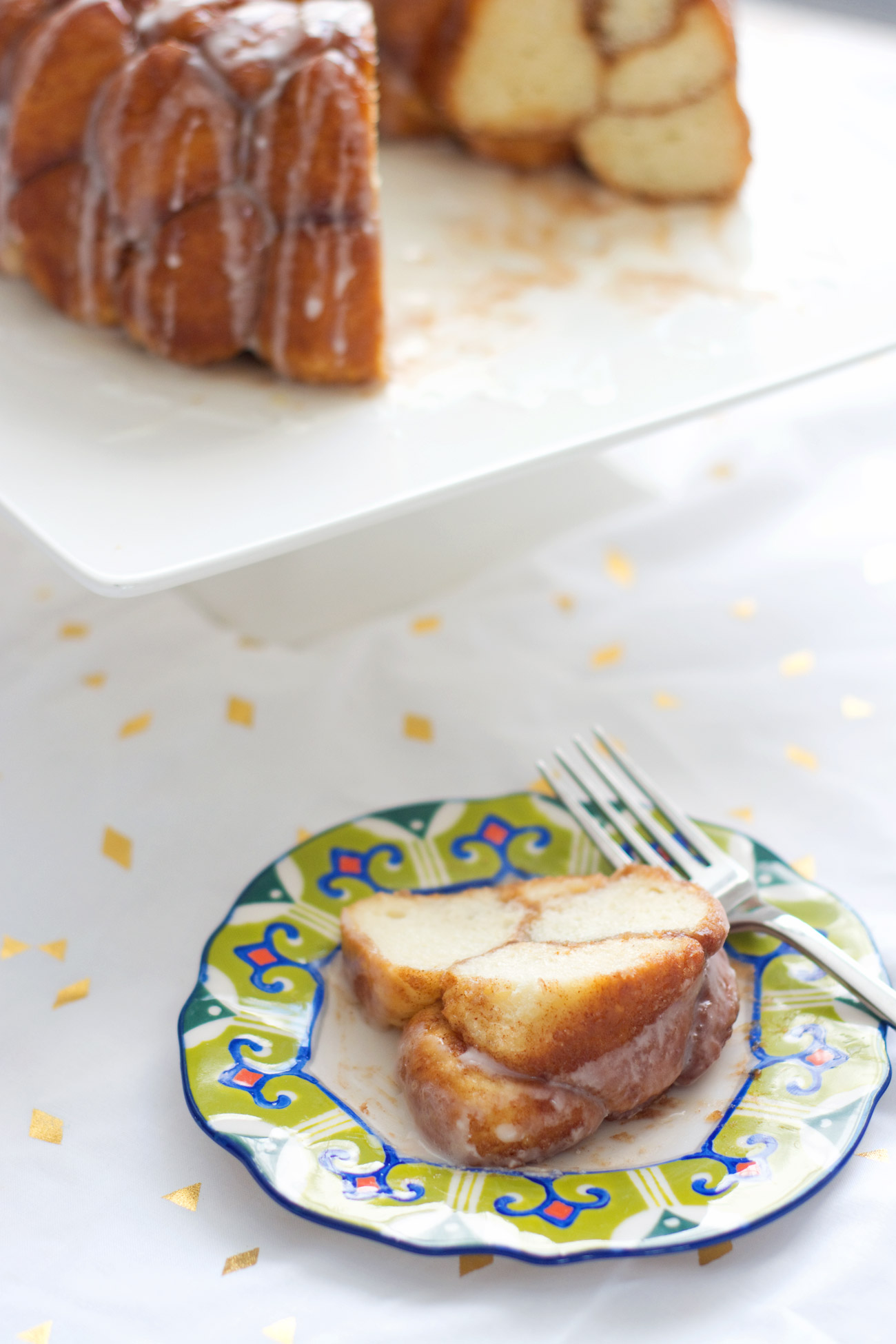 Clara and I made this together, like we do so many baking projects, and she especially loved dunking the balls of dough in butter and then rolling them in brown sugar. Eggnog waffles have been our Christmas morning tradition since Clara's first Christmas (hooray for being home for Christmas!), but this would be an excellent recipe if you're still searching for one. Clara said it was like eating "cinnamon roll balls," and while the general nature is similar to cinnamon rolls, you get some super caramelized and slightly crunchy bites in this that you don't typically get with cinnamon rolls. This bread, with its pull-apart nature, is far too easy to sneak bites of piece by piece, and you may just find you've eaten more of it than you intended.
For anyone on the hunt for a great cookbook devoted completely to bread, Bread Illustrated has been an awesome addition to my cookbook shelf. It's organized from simple to complicated, though recipes never seem all that complicated when ATK is breaking them down for us. The book is full of step-by-step photos, as well as sections devoted to the science of yeast and gluten, plus plenty of advice on how to knead and shape dough.
Full disclosure: I received a copy of Bread Illustrated to review, but all opinions are my own. I only ever share cookbooks with you that I love and think you all will enjoy, too.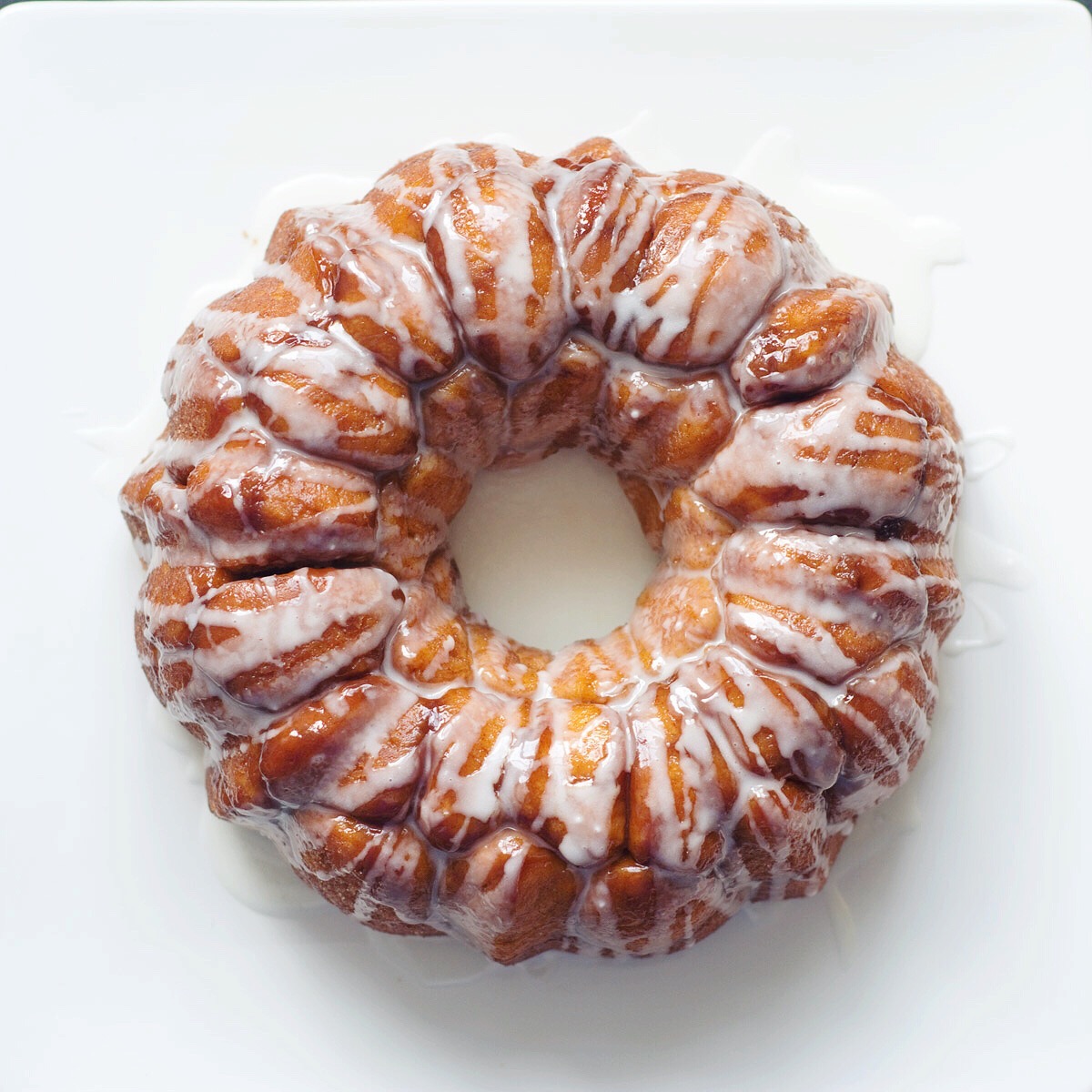 Lastly, I know things have been quiet around here. The last several weeks haven't really inspired me to write about food. Like many of you, 2016 isn't ending at all like I had hoped, but I still believe we are stronger together.
Ingredients
For the dough:

3¼ cups (16¼ ounces) all-purpose flour

2¼ teaspoons instant or rapid-rise yeast

2 teaspoons salt

1 cup (8 ounces) whole milk, room temperature

⅓ cup (2⅔ ounces) water, room temperature

¼ cup (1¾ ounces) granulated sugar

2 tablespoons unsalted butter, melted

For the brown sugar coating:

1 cup packed (7 ounces) light brown sugar

2 teaspoons ground cinnamon

8 tablespoons (4 ounces) unsalted butter, melted and cooled

For the glaze:

1 cup (4 ounces) confectioners' sugar

2 tablespoons whole milk
Directions
1

To make the dough,  whisk flour, yeast, and salt together in bowl of stand mixer. Whisk together milk, water, sugar, and melted butter in 4-cup liquid measuring cup until sugar has dissolved. Using dough hook on low speed, slowly add milk mixture to flour mixture and mix until cohesive dough starts to form and no dry flour remains, about 2 minutes, scraping down bowl as needed. Increase speed to medium-low and knead until dough is smooth and elastic and clears sides of bowl but sticks to bottom, 8-10 minutes.

2

Transfer dough to lightly floured counter and knead by hand to form smooth, round ball, about 30 seconds. Lightly greatse a large bowl or container and place dough seam side down. Cover tightly with plastic wrap, and let rise until doubled in size, 1½-2 hours. (Unrisen dough can be refrigerated for at least 8 hours or up to 16 hours; let sit at room temperature for 1 hour before shaping.)

3

When the dough is ready to shape, make the brown sugar coating. Thoroughly grease 12-cup nonstick Bundt pan. Combine sugar and cinnamon in medium bowl. Place melted butter in second bowl.

Transfer dough to lightly floured counter and press into rough 8-inch square. Using pizza cutter or chef's knife, cut dough into 8 even strips. Cut each strip into 8 pieces (64 pieces total). Cover loosely with greased plastic.

4

Working with a few pieces of dough at a time (keep remaining pieces covered), place on clean counter and, using your cupped hand, drag in small circles until dough feels taut and round. Dip balls in melted butter, then roll in sugar mixture to coat. Place balls in prepared pan, staggering seams where dough balls meet as you build layers.

Cover pan tightly with plastic and let rise until dough balls reach 1 to 2 inches below lip of pan, 1½-2 hours.

5

Adjust oven rack to middle position and heat oven to 350º. Bake until top is deep golden brown and caramel begins to bubble around edges, 30-35 minutes. Let bread cool in pan for 5 minutes, then invert onto serving platter and let cool for another 10 minutes.

While the bread cools, make the glaze. Whisk sugar and milk in bowl until smooth. Drizzle glaze over bread, letting it run down sides. Serve warm.