Fresh Berry Mascarpone Tart
This fresh berry mascarpone tart starts with a sweet cookie crust, is filled with whipped mascarpone cream and then topped with fresh berries.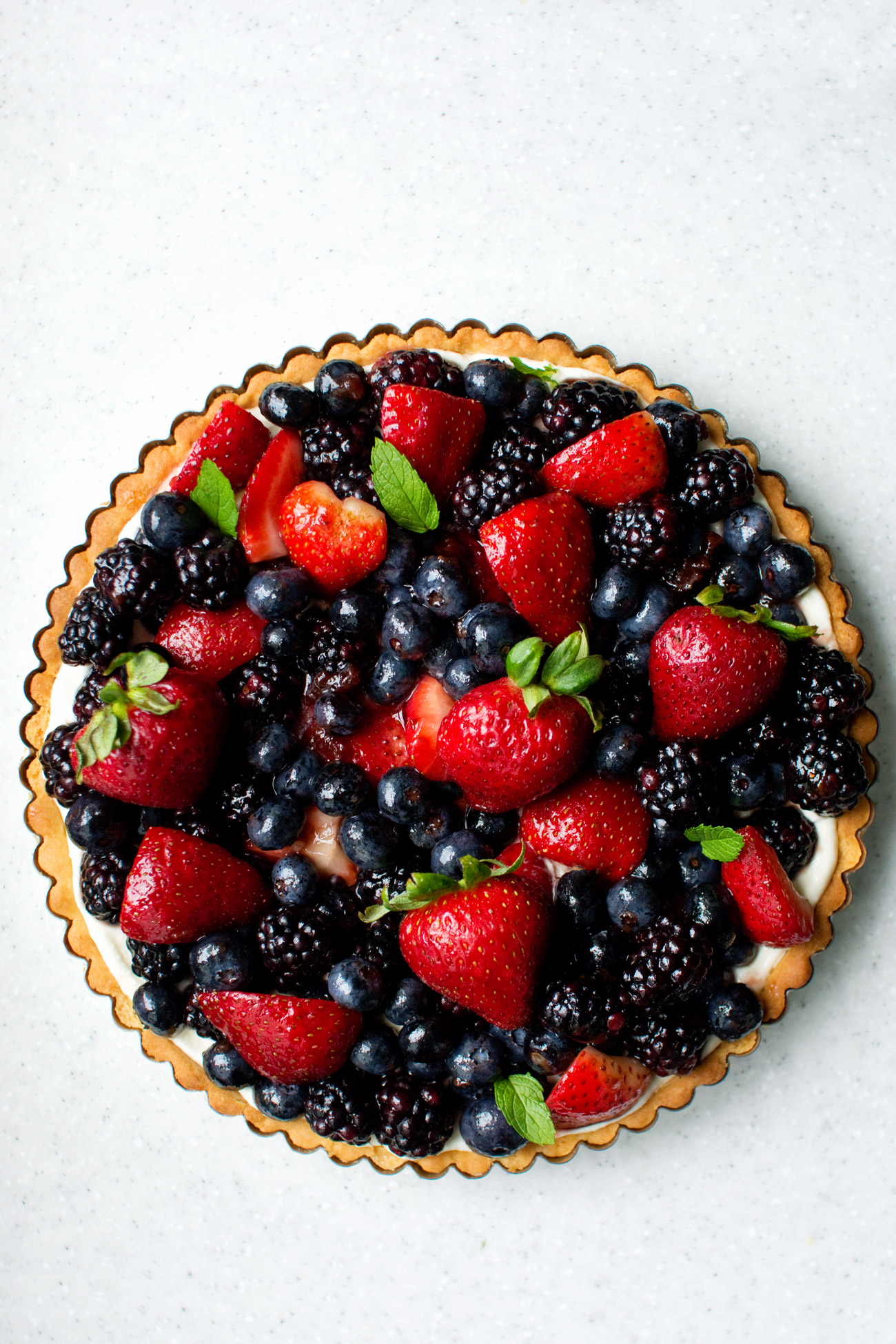 We started our summer with a bang, a whirlwind trip to California to celebrate our ten year anniversary. I wondered if we were crazy taking two kids on a flight literally across the entire country, but it went more smoothly than I expected. It was so worth the pre-trip craziness. We visited Sequoia National Forest, Disneyland, Santa Monica and Los Angeles. It was Eric's and my second time on the west coast, and man, I get why people love it there. Clara loved it and wanted to stay there forever.
The week we got home was ridiculous. Eric had to fly to Houston for work, and everyone here had some type of cold/allergy situation going on. We had plans to see our friends at their annual summer gathering the following weekend, but, thanks to everything going on, I totally put off deciding what to make until the morning of. I knew I wanted some type of berry dessert, but I only picked this one because I already had everything I needed. (I don't usually keep mascarpone here but had some leftover from making tiramisu recently.) I'm so glad I did because this easily just became my go-to summer dessert.
Summer is cookout season, and I don't know about you, but the last thing I want is a super heavy dessert after a cookout. This tart touches all the right notes. You get the sweet cookie crust, but it's balanced by the light whipped mascarpone filling. The berries, instead of being cooked and coated in sugar, are tossed with a reduced mixture of jam and berry liqueur. This tart lets the fresh berries shine, but still satisfies your sweet tooth.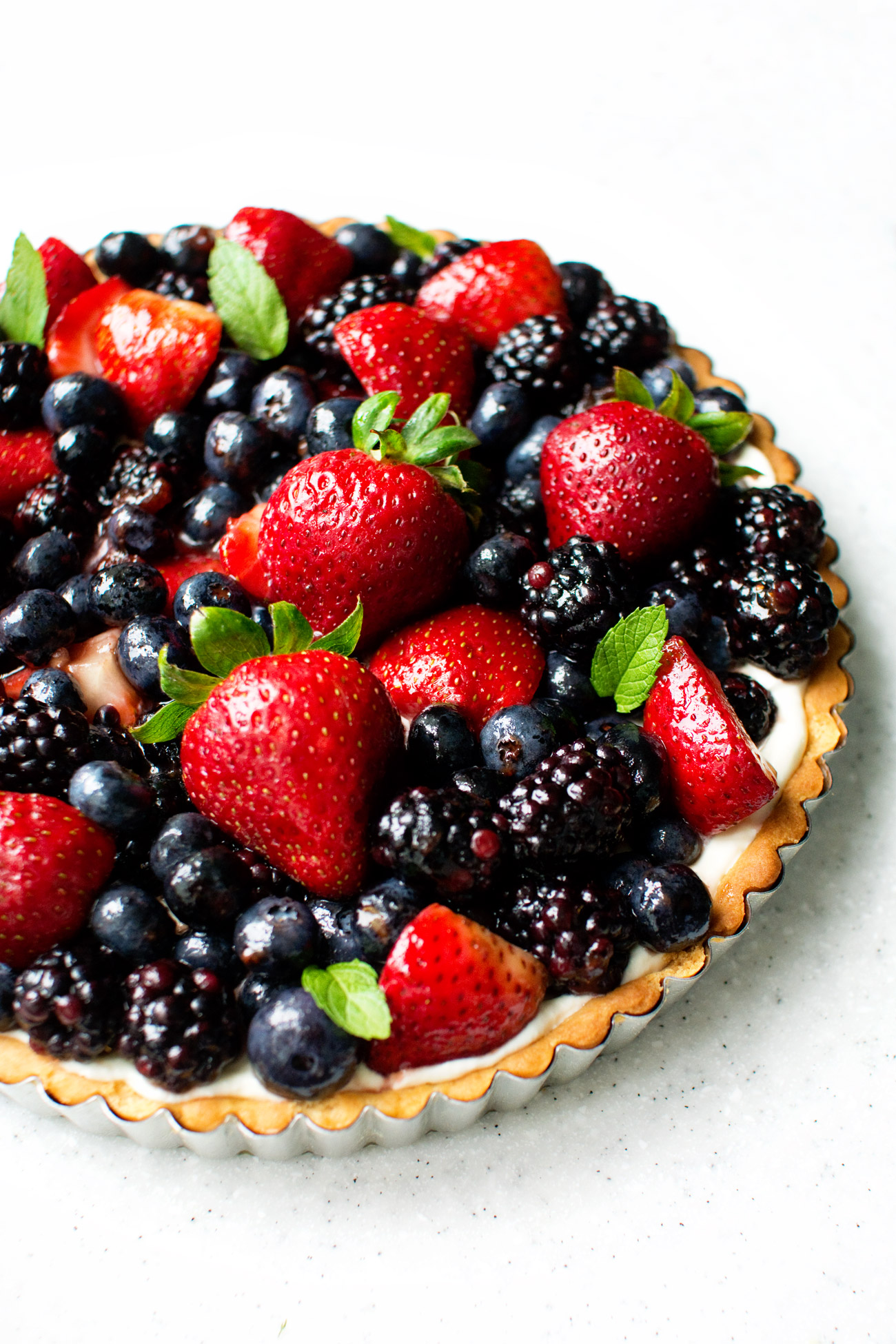 COOK TIME:

YIELD:

1 9-inch tart
Ingredients
For the crust:

1½ cups all-purpose flour

½ cup confectioners' sugar

¼ teaspoon salt

9 tablespoons very cold or frozen unsalted butter, cut into small pieces

1 large egg yolk

For the filling:

8 ounces mascarpone cheese

⅓ cup well-chilled heavy cream

¼ cup sugar

1½ cups strawberries, hulled and halved or quatered

1½ cups blueberries

1½ cups blackberries

2 tablespoons strawberry (or other berry) jam

2 tablespoons dark berry liqueur, like crème de cassis

Fresh mint leaves for garnish, optional
Directions
1

Start by making the crust. Put the flour, confectioners' sugar and salt in the bowl of a food processor and pulse to combine. Scatter the butter over the top and pulse again until the butter is mixed in with some pea-sized pieces remaining. Whisk the yolk in a small bowl. Drizzle it into the food processor, a little at a time, pulsing after each addition. Continue processing in long pulses until the dough forms clumps and then comes together. Scrape down the sides of the bowl as needed.

2

Grease a 9-inch fluted tart pan with a removable bottom. Press the dough evenly across the bottom and up the sides of the pan. Freeze for at least 30 minutes before baking.

When ready to bake, heat oven to 375º. Spray a piece of aluminum foil with nonstick spray and place, oil side down, firmly onto the crust. Place the tart pan on a baking sheet and bake for 25 minutes. Carefully remove the foil and use the back of a spoon to gently press down the crust if it has puffed. Continue baking another 8 minutes, until the crust is firm and golden. Transfer to a cooling rack to cool completely.

3

To make the filling, combine the mascarpone, cream and sugar in a medium bowl. Using an electric mixer, beat until the mixture holds stiff peaks. Transfer the mixture to the cooled shell and use a spatula to smooth it evenly. Refrigerate while preparing the berries.

4

In a large bowl, combine the strawberries, blueberries and blackberries. Combine the jam and berry liqueur in a small saucepan and bring to a simmer. Cook until reduced to about 3 tablespoons. Pour the mixture over the berries and gently toss to coat evenly. Mound the berries over the top of the mascarpone cream. Garnish with fresh mint, if desired.

The tart can be made a couple hours ahead of time and chilled. It's best the day it's made, but that didn't stop us from enjoying the last remaining slice the next day.