Apple Cider Cheesecake Bars
Guys, how is it possible that Thanksgiving is in one week?! I'm apparently in denial that it's almost Christmas, which means it's almost the end of the year, which means Clara will be three practically tomorrow. Someone please hold me. In all seriousness, Thanksgiving sort of snuck up on me. And by sort of, I mean I haven't planned a single thing. We won't be traveling anywhere, and, as usual, no one will be traveling to see us. So there's not really a whole lot to plan, and we are okay with that. Instead, we'll work on some renovation related things and hopefully make progress on the play kitchen we're giving Clara for Christmas. We'll also have dinner with our friends Katy and Juli and their family, something we are most definitely looking forward to. Their dad always makes enough food for everyone and then some, but we'll still bring a treat to share. These cheesecake bars are high on my list of contenders.
We made these last weekend to take to a chili cook-off at our friend Tasha's house. We also made the ever-popular jalapeño cornbread whoopie pies. Both were a hit, so much so that we won first place dessert and even had a cornbread category created just for the whoopie pies. Score! (Tasha is the artist that made the gorgeous dish I gave away for my five year blogging anniversary.)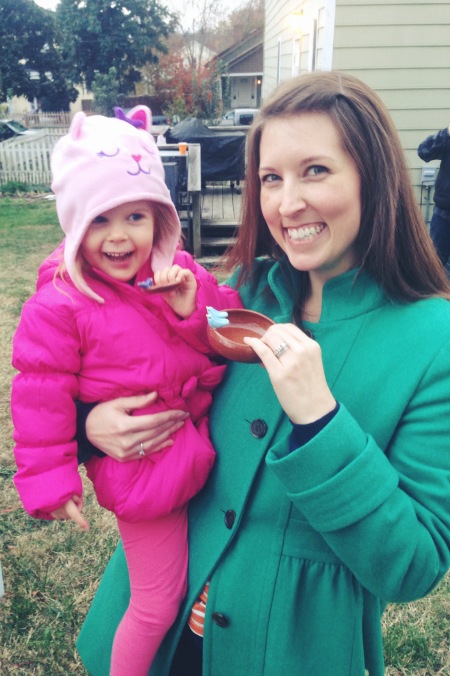 After trying these, it will be pretty easy for you to see why they took first place. The bars start out with a shortbread crust. I love shortbread, and I especially liked using something different than the usual graham cracker crust that goes with cheesecake. The cheesecake filling is rich and creamy, with a big dose of apple cider. The bars are topped with a wonderfully sweet streusel studded with fresh apples and flavored with cinnamon and nutmeg. Simply put, these taste like fall. They're easy to make and even easier to eat. Give your Thanksgiving table a break from all the pumpkin, and throw an apple dessert into the mix. You won't regret it. Plus, you'll have leftover apple cider to make these cocktails. Win, win.
If you're still looking for a few other Thanksgiving desserts, here are a few of my favorites:
Apple Galettes with Salted Caramel
Bourbon Pumpkin Tart
Spiced Pumpkin Cheesecake