Apple Cider Cheesecake Bars
Guys, how is it possible that Thanksgiving is in one week?! I'm apparently in denial that it's almost Christmas, which means it's almost the end of the year, which means Clara will be three practically tomorrow. Someone please hold me. In all seriousness, Thanksgiving sort of snuck up on me. And by sort of, I mean I haven't planned a single thing. We won't be traveling anywhere, and, as usual, no one will be traveling to see us. So there's not really a whole lot to plan, and we are okay with that. Instead, we'll work on some renovation related things and hopefully make progress on the play kitchen we're giving Clara for Christmas. We'll also have dinner with our friends Katy and Juli and their family, something we are most definitely looking forward to. Their dad always makes enough food for everyone and then some, but we'll still bring a treat to share. These cheesecake bars are high on my list of contenders.
We made these last weekend to take to a chili cook-off at our friend Tasha's house. We also made the ever-popular jalapeño cornbread whoopie pies. Both were a hit, so much so that we won first place dessert and even had a cornbread category created just for the whoopie pies. Score! (Tasha is the artist that made the gorgeous dish I gave away for my five year blogging anniversary.)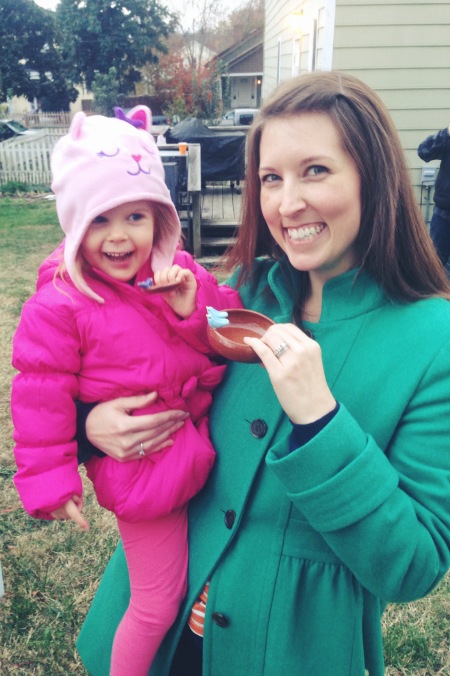 After trying these, it will be pretty easy for you to see why they took first place. The bars start out with a shortbread crust. I love shortbread, and I especially liked using something different than the usual graham cracker crust that goes with cheesecake. The cheesecake filling is rich and creamy, with a big dose of apple cider. The bars are topped with a wonderfully sweet streusel studded with fresh apples and flavored with cinnamon and nutmeg. Simply put, these taste like fall. They're easy to make and even easier to eat. Give your Thanksgiving table a break from all the pumpkin, and throw an apple dessert into the mix. You won't regret it. Plus, you'll have leftover apple cider to make these cocktails. Win, win.
If you're still looking for a few other Thanksgiving desserts, here are a few of my favorites:
Apple Galettes with Salted Caramel
Bourbon Pumpkin Tart
Spiced Pumpkin Cheesecake
Ingredients
For the streusel:

½ cup brown sugar

½ cup all-purpose flour

1 tablespoon granulated sugar

2 teaspoons ground cinnamon

¼ cup unsalted butter, cut into ½-inch squares

1 apple, peeled, cored, and finely diced (about 1 cup)

For the shortbread crust:

1 cup (2 sticks) unsalted butter, softened

¾ cup confectioners' sugar

½ teaspoon salt

2¼ cups all-purpose flour

For the filling:

12 ounces cream cheese, at room temperature

⅔ cup granulated sugar

2 eggs

1 egg yolk

½ cup apple cider

1 teaspoon vanilla extract
Directions
1

Start by making the streusel. In a large bowl, combine the brown sugar, sugar, flour, and cinnamon. Using your fingers, work the butter into the flour mixture. Fold in the apple pieces. Cover and freeze while you prepare the crust and filling.

2

To make the shortbread, heat oven to 300º. Line a 9 x 13-inch baking dish with parchment paper, allowing it to overhang two sides. Alternately, you can mist the dish lightly with cooking spray. Since I have a metal pan, I didn't want to cut in the pan and used the parchment so that I could easily remove the bars.

In the bowl of a stand mixer, beat the butter and confectioners' sugar together until light and fluffy. Add the salt and flour and continue beating until everything is fully incorporated and the mixture resembles wet sand with large clumps.

3

Using your hands, press all of the crumbs together in the bowl until it all forms a cohesive dough. Transfer to the prepared baking dish, and use your hands to press the dough evenly across the bottom.

Bake for 12 minutes. The shortbread will still be light in color when it's done baking.

4

Meanwhile, make the filling. In the bowl of a stand mixer, beat the cream cheese and sugar together until light and fluffy, about 1 minute. Add the eggs and yolk, one at a time, and continue mixing until combined. Scrape down the sides and bottom of the bowl as needed. Mix in the apple cider and vanilla until thoroughly combined.

5

Increase oven temperature to 400º. Pour the cheesecake filling over the pre-baked shortbread. Evenly sprinkle the cold streusel over the cheesecake. It will sink into the cheesecake batter a bit, but that's alright.

Bake for 30-35 minutes, until the edges just turn golden brown, and the center no longer jiggles. Cool completely before serving. Use the parchment handles to carefully transfer the cheesecake to a cutting board, then cut into bars and serve.

These can be made ahead and refrigerated, covered, for up to 3 days.