Braised Fingerling Potato Coins
Before last week, we had never tried fingerling potatoes. Now that we have, I feel as though we've been missing out. These potatoes are filled with so much flavor and are the perfect accompaniment to chicken or steak.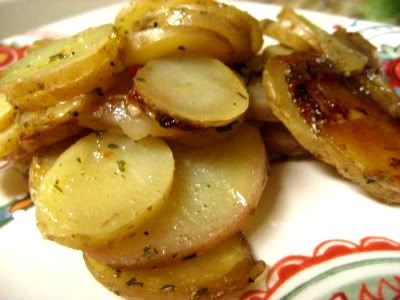 Braised Fingerling Potato Coins
Ingredients:
1 pound fingerling potatoes
1 cup water
1/3 stick of butter, cut into bits
sprinkle of garlic and herb (or your favorite) seasoning
Directions:
-Cut a round of parchment paper to fit just inside a 12-inch heavy skillet and butter one side.
-Using a mandolin or other adjustable blade slicer, slice potatoes 1/8 inch thick.
-Arrange in skillet and add water.
-Add seasoning, salt and pepper to taste. Dot top with butter.
-Cover potatoes with parchment, buttered side down, and briskly simmer until tender and most of liquid has evaporated, 30 to 35 minutes.
Source: Adapted from Sugar and Spice, originally from Gourmet