Bourbon Apple Cider Cocktail
My friend Joanne is getting married soon, and I'm ridiculously excited for her. We first met at Big Summer Potluck last year and got to hang out again at this year's Big Harvest Potluck. She is one of sweetest, funniest people I know. I wish we lived closer so that I could see her more than once a year, but since we don't, I'll just have to settle for surprising her with a cocktail for her virtual bridal shower.
I wanted to make a simple, fall-inspired cocktail and bounced some ideas off Eric (my resident drink maker). As soon as I mentioned apple cider, he said bourbon, and that was that. I had all sorts of fancy drink concoctions floating around in my head at first, but since we like our bourbon drinks to taste like bourbon, we decided to keep this drink low-key and really let the flavors of the ingredients shine. Spiced cider and bourbon are a wonderful match for each other (kind of like Joanne and The.Boy…sorry, couldn't resist!), and the maple adds a touch of sweetness and a bit of depth to the drink.
This drink isn't as stout as the drinks we usually make, and that's on purpose. We figured this was more appropriate for day-drinking and would work better if this were, you know, a real shower. If you want to say, get your family tipsy on Thanksgiving, by all means add more bourbon (we won't judge!).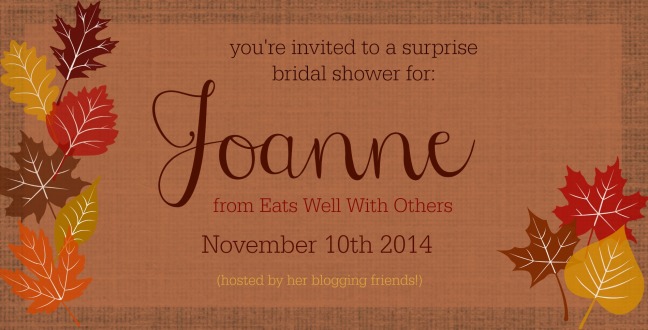 Joanne's friends cooked up a lot of amazing food (and drinks!) for her shower, so make sure to check out all the posts. You guys know food bloggers can throw one heck of a delicious shower!
Cocktails:
Pumpkin Spice White Russian – Nutmeg Nanny
Warm Apple Pie Cocktail – Miss In The Kitchen
Snacks/Savory:
Baked Brie with Honey and Sliced Almonds – The Lemon Bowl
Butternut Squash and Apple Galette – Warm Vanilla Sugar
Roasted Pumpkin Crostini – Annie's Eats
Kale Salad with Maple Butternut Squash and Pomegranate Dressing – Blahnik Baker
Lemony-Pasta Stuffed Zucchini – Very Culinary
Pumpkin Dip with Apple Chips– Meadows Cooks
Sweet:
Pumpkin Cinnamon Roll Cake – The Baker Chick
Peanut Butter Fudge Pie with Salted Peanut Butter Caramel– Taste and Tell
Caramel Apple Upside Down Cake – The Girl in the Little Red Kitchen
Snickerdoodle Bundt Cake – Chocolate and Carrots
Roasted Butternut Squash Pie with Brown Sugar Marshmallow Topping – Keep It Sweet
Caramel Corn Chocolate Chip Cookies – The Cooking Actress
Caramel Cranberry Apple Galette – Bakeaholic Mama
Coconut Pecan Tarts – Bake or Break
Cranberry Margarita Cupcakes – Baker by Nature
Gingerbread Truffles – Dinners Dishes and Desserts
Ingredients
3 ounces apple cider

2 ounces bourbon

1 teaspoon maple syrup

2 thin apple slices

1 vanilla bean, split in half crosswise
Directions
1

Combine ingredients with ice and stir or shake well. Strain into chilled coupe or martini glasses (or serve on the rocks, if preferred).

Float an apple slice on each drink and garnish each glass with a vanilla bean half.