Banana Chocolate Butter + Beyond Canning Cookbook Giveaway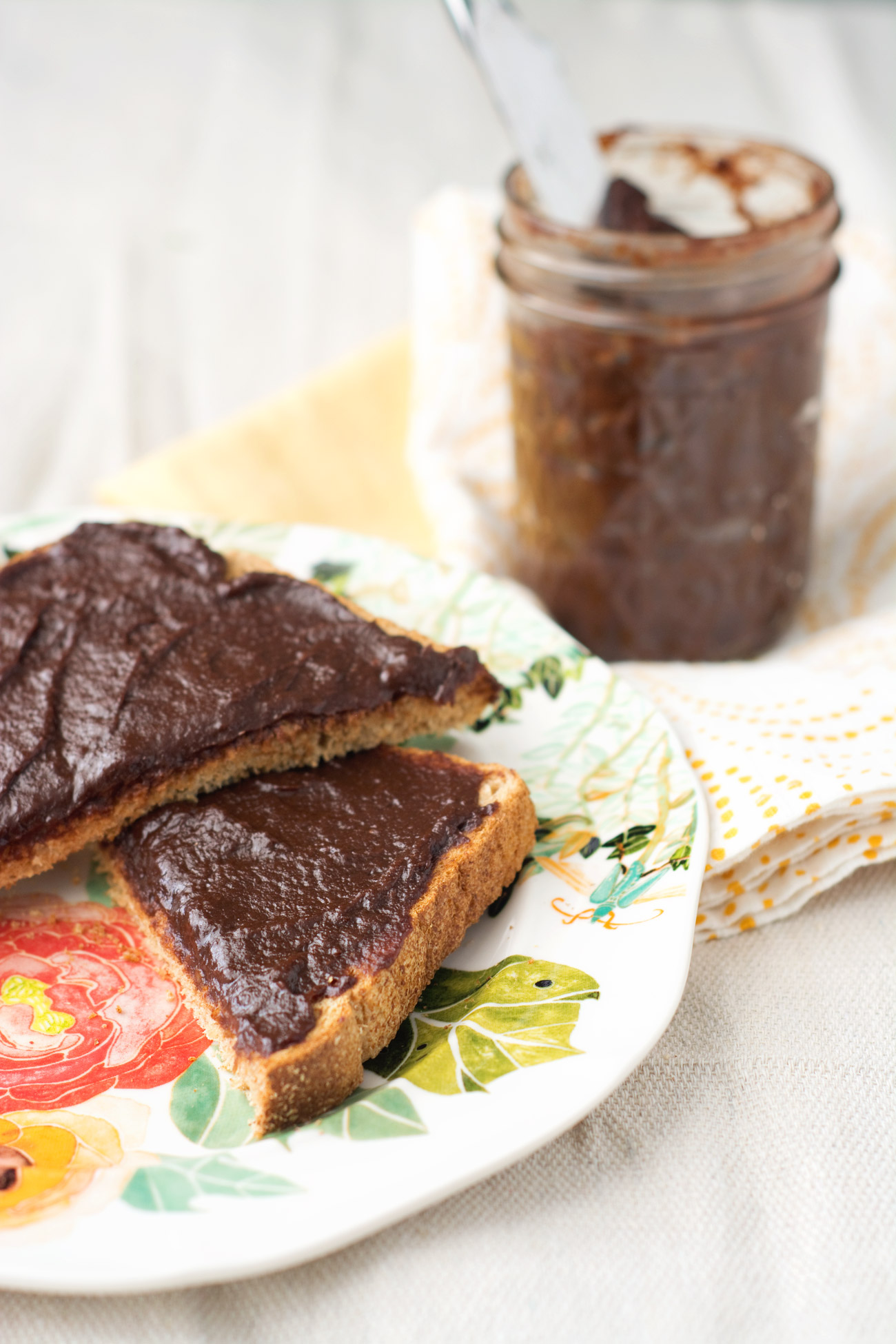 I've been dreaming of spring and summer- what type of flowers to plant, what changes to make to our raised garden beds, refilling our pantry with homemade jams and pickles. Oh, and you know, having a baby in less than three months. When my friend Autumn's new book, Beyond Canning: New Techniques, Ingredients, and Flavors to Preserve, Pickle, and Ferment Like Never Before, arrived at my house, that warm weather daydreaming hit full force. Seeing the stunning photos of each recipe made me long for Saturday mornings at our favorite farmers market picking out fruits and vegetables in hopes of putting up some for the cold days of winter.
The book is broken down into three sections: Sweet Preserves, Pickling, and Fermentation. Autumn begins each section with an overview of the tools required and the basic process for each type of recipe. The book is dotted with illustrations, done by Autumn's boyfriend Paul, that add so much to the aesthetic of the book while also providing a useful visual for the techniques Autumn writes about.
When I first read through Beyond Canning, I was immediately drawn to the way Autumn explains each technique. She breaks things down in a very approachable way, making this book perfect for new and seasoned preservers alike. I've never read through a fermenting recipe and thought, "Oh, I could totally do this," but I felt as if Autumn was in the kitchen with me when I read through the chapter on fermentation. Suddenly, a cooking technique that seemed out of reach didn't anymore, and that is really the feeling I got throughout the entire book.
So many recipes caught my eye, and I think this book has something for everyone. There are some classics like strawberry preserves and dilly beans, and there are more adventurous recipes like tomato vanilla jam and pickled figs with port and black pepper. The great thing about the recipes Autumn has created is that they don't require a ton of each ingredient, leaving you open to try some of the more unique combinations without feeling like you'll end up with jars upon jars of it in your pantry.
The thing I really love about this book is that it is provides ways to preserve things in real-world circumstances. That's precisely the reason I chose this recipe to share from the book. It's a great example of how Autumn understands that food preservation happens in real kitchens, by real people who forget to freeze the four bananas on their counter before heading out of town for the weekend (raises hand). Her rescue-roasted strawberry thyme compote recipe, which serves as a way to extend the life of strawberries past their prime, is another perfect example of this.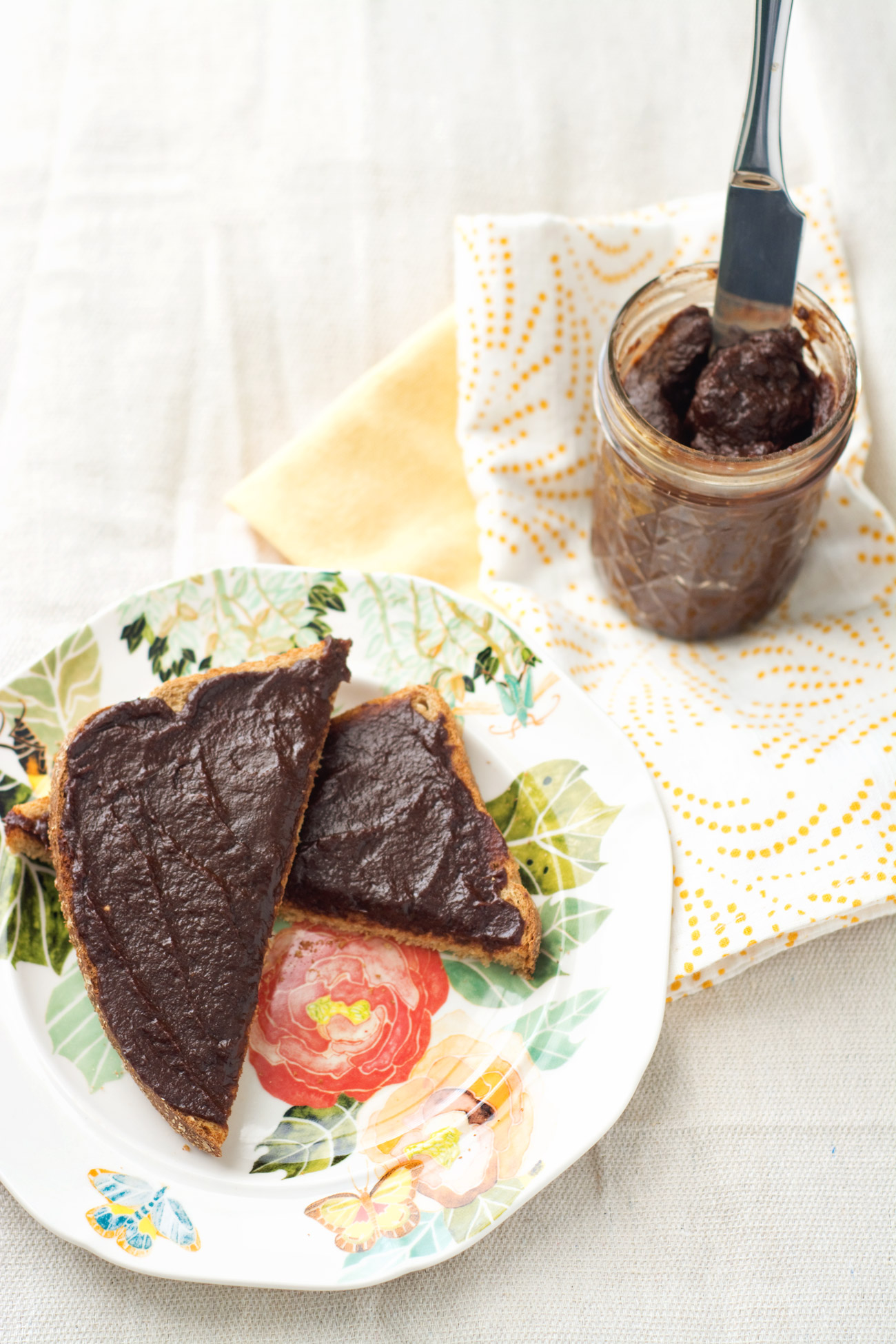 Now, let's talk about this butter. Clara is a breakfast fiend, so I'm always looking for new things to add to our breakfast rotation. I barely had this off the stove before the smell had Clara in the kitchen asking to lick the spatula, so I was pretty certain it would be a big hit with her. In fact, it was a big hit with all of us. We all love the combination of bananas and chocolate, and I don't see this lasting long in our house. The butter is smooth and rich and totally reasonable to eat for breakfast (unlike the Nutella I sometimes like to slather my toast with).
If you'd like to win a copy of Beyond Canning, head to the comment section and let me know what food preservation plans you have for this year. I'd love to hear about them! Giveaway will close on Monday, March 28th.
Disclosure: I was provided with a free copy of this book, but all opinions are, as always, my own.
COOK TIME:

YIELD:

1 scant pint
Ingredients
4 ripe bananas, peeled

1 tablespoon fresh-squeezed lemon juice

¼ cup lightly packed brown sugar

½ teaspoon ground cinnamon

¼ cup cocoa powder

2 tablespoons maple syrup

Pinch of salt
Directions
1

Break apart the bananas with your hands as you place them into a small saucepan. Add the other ingredients and place over low heat. Stir with a whisk to begin to break up the bananas.

2

Cook for about 15 minutes, continuing to whisk until the mixture is smooth and the bananas are mostly broken down. Remove from heat. Depending on the ripeness of your bananas, your whisk may be enough to create a smooth purée. Alternately, you can opt to use an immersion blender to create an ultra-smooth purée.

3

Transfer the banana butter to a pint mason jar and allow to cool to room temperature. Once cool, cover the jar with its lid, then label, date, and place in the refrigerator.