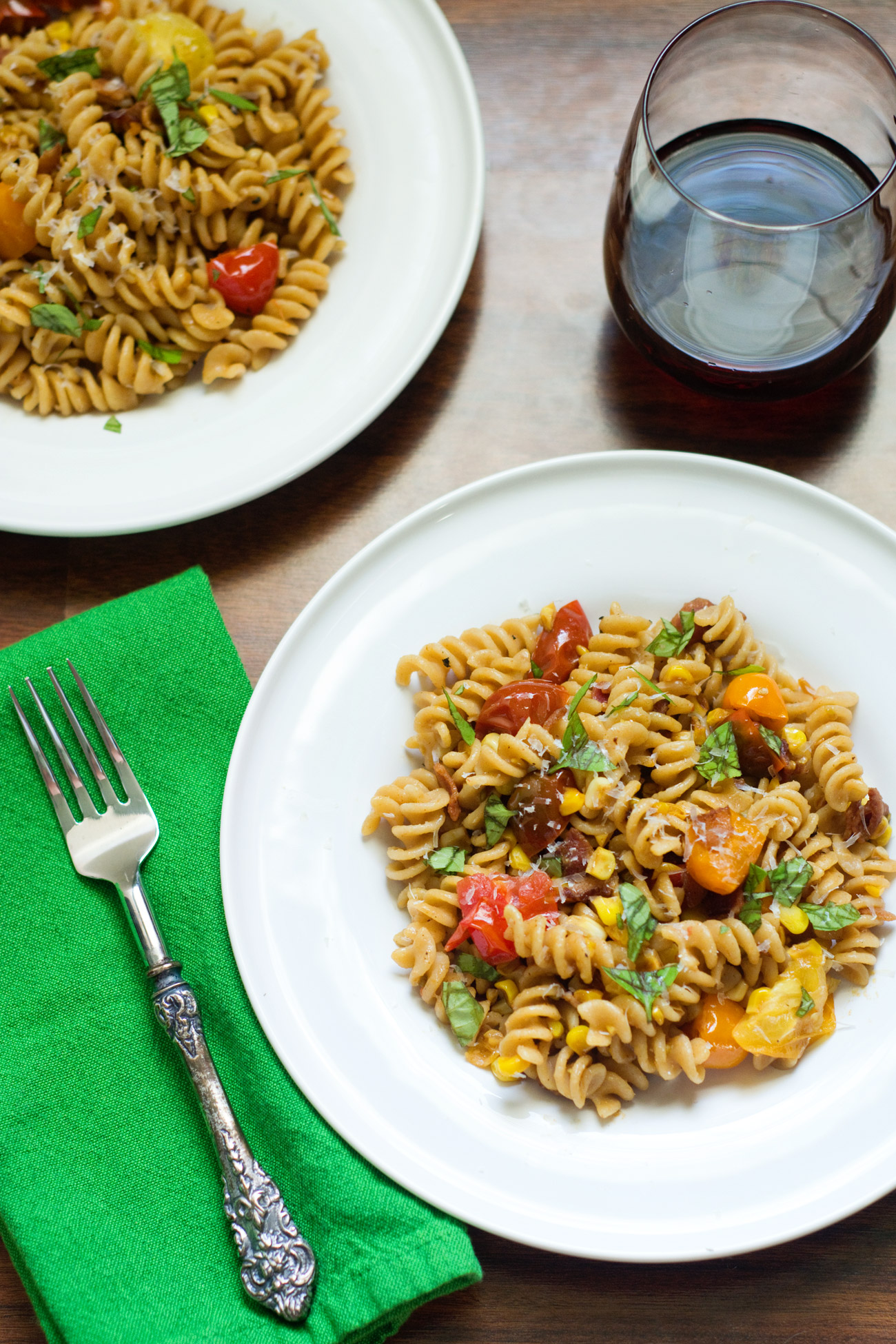 I know pretty much everyone has moved on to pumpkin and all things fall, but I'm not quite ready to let go of summer just yet. This summer has been one of my favorites. It's been almost three months since Leo made his grand entrance to the world. For a moment, time stood still as he was laid on my chest. Since that moment, though, it feels like time has flown by. So it's not just summer foods I'm holding onto. It's him falling asleep in my arms after eating, leisurely mornings spent reading Mo Willems books to Clara while Leo smiles and giggles, small and joyous moments amidst the chaos and diaper laundry and figuring out dinner.
As you can imagine, our meals over the past few months have been mostly simple and quick. I ordered a few Blue Apron boxes for the first month or so that Leo was here, and that definitely took some pressure off meal planning and grocery shopping. The nights we didn't have those dinners to count on, my mainstay was some type of pasta. This one highlights two of my summer favorites, corn and cherry tomatoes, and it's super easy to prep. Dinner cooked and eaten before Leo even needs to eat again? A recipe that we have all the ingredients for, meaning I can avoid the store one more day? Done and done.
There's no sauce in this pasta, so it comes together really easily. You don't even have to roast the tomatoes. Enjoy sweet summer corn and tomatoes while they're still in abundance. For us, quick dinners like this give us time to enjoy those fleeting moments of extra daylight and warm evenings. I'm almost ready for fall, but I'm not letting go of summer until I have to.