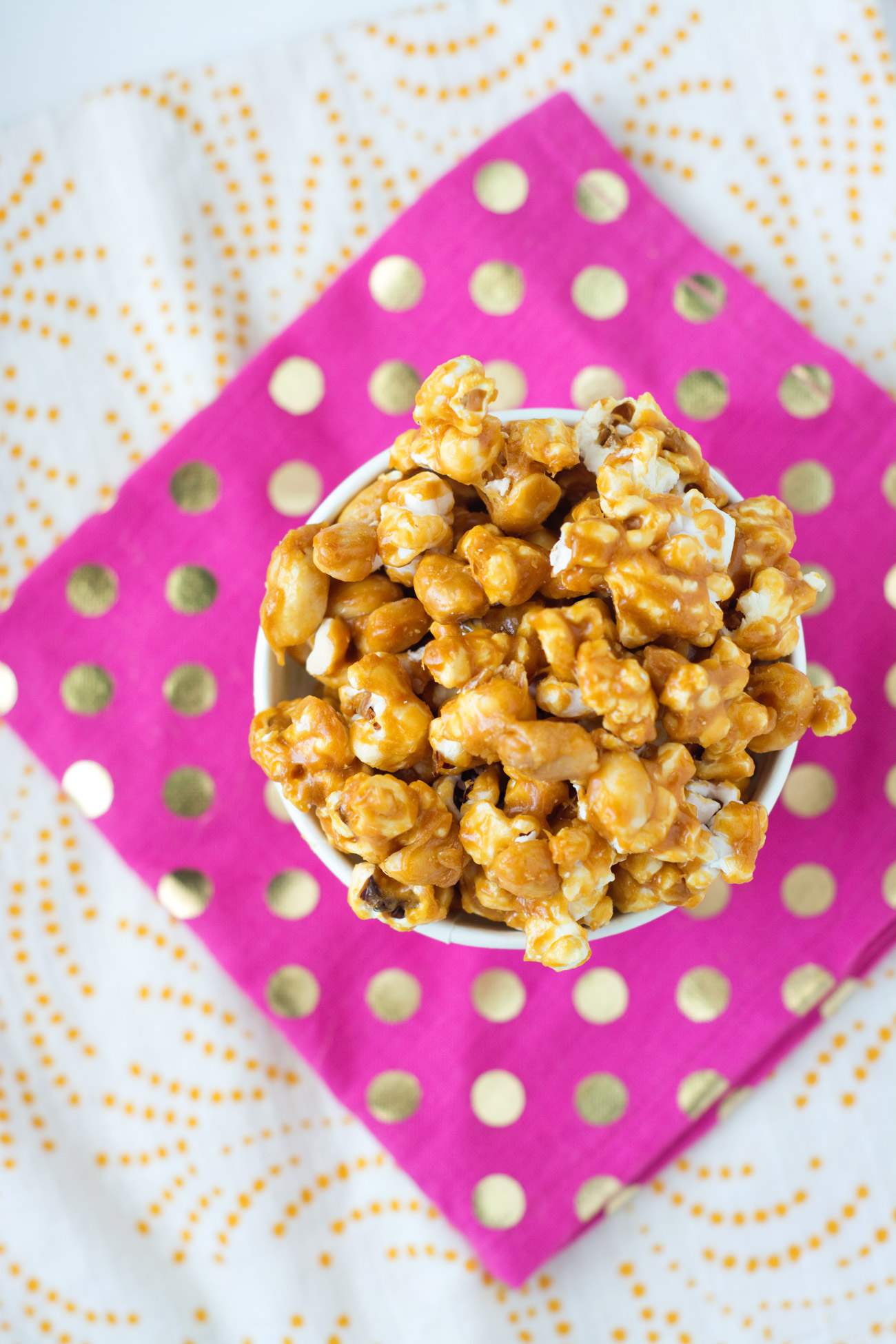 I realized, just yesterday, that Halloween is two weeks away. Did fall sneak up on anyone else, or is it just my perpetual lack of sleep catching up with me? I feel like I blinked, and then summer was over. All of a sudden, we're going to the farmers market wearing hoodies and seeing pumpkins everywhere we go.
While today's recipe is especially perfect for this time of year, I'm pretty sure there's no wrong time for caramel corn. I wasn't a fan of caramel corn until the past few years. I disliked it so much growing up, probably because my only exposure to it was those big tins of popcorn that come out around Christmas time. Does anyone remember those? I love popcorn, and I love caramel, so in theory I should love caramel popcorn. It turns out I do, at least when it's made fresh with real caramel.
I made this batch of caramel corn to take with me to my postpartum checkup. I included some other goodies (jam, these brownies, and cookies) for my midwife and labor nurse. Making the caramel corn was mildly disastrous, but it was only because I was tired, in a hurry, and ended up with two crying kiddos (one of whom was asleep when I started) just as the caramel finished cooking. I burned the first batch of caramel, something I haven't done in almost ten years. I was so upset, and of course I didn't have enough ingredients to make another batch. Eric, being the awesome husband that he is, got what I needed that night so that I could make another batch. I made sure to wait until Clara and Leo were both sound asleep before starting the caramel. That batch was a success, and I took it with me to my appointment the next day. A few sweets hardly seemed like enough to thank them, but after the amazing experience I had, it was important to me to try.
Some recipes for caramel corn call for the popcorn to be coated in caramel and then baked at a low temperature until it hardens. I preferred this method, which cooks the caramel longer but doesn't require baking to get that crunchy coating. This caramel corn is perfect and so insanely delicious. For me, there's none that compares. I'm planning to make more to share with neighbors for Halloween, but my craving for it is so strong that I may be making some before then, too.