Cast Iron Chicken Chilaquiles
These cast iron chilaquiles blur the line between brunch and dinner, making them delicious any time of day.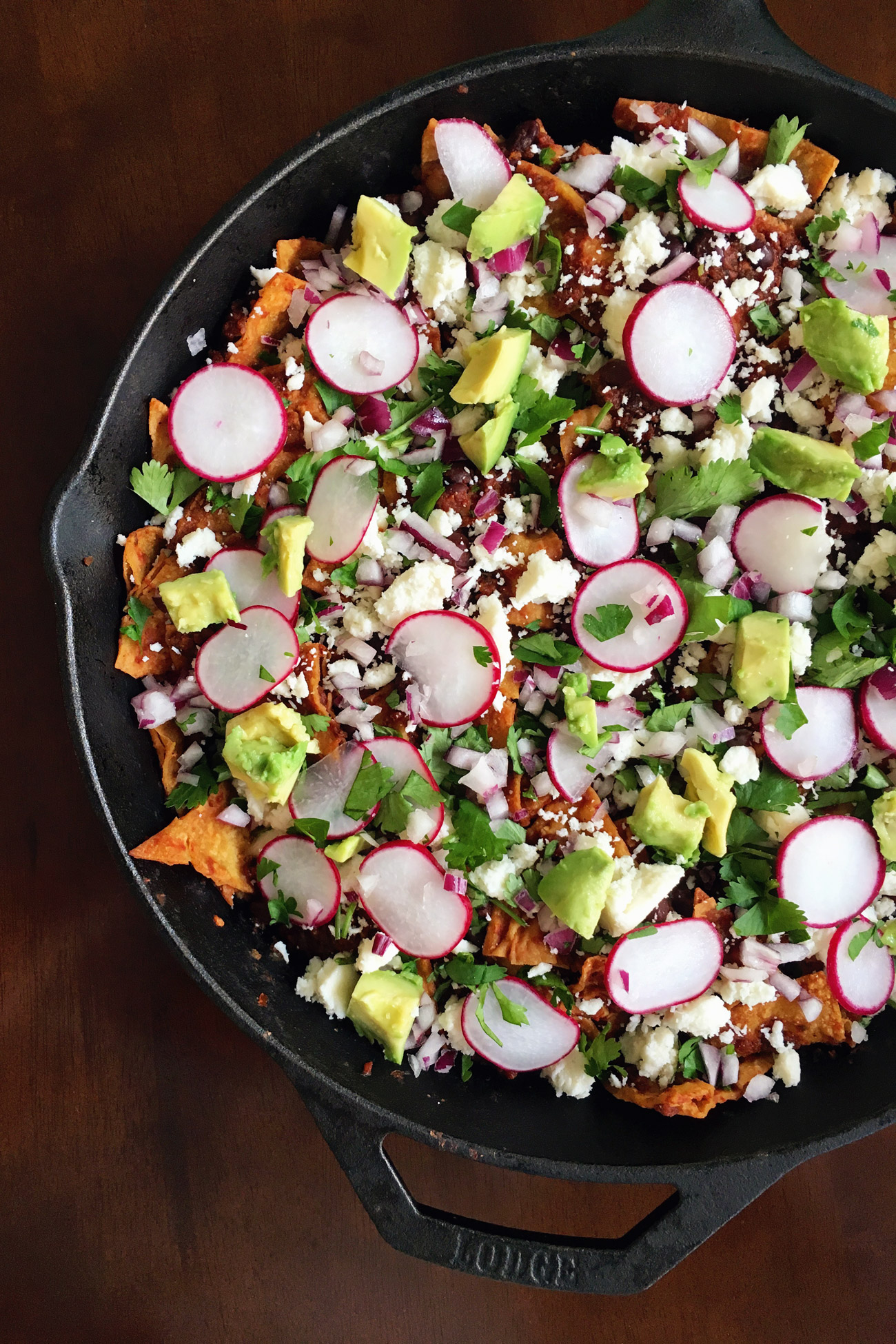 Since having kids, brunch has easily become my favorite type of meal, so much so that we threw Clara a brunch themed party for her second birthday. Savory and sweet foods in one meal? Coffee and cocktails? Sign me up. These cast iron chilaquiles toe the brunch/dinner line perfectly, so just add mimosas or margaritas and call it a day.
My love for my cast iron skillet is well documented here. It's such a versatile piece of cookware. I've made so many recipes – from biscuits to fajitas, oven pancakes to mac and cheese – in mine. Dare I say these chilaquiles are my favorite?
This recipe for chilaquiles calls for making your own tortilla chips, which I promise is worth the extra couple minutes of prep time. The result is a chip that doesn't turn to mush in the final product (and you can always bake a few extra for meal-prep snacking). The chicken is cooked right in the sauce, giving it an extra punch of flavor. Top the chilaquiles with avocado, radishes and cilantro, and you're left with the perfect skillet meal for any time of day.
This meal doesn't hold up well as leftovers, but that just gives us an excuse to host friends for weekend brunch.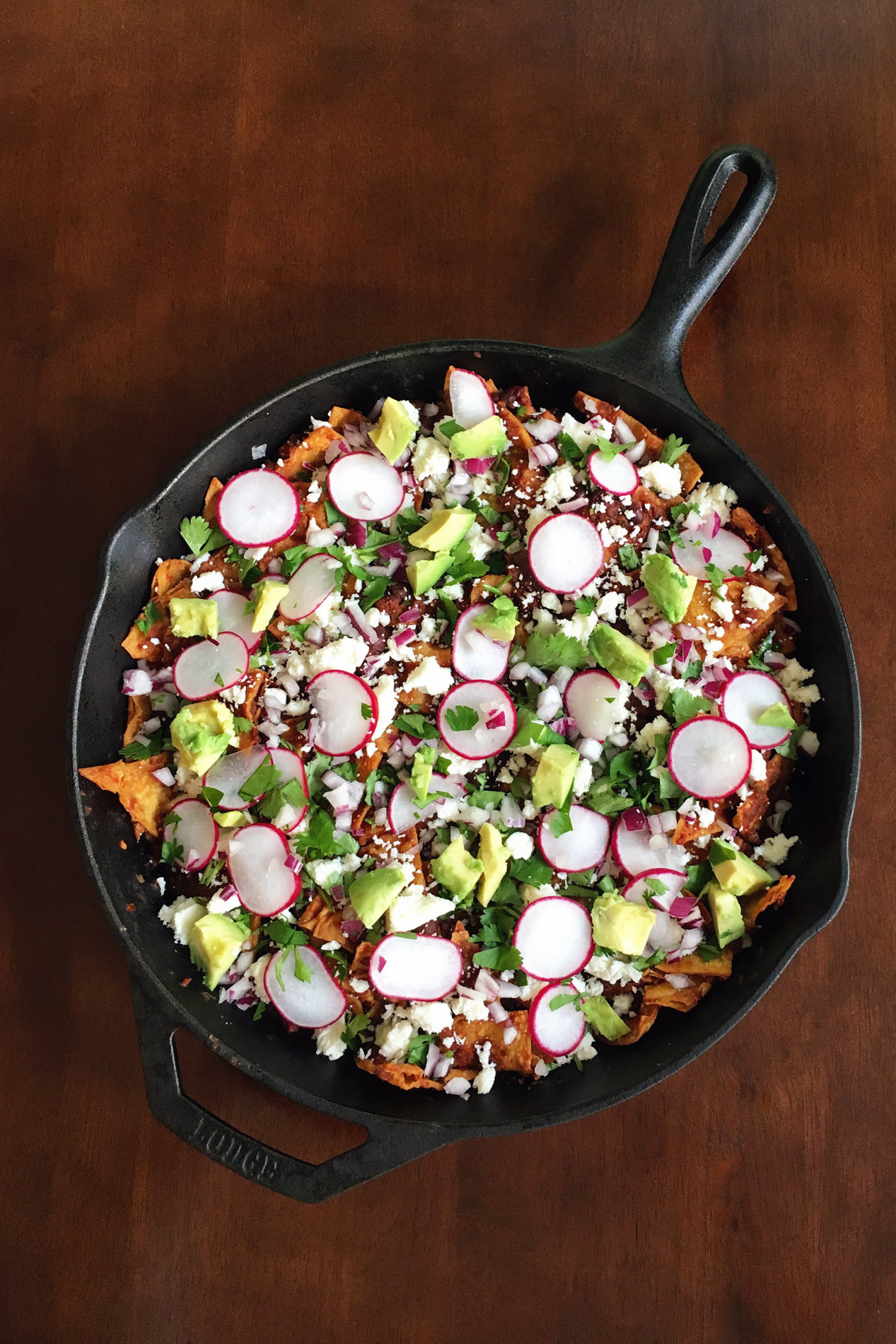 Ingredients
16 (6-inch) corn tortillas, cut into 8 wedges

¼ cup vegetable oil

Salt

5 dried guajillo chiles, stemmed, seeded, and torn into ½-inch pieces (⅔ cup)

1 (28-ounce) can whole peeled tomatoes

1 cup finely chopped red onion, divided

1 poblano chile, stemmed, seeded, and chopped

1 jalapeño chile, stemmed, seeded, and chopped

3 garlic cloves, peeled and chopped

8 sprigs fresh cilantro

1½ pounds boneless, skinless chicken breasts, trimmed

1½ cups chicken broth

For topping:

4 ounces queso fresco, crumbled (1 cup)

1 avocado, halved, pitted, and cut into ½-inch pieces

2 radishes, trimmed and sliced thin

2 tablespoons minced cilantro

Sour cream, optional
NOTES:
If you can't find guajillo chiles, you can substitute Anaheim or New Mexican chiles instead.
Directions
1

Start by making the tortilla chips. Adjust oven racks to the upper-middle and lower-middle positions and heat oven to 425º. Divide the tortillas evenly on two rimmed baking sheets. Drizzle each sheet with 2 tablespoons of oil, sprinkle with ¼ teaspoon of salt, and toss until evenly coated. Spread out the tortillas and bake, stirring occasionally, for about 15-20 minutes, or until the tortillas are golden and crisp. Rotate the pans halfway through.

2

While the tortillas are baking, toast the guajillos in a 12-inch cast-iron skillet set over medium heat. Cook for 2-6 minutes, stirring frequently. Transfer the guajillos to a blender and pulse until finely ground, 60-90 seconds. Add the tomatoes with their juice, ¾ cup onion, poblano, jalapeño, garlic, cilantro sprigs and ¾ teaspoon of salt to the blender. Blend until very smooth, an additional 60-90 seconds.

3

If needed, pound the ends of the chicken breasts to create an even thickness. Add the chile and tomato mixture to the skillet, along with the broth. Bring to a simmer over medium-high heat. Nestle the chicken into the sauce, then reduce heat to a gentle simmer. Cover and cook for 10-15 minutes, or until the chicken reaches 160º, flipping the chicken halfway through.

4

When the chicken is cooked through, transfer it to a cutting board and let cool slightly. Once cool, use two forks to shred the chicken into bite-size pieces. Meanwhile, increase the heat to medium and simmer the sauce until it has thickened and reduced to 4 cups, about 6 minutes.

5

Add the chicken back to the sauce and cook until warmed through, about 2 minutes. Remove from heat and stir in the tortillas. Cover and let sit until the tortillas have softened slightly, 2-5 minutes.

Sprinkle the chilaquiles with queso fresco, avocado, radishes, remaining onion and minced cilantro. Serve immediately.