Grilled Maple Chipotle Pork Chops Over Smoked Gouda Grits
These pork chops over smoked gouda grits require minimal effort, time and ingredients. Maple syrup, chipotles and barbecue sauce combine to create a sweet and smoky sauce that you'll want to make again and again.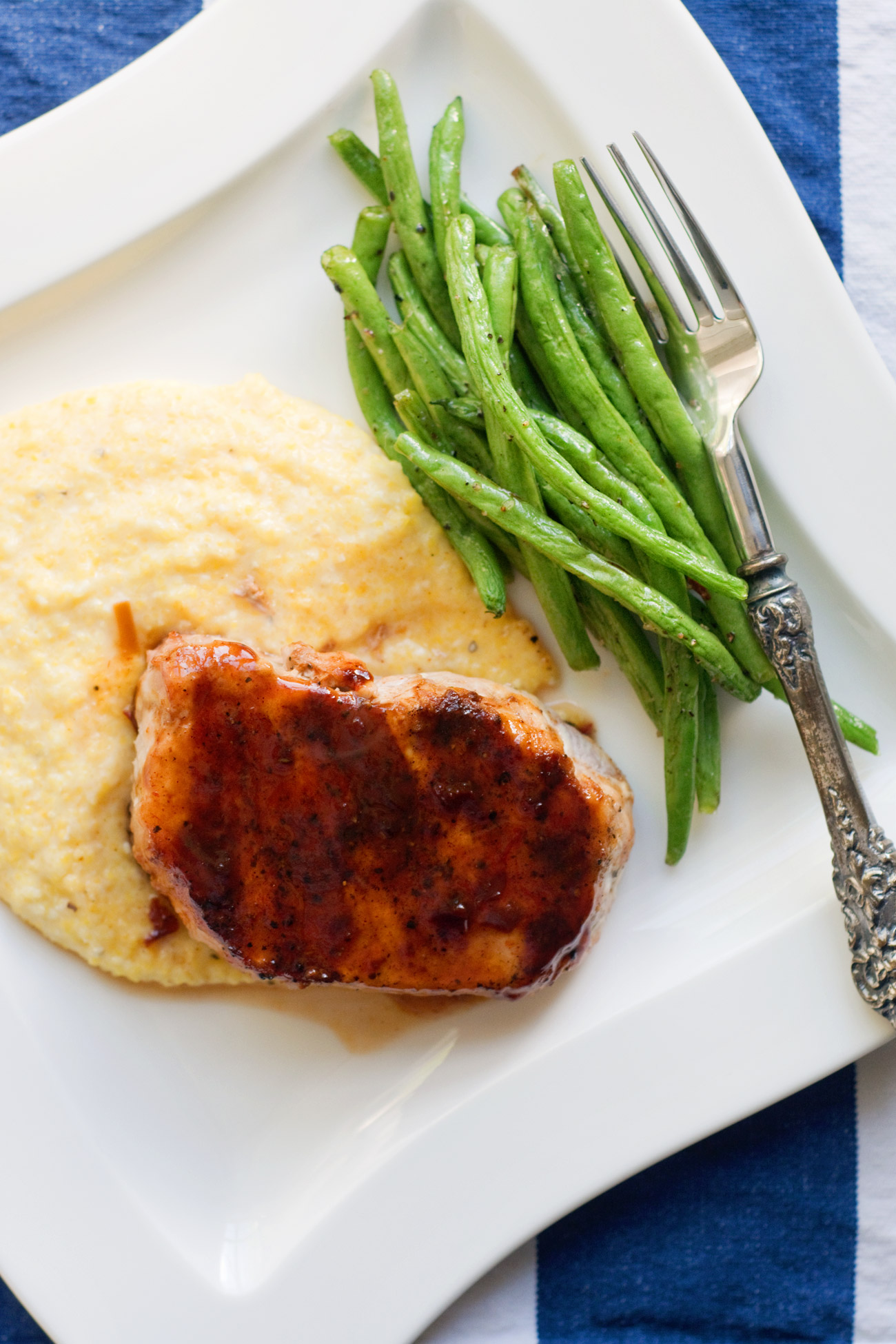 Much like Halloween decorations popping up at retail stores before school is even back in session, pumpkin recipes seem to be popping up all over the place (if Pinterest and food blogs are any indication). I'm just as excited for fall as the next person, but I have no desire to wish time away when I could be enjoying what's great about summer – long nights going out for ice cream, my favorite foods (peaches! tomatoes! okra!) at the farmers market, cooking out on our new deck. So I'm still here sharing the food we are eating currently, because that's how we roll in the Champion house and on this blog.
We've been grilling a ton this summer, last week's blistering heat wave being the exception, and this recipe is one of the best to come out of our kitchen recently. This is one of those recipes that meets our "tastes like it required more effort than it did" philosophy. We jokingly call it The Champion Quotient (and I wrote about it for the first time, not surprisingly, on another favorite pork chop recipe). With minimal, and I mean minimal, work, you end up with a meal that is insanely satisfying.
The pork chops require just three ingredients to achieve grilled pork perfection – maple syrup, barbecue sauce, and chipotles. That's it. Brush it on the chops toward the end of grilling, and you've got a juicy, sweet and smoky, delicious main course in about 20 minutes. The smoked gouda grits come together on the stovetop in under 10 minutes while the pork chops are grilling. Even on our most hectic days, this is a meal we can get on the table with no drama (if the kids will have a dance party to the Trolls soundtrack while we cook, even better).
We served this with sautéed green beans, but it would also be great with grilled broccoli or corn. I fried an egg to serve over the leftover grits the next morning. We only made four pork chops but made the full amount of grits just for that purpose. Eggs + grits = breakfast heaven.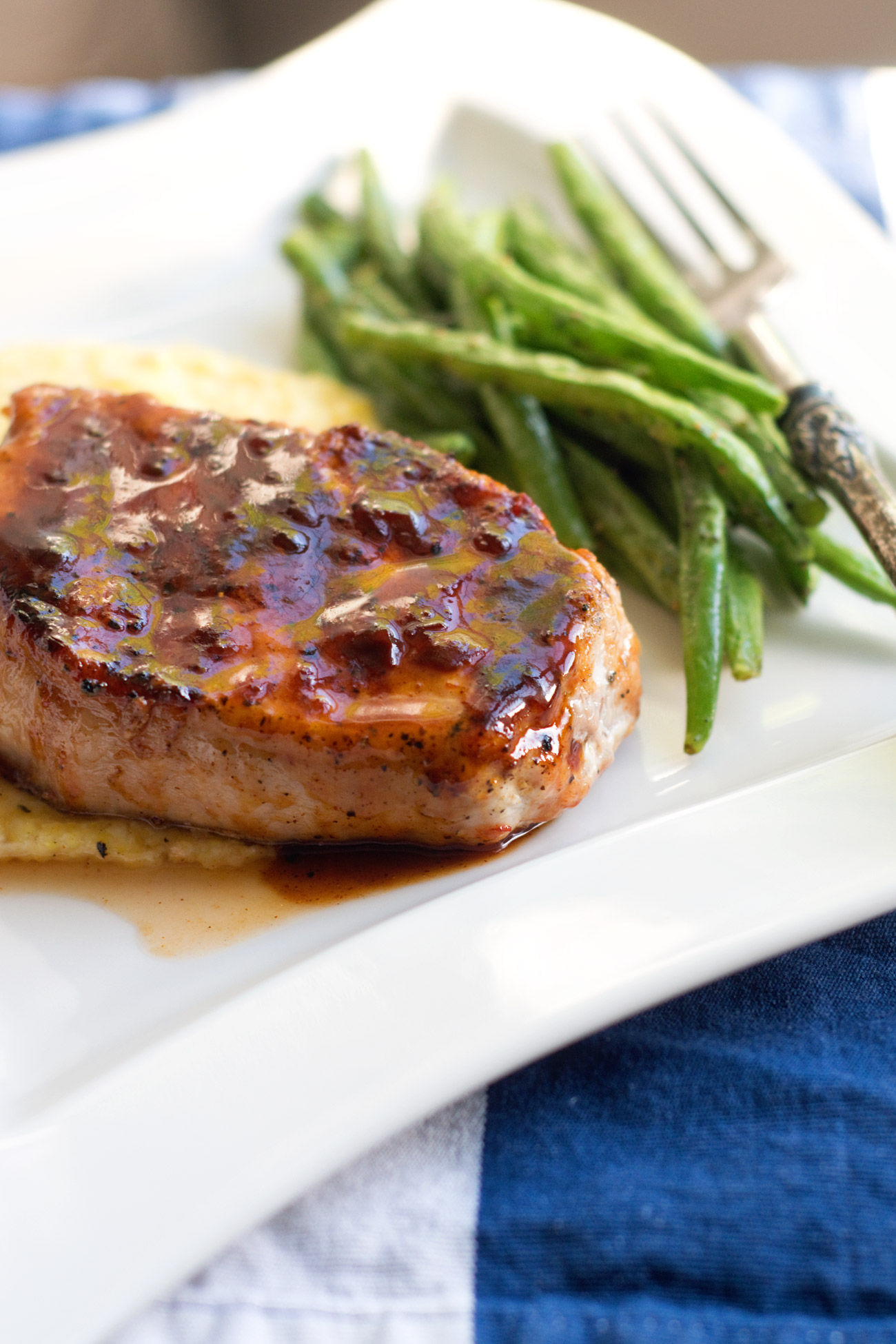 COOK TIME:

YIELD:

6 servings
Ingredients
For the pork chops:

½ cup barbecue sauce

½ cup maple syrup

2 chipotle peppers in adobo sauce, seeded and minced

1 teaspoon adobo sauce

6 (1¼-inch-thick) pork loin chops, bone-in or boneless

1 teaspoon salt

1 teaspoon pepper

For the grits:

6 cups low-sodium chicken broth or water

2 cups milk

1 teaspoon salt

½ teaspoon pepper

2 cups uncooked quick-cooking grits

1⅔ cups shredded smoked Gouda cheese

3 tablespoons unsalted butter
Directions
1

Start by making the pork chops. Whisk together the barbecue sauce, maple syrup, chipotle peppers and adobo sauce. Divide in half, then set aside. Season the pork chops evenly with salt and pepper.

2

Grill, covered, over medium-high heat for about 20 minutes, or until the thickest part of the pork reaches 155º. Turn halfway through, and baste the pork with half of the sauce in the last five minutes of cooking.

3

When the pork is nearly done, prepare the grits. Bring the broth or water, milk, salt and pepper to a boil in a medium saucepan. Gradually whisk in the grits. Cover, reduce heat and simmer, stirring occasionally, for 5 minutes or until thickened.

Add the cheese and butter and stir until melted.

4

To serve, place one pork chop over a serving of grits and drizzle with additional sauce as desired.