This recipe for Instant Pot chicken enchilada soup is simple and insanely fast. It's also easily customizable and makes fantastic leftovers. It's a total weeknight win.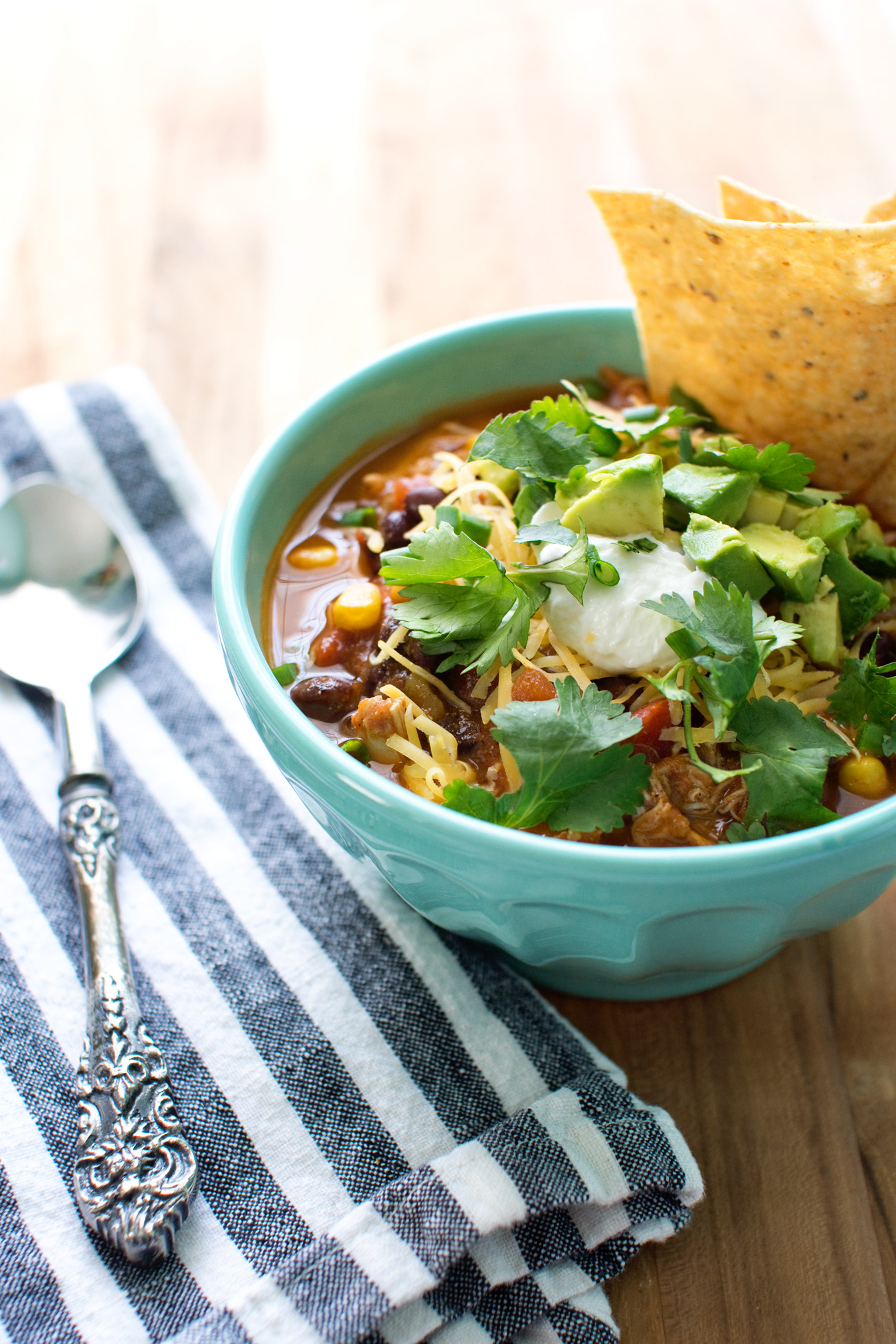 As much as I love cooking, I still have times where my main goal is simply to get dinner on the table as quickly as possible. The process of preparing food is typically something I revel in, but sometimes it isn't feasible to leisurely prep ingredients while I chat with Eric about the day. Some nights look more like me solo parenting, standing at the stove while one or both of the small humans in my house breakdown from hanger.
Those nights, I have two things that rescue me – planning ahead and (hopefully) prepping during nap time or quick meals that require little active work from me. My Instant Pot has been great for the latter (and making extra of this broccoli pesto to store in the freezer has also worked wonders). Like some recipes for slow-cookers, some pressure cooker recipes require quite a bit of hands-on work. I've made and enjoyed many recipes like that, but I think everyone should have a delicious, reliable, toss it in and forget it kind of recipe. This is one of them.
The best thing about this recipe is that I don't have to trade flavor for ease and a quick cook time. I can prep it during even the wildest shenanigans (I'm looking at you, toddler who likes to try to flip chairs over while standing in them) and then get back to playing/mediating coloring disputes. This soup is perfect for us – not too spicy but full of flavor and easily customizable for each person at the table. A dash of hot sauce for us, loads of cilantro for me, Greek yogurt or sour cream for the kids, avocado for everyone. This is the perfect recipe to have in your repertoire because even those of us that love cooking can find ourselves in a pinch and scrambling for dinner.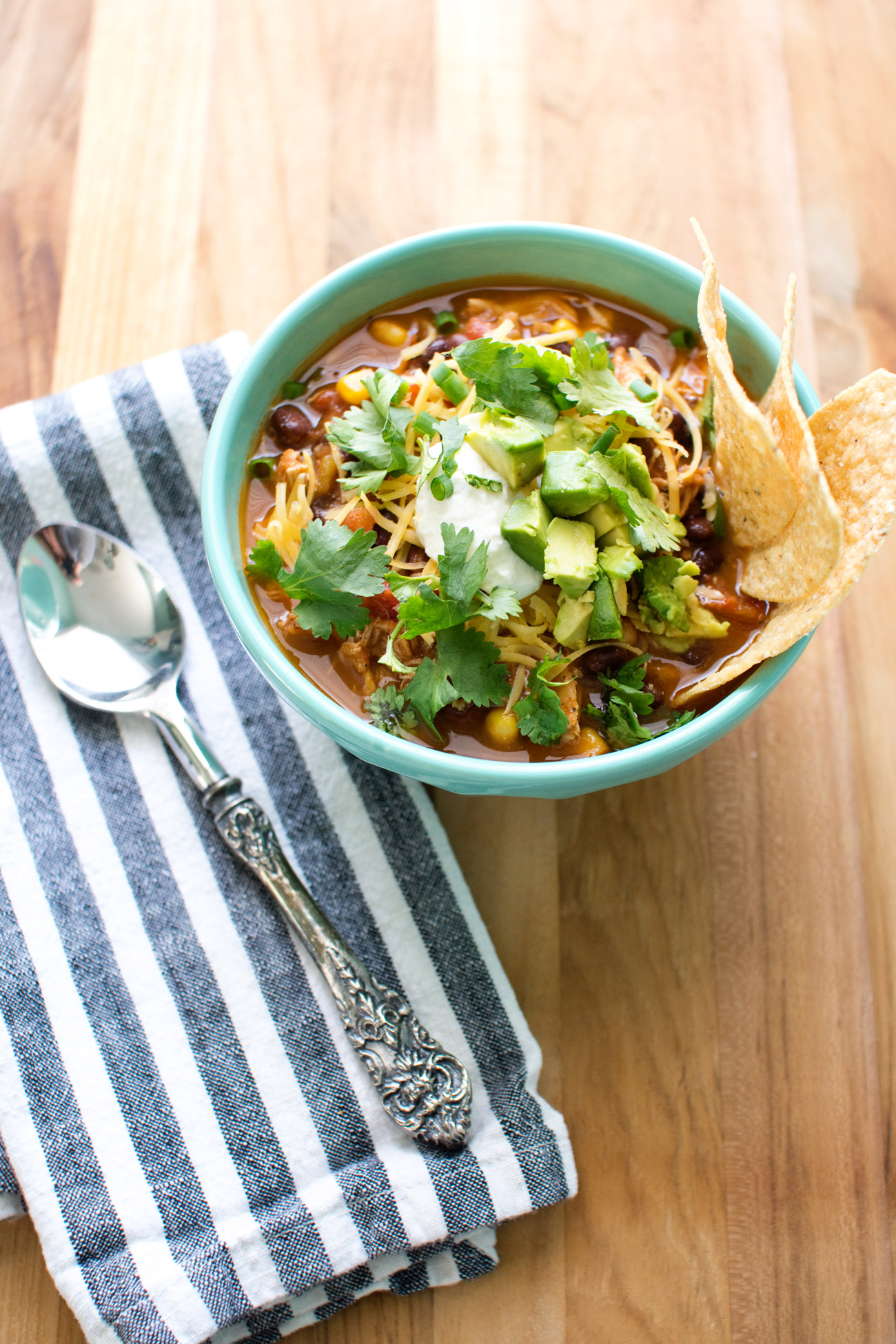 COOK TIME:

YIELD:

4-6 servings
Ingredients
1 cup enchilada sauce

1 can fire-roasted diced tomatoes

1 (4 ounce) can chopped green chiles

1 can black beans, drained and rinsed

1 cup frozen or fresh corn

1 tablespoon ground cumin

1½ cups chicken broth

1 pound boneless, skinless chicken breasts

For topping:

¼ cup chopped cilantro

1-2 avocados, diced

½ cup shredded cheese

Sour cream
NOTES:
It will take time for the Instant Pot to pressurize, so keep that in mind when starting this recipe. Mine takes 15-20 minutes, depending on what I'm making. The timer will start counting down once pressure is reached.
The original recipe for this called for a 30 minute cook time with a quick release. I've also tested it with less time, and you can also cook for 15 minutes with a natural pressure release, which takes another 10-15 minutes. Cooking for 15 minutes with a quick release is fine, but the chicken shreds more easily with the longer cook time or natural release. So you have options depending on how fast you need this done.
Directions
1

In an electric pressure cooker, combine the enchilada sauce, tomatoes, black beans, corn, chiles, cumin and chicken broth. Nestle the chicken breasts inside. Close the lid and set the timer for 15 minutes.

When the timer goes off, allow the pressure to release naturally (this can take 10-15 minutes).

2

Remove the chicken to a bowl and use two forks to shred. Return to the soup and stir to combine.

Ladle into bowls and serve with desired toppings.