Liege waffles are made with a yeasted dough similar to brioche, and they're studded with pearl sugar that caramelizes as the waffles cook. You may know these as Belgian waffles or pearl sugar waffles, but you may as well just call them the best waffles ever.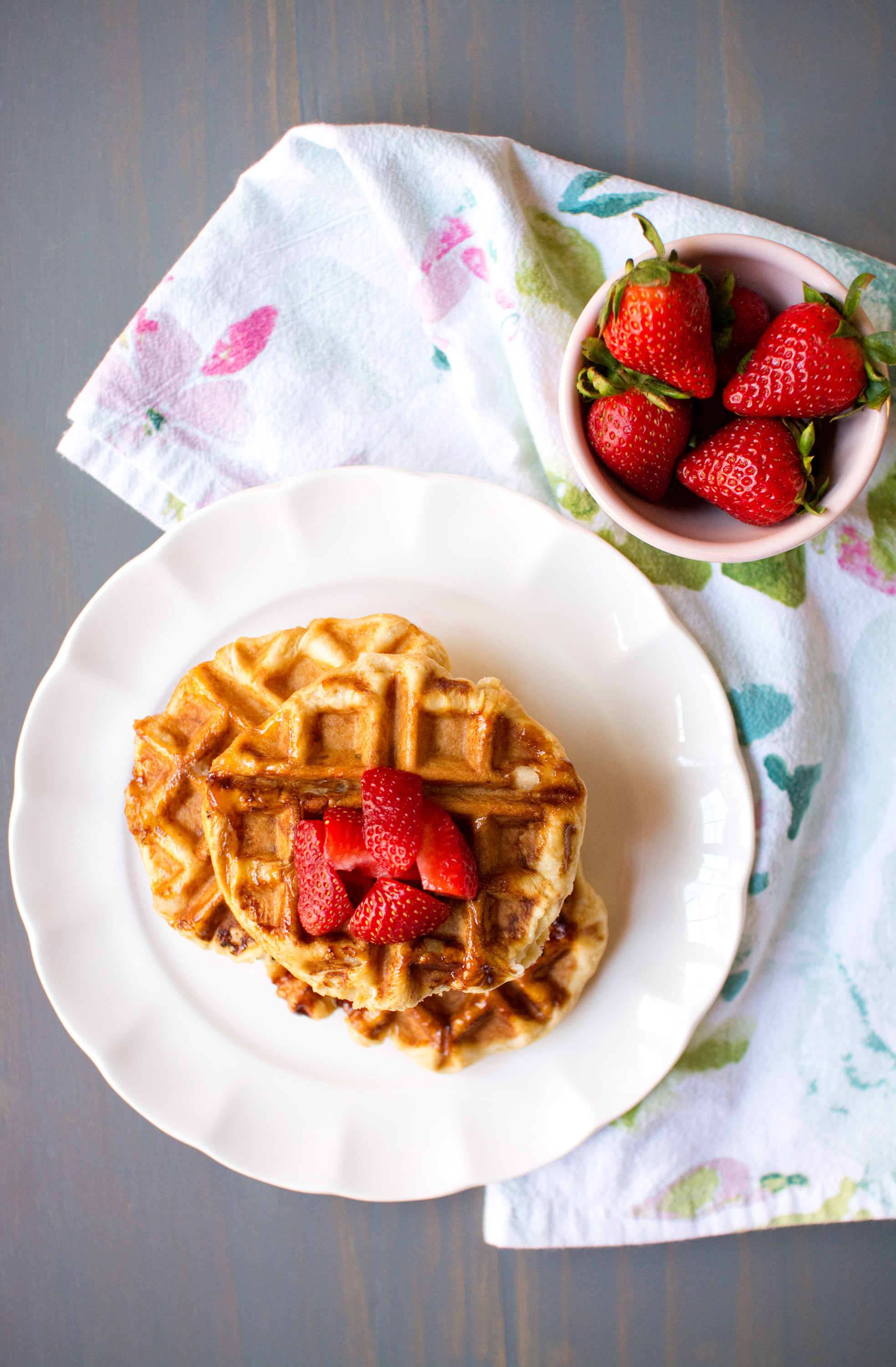 We are a family of waffle lovers. Given the choice between waffles and pancakes, I will choose waffles every single time. So it's no surprise that, a few years ago when traveling, I picked a waffle/coffee shop for breakfast. We visited that shop nearly every time we were back in the area, and I knew I had to make these at home.
Liege waffles use a yeasted dough and have all the buttery goodness of brioche. As if a brioche waffle doesn't already sound amazing, the dough is studded with super crunchy pearl sugar. As the waffles cook, some of the sugar caramelizes into deliciously sticky, amber colored edges. These waffles are so sweet and full of flavor that you need no syrup or whipped cream. They're incredible on their own or with a few fresh berries on top. They're chewy, rich, and really magnificent.
This recipe calls for an overnight rest, which means it's a weekend only breakfast for us. Also, much like brioche, it takes time to work the butter into the dough. It's worth it for that supple, buttery dough, but know you'll be near your mixer for a while. Want to have waffles for dessert instead of breakfast? You can totally do that with these – just add a scoop of ice cream and a drizzle of creamy caramel sauce.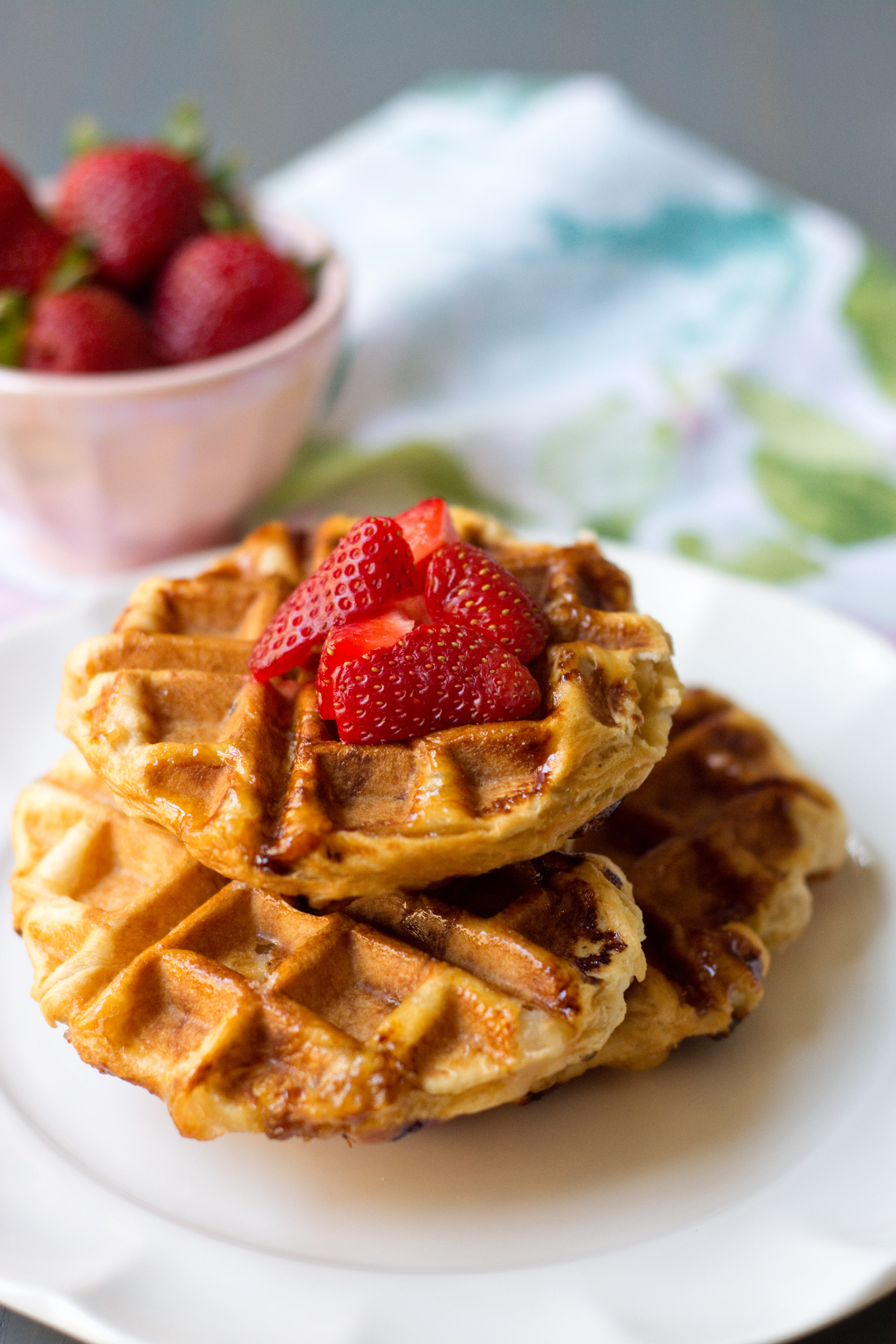 Ingredients
½ cup milk, whole is ideal

¼ cup water

2 tablespoons raw sugar, brown sugar or honey

1 packet (2½ teaspoons) active dry yeast

2 large eggs, ideally at room temperature

2 teaspoons vanilla extract

3⅔ cups all-purpose flour, divided

1 teaspoon coarse or kosher salt

14 tablespoons unsalted butter, softened

1⅓ cups pearl sugar
NOTES:
You can find pearl sugar at Amazon, and I've also seen it at Whole Foods. Make sure to get the Belgian pearl sugar, not the Swedish, because the sizes are different.
Directions
1

Start by making the dough. Combine milk and water and heat until lukewarm, between 110º and 116º degrees F. Pour into the bowl of a stand mixer. Add sugar and yeast and stir to combine. Set aside for 5 minutes.

Whisk in eggs and vanilla, then add all but 1 cup of flour. Fit the mixer with the dough hook and mix together on low speed. Add the salt and continue mixing. Add the butter, about a tablespoon at a time, thoroughly kneading in each addition and scraping down the bowl as needed before adding the next. Do this until all the butter is mixed in and know that it will take a while. Once all the butter has been added, add the remaining flour and knead on low speed for about 5 minutes, or until the dough is glossy.

2

The dough needs to rise twice, one of two ways.

For room temperature first, cover bowl with plastic wrap and leave at room temperature for 2 hours; dough should double. Deflate, re-cover with plastic wrap and let chill in the refrigerator overnight, or up to 24 hours.

For refrigerator first, cover bowl with plastic wrap and chill overnight, or up to 24 hours. The dough will not have fully doubled. When you're ready to make the waffles, warm the dough back to room temperature for 60 minutes, then deflate and cover. Let the dough rise on the counter for 1½-2 hours.

3

Once the dough has risen and you're ready to cook, knead in the pearl sugar. It seems like a lot but will spread throughout the dough. Divide the dough into 16 equal pieces. If the dough is too warm, place the dough balls back into the refrigerator and take out one at a time to cook.

4

Heat your waffle iron over medium heat, no need to oil or butter if it's nonstick. A Belgian waffle maker is ideal, but you should be able to use whatever waffle maker you have. Place first ball of waffle dough on grid and cook according to waffle maker's instructions. Cook until deeply golden all over, which will take about 5 minutes, then carefully transfer with tongs or a fork to a cooling rack. Handle them carefully because there will be hot sugar strands all over. Repeat with remaining dough balls, adjusting the temperature of the waffle iron as needed. They'll get more caramelized as you go since some sugar will stick to the waffle iron. Just take care that the left behind bits don't begin to burn.

5

Keep the waffles warm in a 200º oven if eating right away. The sugar will harden as the waffles cool but will soften again once they're rewarmed. Serve warm, no toppings needed.

You can keep leftovers in an airtight container at room temp for a day or in the freezer for longer. They reheat well in an oven or wide-slot toaster.