Blackberries, zucchini, and wheat bran make these healthy muffins perfect for breakfast or an after school snack. They freeze wonderfully and make for a quick bite on the go. Even better, these muffins are helping to bake a difference with OXO Cookies for Kids' Cancer.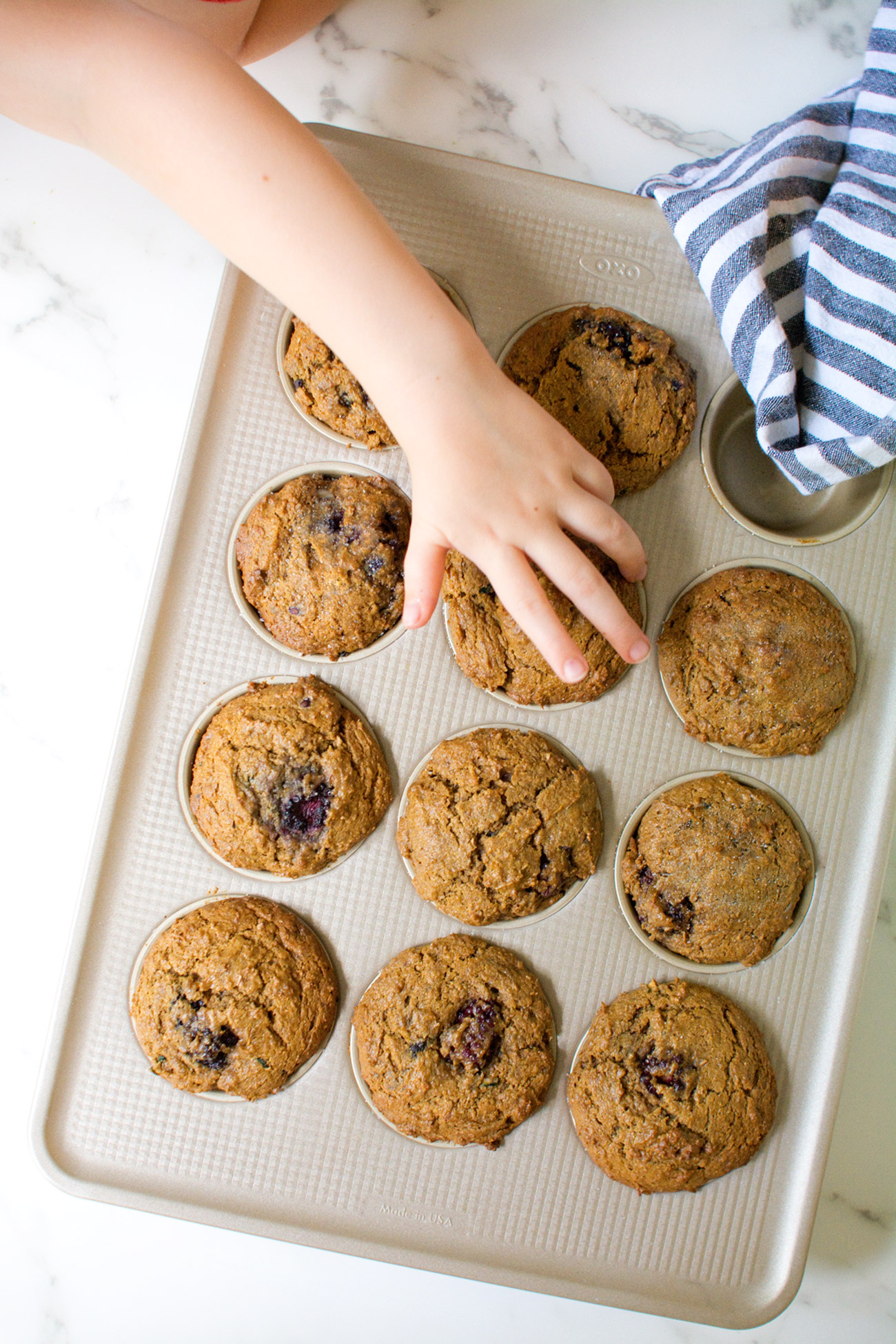 Muffins are one of my favorite breakfast foods – endlessly adaptable, easy to store in the freezer and reheat as needed – and there's never really a bad time of year to eat them. The pitfall with them, as with many other breakfast foods, is that they can be loaded with sugar and not so much of the good stuff you need first thing in the morning. My favorite muffin ever hails from a local bakery (love you, Sugar & Twine) and has the crunchiest sugar crown, so I'm not knocking sweet breakfast treats; I'm only saying that's not what I want on a Tuesday morning when I need energy for the rest of the day. Thankfully, that's not a problem with this recipe since it's loaded with zucchini and wheat bran and just enough brown sugar and molasses.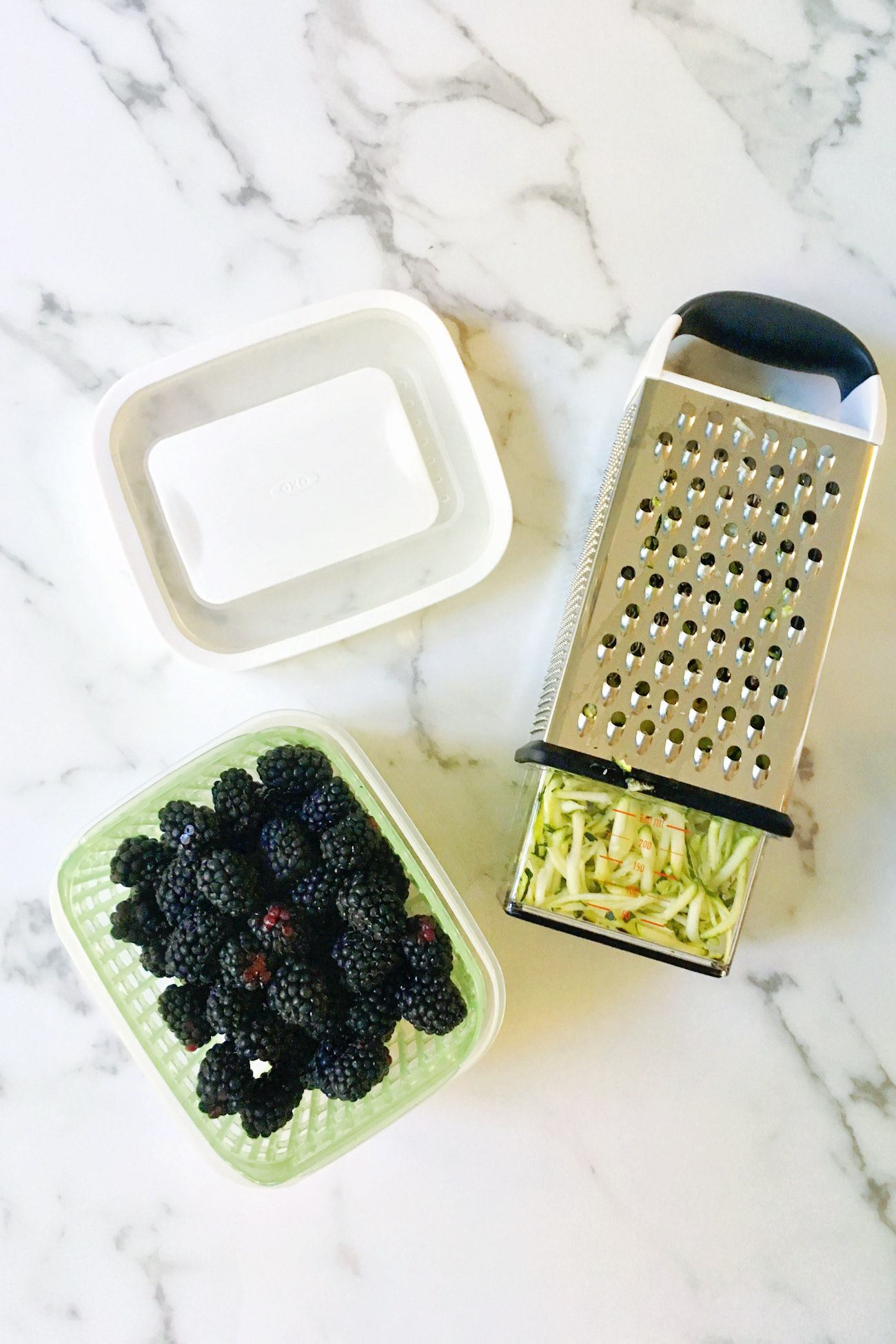 I was skeptical about the zucchini since neither of my kids seems to like it grilled, which, as far as I'm concerned, is the best way to eat it. As you can see in the photos, though, they were grabbing for seconds after sharing the first one.
This recipe comes from Sarah Sanneh, who has partnered with OXO and other chef-supporters of Cookies for Kids' Cancer to provide recipes meant to inspire people to host their own Cookies for Kids' Cancer bake sales. You can register your event online, and, if you mark OXO as your inspiration, they'll match all your bake sale proceeds up to their $100,000 commitment.
I used some of my favorite OXO tools to make these muffins:
Non-Stick Pro 12 Cup Muffin Pan (seriously my favorite ever because it never sticks)
Box Grater (with a handy storage cup for people like me who always shred too much cheese)
Adjustable Measuring Cup (perfect for molasses and honey)
GreenSaver (keeps berries fresh SO much longer)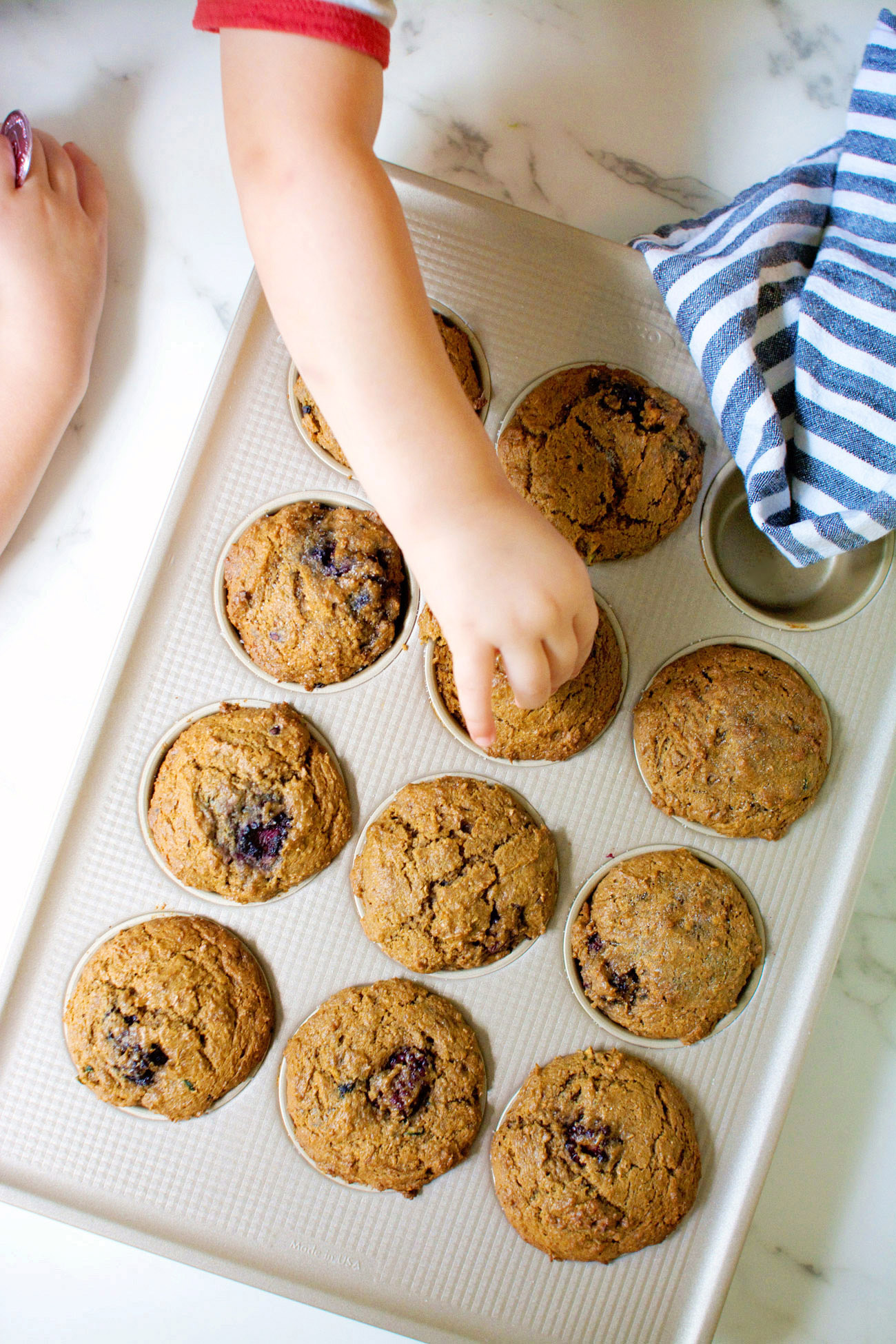 This post was written by me on behalf of OXO, and they provided the tools listed, but all opinions are my own. OXO is donating $100 to Cookies for Kids' Cancer for each post, and I'm happy to partner with them for this wonderful cause.
COOK TIME:

YIELD:

24 muffins
Ingredients
3⅔ cups flour (all purpose or white-wheat)

1 tablespoon baking soda

1 teaspoon salt

1 cup wheat bran

1½ cups butter, melted and cooled to room temp

¾ cup light brown sugar, firmly packed

⅔ cup molasses

1 cup shredded zucchini

3 cups sour cream

1½ cups blackberries
NOTES:
Since this recipe makes a large amount (making it great for bake sales!), I halved it to better serve the needs of my little family of four. If you want to make the full amount, you can definitely freeze the extra. If you want a delicious sugar crown on top, sprinkle each muffin with turbinado sugar just before baking.
Directions
1

Heat oven to 350º F.

In a large bowl, whisk together flour, baking soda, salt and wheat bran.

2

In another bowl, whisk together the butter, brown sugar, molasses, zucchini and sour cream. Add the wet ingredients to the dry, and use a rubber spatula to mix until no streaks of flour remain.

Gently fold in the blackberries, taking care not to make them burst.

3

Fill the muffin tin with batter (each well will be full for larger muffins like mine), and bake for 26-3o minutes, until a toothpick inserted in the center comes out clean.

Cool for 5 minutes in the muffin pan, then eat or transfer to a cooling rack to cool completely before storing.