This sausage, greens, and beans pasta is a genius recipe that uses pasta water and parmesan to create a luscious sauce for the pasta, browned sausage, white beans, and a tangle of fresh greens. Topped with fried rosemary, it feels far more decadent than the effort required to make it.
Before I get to the (really fantastic) recipe, I'm going to take a second to let you all get a peek inside my head. Five years ago, I almost quit blogging. I was over pretty much everything, except for the cooking and photographing. I wavered in my decision, and plenty of talks with Eric helped me realize that I would miss it. Five years later, and those feelings are resurfacing with more intensity.
I asked Eric the other day, "Does anyone even know what's real anymore?" It sounds like some sort of overly dramatic existential crisis when I write it out, but just think about it for a minute. Beyond the perfectly curated Instagram accounts that seamlessly transition from one color scheme to the next, beyond the beautifully styled, magazine-quality foods, beyond the thousands of followers, do people even recognize or care about authenticity? (I'm not saying that bloggers who have that aren't authentic, just saying that it's not my way of being authentic online. My life doesn't look like that, so I don't think my online presence should, either.) I do. I always have. Do I think we should all be sharing every single detail of our lives online? Absolutely not. I do believe, however, that there's a way to be open and real without being an open book. For instance, someone asked me recently how I manage to meal plan, grocery shop, and cook all week without losing my mind. I told her that it's because Eric helps and that I don't feel bad about grabbing takeout (hello, Cava) on nights I don't feel like cooking. Why act like I can do it all (I can't) or that it always comes easily to me (it doesn't)?
I love writing here, having this space to share with all of you. I have always believed food has a way of bringing people together, and I want this space to accurately reflect my real life. Eric always tells me to write what I want. So here it is. I am over this whole "blogging is 20 percent content and 80 percent promotion and SEO" and "you shouldn't post anything to Instagram until you've planned out at least nine pictures so your grid shows your aesthetic" bullshit pressure that I put on myself to try to be "successful." Blogging may be that way, but it doesn't have to be for me. More power to the bloggers that are good at it (I know it takes work). Their Instagram feeds are beautiful, and I enjoy making their recipes. That is not my strength, though, and I don't care enough to make it be.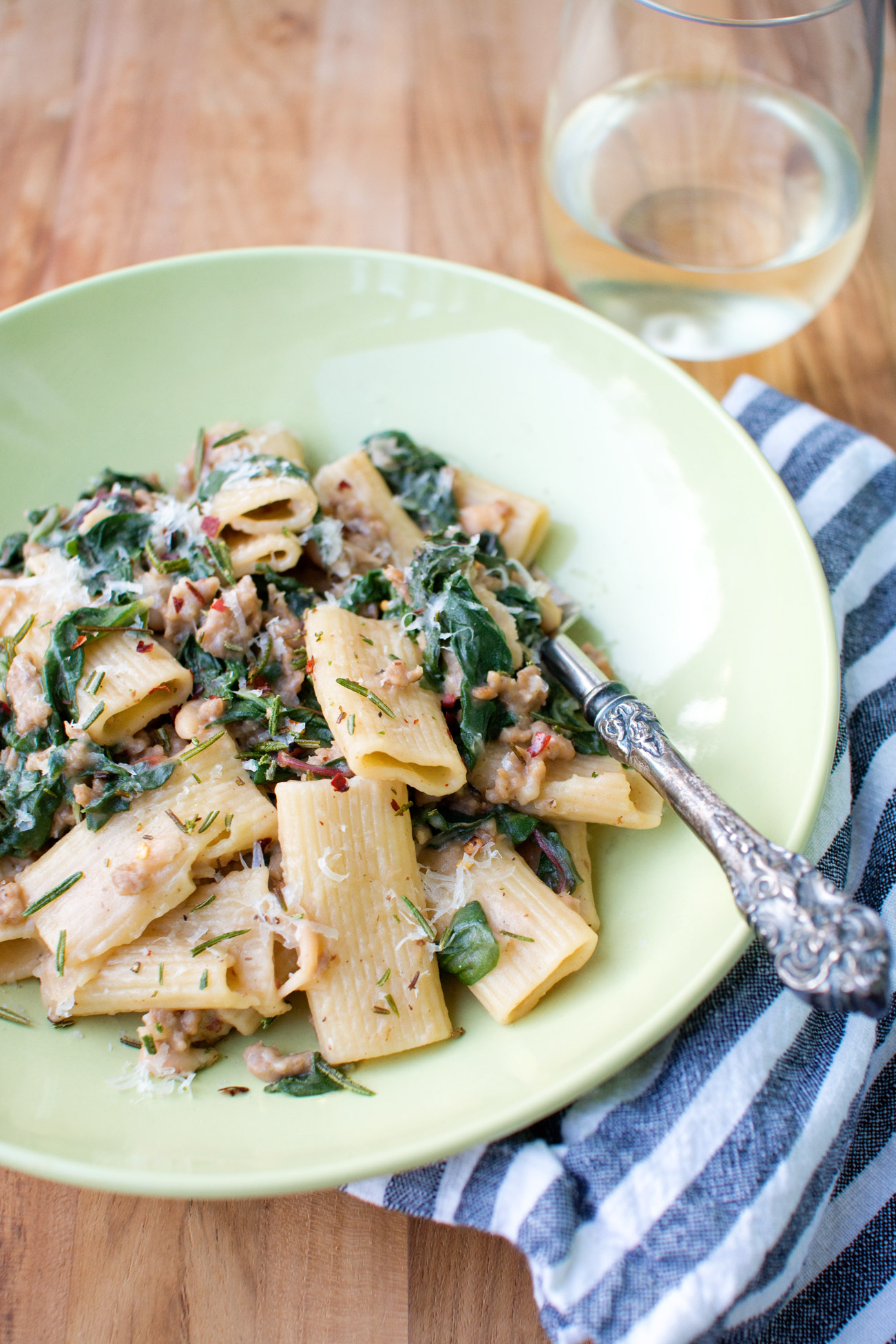 If you made it this far, thanks. I'm glad you're here, and I'm thankful for this community of food lovers. Now here's that new favorite recipe I teased at the beginning of this post.
Do you have a genius recipe? One that is so clever that you're amazed by the results every single time? This is mine. I've made this recipe several times now, and I can't get over how much we all love it. The genius part is that this recipe comes together easily, creating a luscious sauce with simply the cooking liquid from the pasta and a generous handful of parmesan. It's tossed with the cooked pasta, browned sausage, white beans, and a tangle of fresh greens. Top it with fried rosemary, and the result is something that feels like it takes way more effort than it actually does. (If you're a longtime blog reader, you may remember our term for this – The Champion Quotient. Not surprisingly for us, three of the four recipes involve pork.)
This has been my go-to recipe for busy weeknights, and bonus: it calls for wine, which means it's totally acceptable to have a glass while cooking. I hope you enjoy it as much as we do.
Ingredients
⅓ cup olive oil

2 sprigs rosemary

8 ounces spicy Italian sausage, casings removed

1 (15.5-ounce) can cannellini (white kidney) beans, rinsed, patted dry

¼ cup dry white wine

12 ounces rigatoni or other large tubular pasta

Kosher salt

8 cups (lightly packed) torn kale, escarole, or Swiss chard leaves

¾ cup finely grated Parmesan, divided

Freshly ground black pepper

2 tablespoons unsalted butter
Directions
1

Heat oil in a large Dutch oven or other heavy pot set over medium-high heat. Fry the rosemary, turning until crisp, about 2 minutes. Transfer to a tea towel or paper towels to drain.

2

To the same pot, add the sausage, breaking up with a spatula or wooden spoon and cook for 8-10 minutes, until browned and cooked through. Use a slotted spoon to transfer to a plate. Meanwhile, cook the pasta in a large pot of boiling salted water, until very al dente, about 3 minutes less than package directions.

Add the cannellini beans and cook for about 5 minutes, tossing and mashing some of the chickpeas with your spoon, until browned in spots. Transfer half of the beans to the plate with the sausage. Add wine, bring to a boil, and cook until the liquid is nearly evaporated.

3

Using a spider or slotted spoon, transfer pasta to the pot with the cannellini beans. Add the kale, 1 cup of pasta water, and toss until the kale is wilted, pasta is al dente, and sauce has thickened, about 4 minutes. Add another ¼ cup pasta water, then gradually sprinkle in ½ cup cheese, tossing until the cheese has melted and created a glossy, luscious sauce. Add more pasta water as needed to achieve your desired consistency. Season with pepper and more salt, if needed. Add the butter, toss to combine, then stir in reserved sausage and beans.

4

Divide pasta among serving bowls. Crumble the fried rosemary over the top, and sprinkle with remaining parmesan.